Saturday
Featured Stories
Breaking New Ground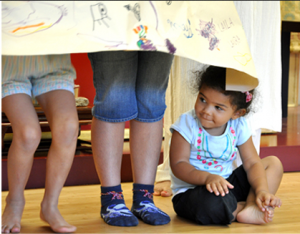 COLUMN: Youth and Families
by Laura Burnham, Los Angeles
The third Sunday of every month is Family Sunday at SMCLA (Shambhala Meditation Center of Los Angeles). We have several family-oriented groups that meet simultaneously. One of these is designed for children between the ages of 3-12 to explore their senses, play and practice mindfulness. The other is for parents to explore together how the Shambhala teachings can help them to raise children who know innate strength, clarity and compassion. Laura Burnham was closely involved with founding the group in 2007 and tells us here about a recent curriculum retreat and their process of exploring possibilities for the future.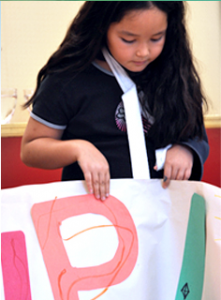 When Chogyam Trungpa Rinpoche died, he left no real directions on how to raise the next generation of Shambhalians…or so it seemed to those of us in Los Angeles who were attempting to do just that.
It has taken 5 years to begin to find our way as we have gradually established our version of Families and Children. At first children and their parents arrived one Sunday a month so that parents could meditate while their kids did activities in child care. Then we began Family Groups monthly — a support group for parents, and activities for their 3-8 year olds in another room. It was working, yes, and at the same time questions arose and couldn't be easily answered: What were we really doing? How was the time spent with children different from typical child care or school?
Most of the parents in the support group were not very familiar with Shambhala. They said they were there because they wanted to connect with a place that was safe and more sane than what they knew in their daily world. They experienced this with us, but they may not have known why. The parents began each group session with meditation, so that, at least, was a doorway to more understanding, and there was some guidance from their Shambhala peers in the group. We've celebrated Children's Day every year. Two years ago we started Rites of Passage for 8 – 10 year olds, which created yet another exploration into the How and Why of our mission.
As time went on we developed a Family Council composed of the few families among us that have roots in Shambhala, plus two long-time Shambhalians who head up our two children's groups. Still our questions lingered, begging for some kind of form that would make us feel more secure about what to do and why.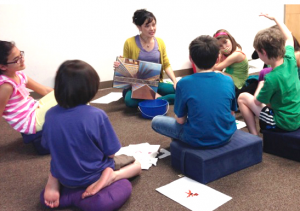 Earlier this summer, this group of eight people on the Family Council met for a half-day "Curriculum Retreat" in the early morning at the Landaus' house. We arrived at 9:00, which felt like 8:00 because it was the first day of daylight savings time. The air was a bit chilly and sun streamed in through the window, warming those of us in its path. Natasha led us in welcoming stretches. We connected with our senses. Bruce O. guided us in bringing together heaven and earth, and we sat together in meditation. We could hear our five kids enjoying a game with their babysitters in a bedroom nearby. Our hearts opened in gratitude for the chance to explore the task before us: What are we truly doing? Where are we going? How does that translate into "curriculum?"
Then Bruce gave us our first task. Each of us, armed with a pad of sticky notes, began in silence, writing down our visions for where Families and Children might be by the year 2020. Soon, well over a hundred sticky notes covered the dining room table: "Older children mentoring young ones," "Endowment fund," "Shambhala School," "Yearly family retreats"…all kinds of possibilities entered this fascinating big picture. When we grouped them, we discovered that many of us had similar visions, but, until that moment, we hadn't mentioned them because we probably didn't see a way to bring them into reality. Two members shared simple one-page handouts they had developed to help us see our situation more clearly. All of this became a foundation for what was to come.
Having glimpsed the big picture, we began to sort through the challenges that we have right now. It was amazing how quickly the obstacles seemed to fall away. The small changes that were proposed and accepted in our present program opened the way for greater creativity and clarity on how to proceed.
Did we create "curriculum?" Hmmmm. Actually, we made contact with the principles that underlie the Shambhala teachings. Having established and felt that connection, we closed with a sense of confidence about how to proceed. It became so clear why Chogyam Trungpa didn't leave any specific directions about working with families with children…or did he? If we as adults can come from the confidence, fearlessness, and gentleness we experienced together, then we know what to do…moment by moment…year by year.
~~

Laura Burnham has been a Shambhala student for 16 years and is the coordinator for Families and Children at the Shambhala Meditation Center of Los Angeles. She is also a member of the Families and Children Working Group for Shambhala International. Her other major hat is serving as Center Desung for Los Angeles, as well as supporting Desung activity in southern California, Arizona and New Mexico. She lives with her longer-time Shambhala practitioner husband Darryl Burnham and their two cats. See more about this by clicking here.
Post Tags:
Children
,
Youth & Families