Thursday
Community Articles, Dharma Teachings
Treasury of Oral Instructions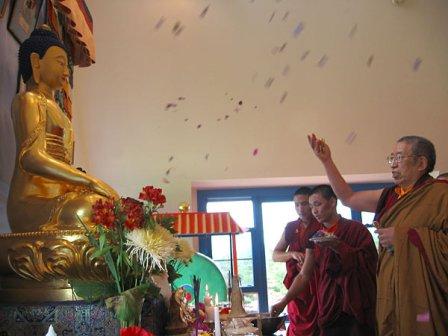 Celebrating the 25th anniversary of Gampo Abbey
It was the heartfelt wish of the Vidyadhara, Chogyam Trungpa Rinpoche that the monastic tradition be developed and nurtured in the West. Gampo Abbey is therefore delighted that in 2009 they are celebrating the 25th anniversary of the abbey's founding. With the early guidance and continued blessing of their Abbot, the Venerable Thrangu Rinpoche and the direction of the Sakyong Mipham Rinpoche, the Gampo Acharya Ani Pema Chodron is leading the monastic community at Gampo Abbey in its deepening exploration of Shambhala monasticism.
Over the past two and a half decades at Gampo Abbey, many precious and significant teachings have been given to the community by major teachers and lineage holders. In recognition of this rich history of teachings, through their web site Gampo Abbey is offering a "Treasury of Oral Instructions" — transcripts and MP3 files of selected teachings given at the Abbey since its founding.
These will include teachings by the Sakyong Mipham Rinpoche, our Abbot the Venerable Thrangu Rinpoche, the Dzogchen Ponlop Rinpoche, Khenpo Tsultim Gyamtso Rinpoche, Mingyur Rinpoche, a number of teachings by Ani Pema Chodron as well as other senior teachers including Acharya Judith Simmer-Brown.
The first in this "Treasury of Oral Instructions" series is a sequence of related talks given by the Venerable Thrangu Rinpoche, on the subject of the Three Vows.
Click here to read the Treasury of Oral Instructions
Post Tags:
Gampo Abbey
,
Thrangu Rinpoche