Sunday
Featured Stories
Authentically His Eminence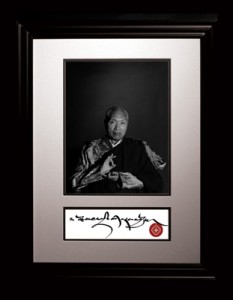 The Shambhala Times interviewed photographer Scott Belding, who took portraits of His Eminence Namkha Drimed Rinpoche for the Rinpoche Photo Project , which is raising money to support construction of the Rigon Tashi Choeling Monastery in Pharping, Nepal. Scott's experience encountering Rinpoche for the first time invokes the power of being in the presence of this esteemed terton.
Jennifer: What kind of preparation goes into a photo shoot like this?
Scott: As a dance photographer, I have spent many years developing an approach to capturing authenticity. What makes a photograph meaningful and creates an image that is lasting and has an impact on a viewer is authenticity. It's that point in time when the subject — no matter what character they have been asked to be — is that person at that moment in time, without distraction and with complete focus. Once that takes place, that person is selfless—completely engaged. It is that precise moment that captures something quite meaningful. That is the premise for my work every time I shoot.
To photograph Rinpoche, I studied some images of the Dalai Lama and other Tibetan masters. I formed a basic sketch of how I wanted this to be shaped and most of it was pretty close-in head shots that would let his face and eyes tell the story.
Jennifer: How was it when he arrived at your studio?
Scott: When Rinpoche arrived, it was beautiful. There was a lot of ceremony — we put up prayer flags, offered khatas, and burned incense. We always bring incense in the studio anyway, because the style of movement that we do is very spiritual, very meaningful. For that reason, we refer to the studio as our church.
Rinpoche arrived with a driver, three monks, his daughter Semo Sonam, and a couple of people from Ripa Ladrang. He blessed a khata and gave it to me, which was such a lovely way to be greeted. The aura around him is unmistakable. There is a calm about him and a sense of power that is just so beautiful and present. I was concerned about communication, about how I could communicate what I wanted to accomplish when he doesn't speak English. But even though his daughter facilitated, there really wasn't any translation required, because he is that embodiment of authenticity I look for. He is so pure, so focused, so open, so honest, so genuine, so unpretentious, that every moment I was able to spend with him photographically was exactly what I always aspire to accomplish in a session. My art is really defined by the moments, not by the subsequent images. That's what's really important to me. And photographing him was just so overwhelmingly beautiful. I believe that when you look at the photographs, if you look into his eyes, you will see that he's completely open.
Jennifer: At what point did he start doing mudras?
Scott: We shot for a while and he asked me, via his daughter, if he could do some hand mudras. Whatever he wanted to do was fine with me, so he started doing the teaching mudras. The shots came out powerfully — they're really quite moving images.
Jennifer: Why did you choose black and white?
Scott: It's an artistic choice. For me, the intent was to focus all of the viewer's attention on his eyes, on the power that just radiates from them. Color can be a little distracting. When we looked at both options side by side, black and white was more appealing, bringing a classic, museum quality look to them.
Jennifer: Did Rinpoche like the portraits?
Scott: Rinpoche was happy — he had a bowl of rice and did a formal ceremony to bless our studio. His daughter came up to me after the blessing and grabbed my hand. She said that Rinpoche wanted me to know that my encumbrances had been lifted.
Jennifer: Are there any parting thoughts you'd like to leave us with?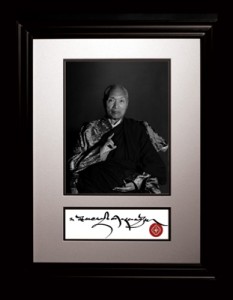 Scott: It is our great hope that through this project, the inspiration Rinpoche provides to so many people will be available even when he is physically absent. Hopefully, by connecting to him through his image, people will be inspired even more.
There are 25 beautifully framed portraits available, each with an original autograph. So far, five have sold to people in places as diverse as Spain, France, Luxemburg, Canada, and the Bay Area.
To view all of the portraits, learn about the Rinpoche Photo Project, and for purchasing information, go to www.rinpochephotoproject.com. Learn more about Scott Belding's photography studio at www.movingartsdance.org.
Post Tags:
Namkha Drimed
,
Rinpoche Photo Project
,
Ripa Ladrang