Wednesday
Shambhala News Service
Appointment of a New Acharya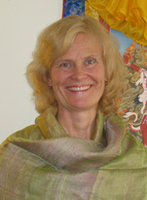 We are very pleased to announce that during the Scorpion Seal Assembly at Karme Choling the Sakyong Jamgon Mipham Rinpoche formally appointed Ms Suzann Duquette an acharya, to great applause. She received the name Ying Chenmo, Space Great Lady. Acharya Duquette joins the thirty current acharyas in spreading the Shambhala Buddhist teachings; performing vows, lungs (reading transmissions), and ngondro transmissions; and representing the Sakyong both within and beyond the Shambhala community.
Suzann Duquette has been a student of Shambhala Buddhism for thirty-five years, beginning at the first summer of Naropa Institute. In 1974 she took refuge with His Holiness Karmapa and joined Berkeley Dharmadhatu and Mudra Space Awareness group. In 1976 she took bodhisattva vows with the Vidyadhara. While in Berkeley, Suzann joined the Dorje Kasung and worked for Shambhala Booksellers and Grantspeople, Inc.
Suzann moved to Boulder in 1977, accepting the position of Resource Development Director at Naropa University (then Naropa Institute), and attended Vajradhatu Seminary and Kalapa Assembly in 1979. During the next several years, Suzann lived in Boulder and Washington, D.C., pursuing her path as Dorje Kasung and career in fundraising. In 1984, Suzann became an attache to the Dorje Dradul and, at that year's Magyal Pomra Encampment, took her oath as Gate Dapon B of the South.
As Gesar Arm Commander, a post she held for ten years, and member of the Dorje Kasung Command Group, Suzann enjoyed working with and learning from Dorje Kasung around the world. She also worked as a member of the Denma Translation Group, whose work resulted in The Art of War: A New Translation.
Suzann became Co-Director of Karme Choling in 1995 at the request of the Sakyong who predicted, "It will be good for you." This proved to be profoundly true, as Karme Choling allowed a deepening of her practice and study, further maturity in working with others and in community, and revealed her husband-to-be, Jan Enthoven. When Suzann stepped down as Director in early 2001, the Sakyong directed her to do a month-long retreat, which led to a number of long retreats that year.
Suzann considers teaching dharma a powerful way to learn, offer, and share wisdom, and enjoys teaching a variety of programs and retreats at Karme Choling and other centres. Suzann respects the power of body awareness in manifesting Shambhala Buddhism and emphasizes training in Lujong, Shamatha Yoga, Golden Ball Tai Chi, and Mudra Space Awareness in her teaching. Suzann studies Qigong and ancient Chinese diplomacy and military strategy with Dr. Eva Wong and, under Dr. Wong's tutelage, teaches Warrior Qigong to lifetime members of the Dorje Kasung.
Suzann is delighted to be Senior Teacher in Residence at Karme Choling, where she is responsible for staff path development and leadership training. She is core faculty of the Mukpo Institute of Karme Choling and holds several volunteer positions. With her husband Jan, Master Gardener at Karme Choling, Suzann owns and runs Blue Skies Guesthouse, a nearby bed and breakfast.
Post Tags:
Acharya
,
Suzann Duquette