Thursday
California, Arizona, Scene and Heard
Community, sustainable agriculture and the arts in Northern California
Western Marin County lies just forty minutes northwest of the Golden Gate Bridge in San Francisco. Populated originally by the Coast Miwok people and first sighted by Europeans in 1579 by England's Sir Frances Drake, the place remained rural and agricultural until completion of the famous bridge in 1936. West Marin, as it is called these days, was the dairy center of California until the 1940s, providing high-quality butter, milk and cream drawn from contented cows grazing lovely rolling hills and meadows kept green year-round by Pacific Ocean rains and fog and soft sunshine.
Nowadays, West Marin – the western two-thirds of the county – remains mostly agricultural, thanks to the hard work of local residents, concerned citizens of Marin and beyond, and local government with state and Federal aid. The Marin Agricultural Land Trust, the first land trust in the United States to focus on agriculture, was started in 1980 by two local women – a dairy woman and a conservationist – to support local ranchers and farmers, protect the natural resources and preserve the idyllic landscape from suburban development.
The area had begun to attract artists, writers, philosophical types and the "back-to-the-land" folk escaping the cities since the late 1800s. A railroad, built to haul redwood lumber south from the northern coast to the growing cities of the San Francisco Bay Area, afforded city dwellers the chance to visit Nature. Carved out of a piece of the Point Reyes Peninsula – now entirely protected within Point Reyes National Seashore (and technically, geologically speaking, an island migrating slowly northward along the California coast) – the little village of Inverness began as a summer vacation spot for well-to-do San Franciscans and faculty from the University of California at Berkeley.
The laid-back, rural sensibilities of West Marin were guarded jealously by European immigrants who raised dairy cattle, and sheep and goats. After the Golden Gate Bridge was completed, roads and highways permitted more people to visit the rural landscape framed by oak- and redwood-covered hills, the Point Reyes peninsula, and the Tomales Bay estuary that, for about eight miles, separates the coastline from peninsula. Tourists came and went, and vacation homeowners, but local folk stayed on year-round, getting along as best they could.
In the late 1980s something began to shift – the notion of the region as a community took root, fostered by a friendly informal consortium of local people with a variety of perspectives willing to seek common ground. No doubt this movement was fostered by the activities of Marin Agriculutral Land Trust, which had required participation of ranchers and farmers, conservationists, the moneyed, and government agencies. Out of this rich stew arose, among other great ideas of the mid-1990s, the notion of a community radio station – media for the people, if you will. Thus was born KWMR, community radio for West Marin, which this year celebrates it's tenth anniversary on the air.
A few years later, also ten years ago, fueled by the booming interest in organic produce and high-quality, locally made food – a development epitomized by Berkeley bon vivant and restaurant owner Alice Waters – Marin Organic came into being. An association of local producers of cheeses and other dairy items, greens, vegetables throughout the year, summer fruits, meats, eggs and flowers, to list just a few – olive oil, wine and oysters to mention a few more – Marin Organic has launched a local, regional and now international interest in good, local food that informs the larger Slow Food movement around the world.
And now, into this tasty stew of community, the arts and happy agriculture, was added the spice and nuance of literature and the arts, again locally produced and cultivated. Last year, coinciding with a local conference on Wallace Stegner, the American writer, historian and environmentalist, local writers, editors and visual artists, working with a local bookstore and a regional library association, launched West Marin Review, a journal inspired by the landscapes of West Marin. Unlike any other literary journal, this one focuses an artistic lens – with humor, intelligence and heart – on the land itself, and on the diverse mix of people who live, work, play and fall in love here.
It is into this fantastic and luscious confluence that I have now been flung, a Shambhalian in a new community, welcomed and encouraged to be myself. Circumstances beyond my control – a near-death encounter, as a pedestrian, with a speeding Sports Utility Vehicle, leading to cognitive and physical disabilities and then the coming apart of an eight-year marriage, and a mid-life change of course towards creativity and contentment – led me back to Inverness, where, 41 years ago next month, I spent a relaxing weekend in a little blue cottage and its garden, high on some (locally produced!) psychedelic the first day, and aimlessly resting the next.
When things fall apart, says Pema Chödrön, start where you are. I had already been driving the back roads of West Marin for twenty years, appreciating the landscape, the open air and vast perspectives, and the gentle atmosphere of residents and towns where life felt valued, respected and highlighted. Earlier this year, when it was becoming apparent that it was time to make changes in my living situation, having been myself an active participant in the movement to elect President Barack Obama, I was deeply moved at the coming together of community for the inauguration – early in the morning here on the Pacific Coast – seated on tiers of hale bales in Toby's Feed Barn, watching a big screen live broadcast.
Like the elves of Lord of the Rings, I'm migrating westward towards the sea – perhaps not into eternal life, but definitely towards my own new lands of happiness and fulfillment. And although I'm still looking for the ideal new home, feeling a bit like Goldilocks sipping porridges and testing pillows, I have come home. Local poet Joanne Kyger, in the newly released Volume 2 of West Marin Review, has it right:
Home is the moment
the quail arrive
Eager to make new friends and influence potential new enemies, I began several months ago volunteering at local non-profits: the radio station (where any local person can propose and train to broadcast a new program), West Marin Community Service's thrift store and their senior services offices – which since 1976 has been caring for West Marin seniors, the Inverness public library – housed in what had been one of the first buildings in the village, and West Marin Review. It was through this mix of activities that an idea popped into my head and gestated: a radio program that features contributors to West Marin Review and highlights the magic of what influences local folk to create such a variety of great writing – prose and poetry alike – and visual art.
To my amazement, the response from all sides – radio station and literary journal – was, Yes! Yes, you can. Si, se puede. And so yesterday I hosted my first radio show, on KWMR, having invited together two founders of West Marin Review, including the local bookstore owner, one of the cultural pillars of West Marin, and two local writers and artists, and, you could say, community organizers.
Although I was a bit nervous at the beginning, I quickly recalled that basic goodness is waiting to be discovered everywhere, in the least expected moments and places, and so the roundtable discussion began to flow effortlessly, pooling here, burbling there, moving forward in a clear stream of heart-felt consciousness.
And afterwards? Everyone was delighted, happy to have a chance to come together in common cause, for the arts and community. And now, what comes next? We have a follow-up program, in September, featuring more contributors to Volume 2 of West Marin Review, and more sharing of what individuals and local groups of individuals are doing to create and nurture a sense of place. There's even discussion of more radio programs, on this and other topics.
It has been heart-warming and confidence-building beyond description to experience being welcomed and appreciated by strangers into their beautiful, extraordinary home. May each of us find, in our own lives, a similar experience of coming home in a new way. Certainly these times need and deserve community, and of mutual respect and celebration.
Stay tuned, if you like; I'll post news of the next radio broadcast here. Or drop a comment in the space below if you'd like to know more, or just speak your mind/heart. Thanks!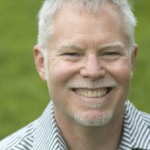 A student of Sakyong Mipham Rinpoche since 1992, Marc Matheson has previously written for The Dot, and helped launched Shambhala Times. He now works part-time as a content editor for an upcoming spiritual advice website, and volunteers as a community organizer for the progressive Obama movement as well as at a number of non-profit services in West Marin. He's looking for a nice garden cottage in the village of Inverness, California, where he can be adopted by a pair of cats and practice being married to himself.
Post Tags:
agriculture
,
community
,
literature
,
radio
,
volunteer