Wednesday
Scene and Heard
Shambhala Occupies Oakland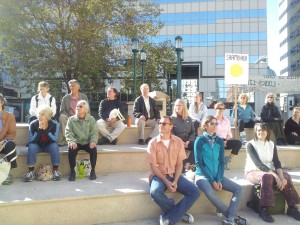 by Martha Silverspring
Acharya Judith Simmer-Brown visited the Berkeley Shambhala Center October 28th to teach a weekend program on Loving Kindness. On Sunday morning, the Acharya and about 15 of us spent two hours as participants of Occupy Oakland, doing loving-kindness practice on the steps of Frank Ogawa/Oscar Grant plaza.
I was on duty as a Dorje Kasung and I admit that on Saturday when Acharya Simmer-Brown told us what she was planning, I was a little…hesitant, and then I felt exhilarated. This would be a great way to bring our practice into the community.
That night, I monitored the Occupy Oakland web sites and Twitter. I put together masks and water spray to deal with tear gas. I wanted to be ready Just In Case.

On Sunday morning before the trip, Acharya Simmer-Brown talked with participants about the view and the logistics. We were going to practice loving-kindness for everyone: protesters, police, politicians, disadvantaged people, privileged people, the 1%, the 99% – everyone. She reminded us that unlike other traditions, buddhism has never reviled the privileged. There are no good guys, no bad guys, no boundaries.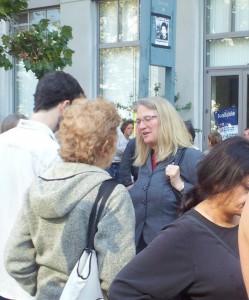 We'd be in groups of four; we'd have a place to meet in Oakland; we had each others' phone numbers in case people got separated. The Dorje Kasung modified our town uniforms, wearing white shirts, on-duty pins, and khakis — no jackets or ties – so our uniforms would be recognizable but not heavy-handed.
The weekend Coordinator, Kay Peterson, made a big Shambhala Sun sign emblazoned with "SHAMBHALA" so we'd be able to find her, and went ahead of us to the plaza. Program participants broke into groups of four. We walked from the Berkeley Center to the BART train, took the train to Oakland, and met in front of a coffee shop. Then we threaded our way through the tents around the plaza and assembled under the Shambala sign. One of the Dorje Kasung accompanied the Acharya; three others provided a light-touch container and helped participants navigate. It was about 10:30 AM.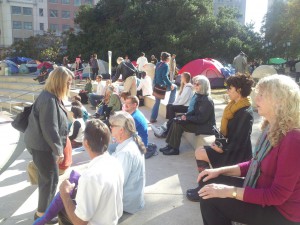 The plaza was quiet with sunlight filtering through tall trees and glowing on the white government buildings. People were waking up, emerging from their tents, exchanging greetings and cigarettes. The police had come through the night before and cleared the camp but you would never know it; the protesters had returned immediately after and there was a sprawling but well-organized situation with about 70 tents. Three police officers wearing worn clothes and earpieces circulated through the camp.
We sat on the concentric steps at the center of the plaza and practiced. Many participants mingled with protesters. Some of the protesters were chronically homeless; some were unemployed local people; some had traveled from outlying areas. They were glad to tell their stories and some sat with us. A few people were agitated but the predominant spirit was of quiet camaraderie.
This was my first experience as a Dorje Kasung in such a public and potentially risky context. The night before the "field trip" I'd put together protective gear for tear gas and monitored Twitter and Occupy Oakland web sites looking for signs of danger. But in the moment I saw that our practice and community were better preparation than any of that. The situation was gentle, light, and very powerful.
Post Tags:
basic goodness
,
buddhist activism
,
community
,
Occupy
,
occupy oakland