Friday
Scene and Heard
Being Present: Meditation at Occupy Wall Street
Guest article by Patrick Groneman, currently the Interim Executive Director of the Interdependence Project. This past Sunday, the Interdependence Project helped organize a mindfulness meditation at Zuccotti Park, site of the Occupy Wall Street demonstration in Downtown Manhattan. In coordination with the Buddhist Peace Fellowship, sits were happening across the country at the same time.
I arrived a little before three o'clock p.m. along with several friends who had just finished an intensive weekend of meditation teacher training in the East Village. Together we scouted around inside the crowded park, looking for a place to sit. Eventually we settled on "the shrine tree" – located in the northwest corner of the park. Around its base were statuettes of the Buddha, a Christian cross, and Ganesh among other precious objects. In the center of the objects sat a framed print, an image of symbols from twenty or so spiritual traditions creating a circle, as a sign of spiritual unity. The earthy-sweet smell of incense paraded up into the leaves and out over the crowd.

Our cushions were laid out right onto the concrete. By the time we finished our first twenty minute period of "Being Present", our group had grown to around eighty folks. I sat, watching my breath as the activity of the park became more vivid.
"Go Inside or Keep Moving!" the policemen yelled at the passersby who slowed on the sidewalk.
"Legalize Weed!" came a roar a few minutes later, as a group with a drum gathered behind us.
In line with my view, a young man with rosy brown skin in a zip up print hoodie squatted around the shrine tree, organizing the sacred objects, re-lighting the incense, watching the smoke dance with the wind.
I kept thinking about my own place in all of this. A young, well-educated white male, with a full time job, and supportive family. Why am I here in this occupation?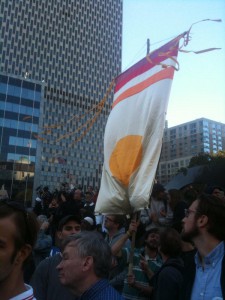 Then I noticed my habit of over-thinking, and let my thoughts float away and returned to the feeling of my breath.
This wasn't about me – I came to this sit to listen, to let the energy of the occupation infuse my presence. By sitting in solidarity with the occupation, we were hoping to help to lay a foundation of mindfulness beneath a social movement with far-reaching implications. The way protesters in NYC inter-act with the police has the potential to become a model for all the protests and occupations happening all over the globe. That's Interdependence in a nutshell. The potential for things to spin out into nasty territory is already evident, as reports of violence filter back from the outgrowth in Rome.
So we sat, watching our breath, being present with the tides of change around us, swelling and distant, still and moving, and right there with all of it.

We're planning to host meditations daily at Zuccotti Park. If you're interested in attending or helping to organize, please e-mail [email protected]
Post Tags:
buddhist activism
,
meditation
,
Occupy