Monday
International Programs
Special Event: The View of Mahamudra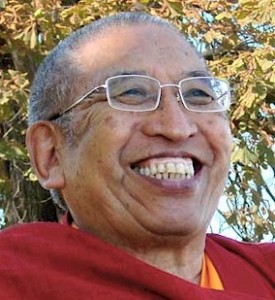 A webcast of Khenchen Thrangu Rinpoche, teaching on Chogyam Trungpa Rinpoche's song of realization
Newly recovered and never before transmitted, "The View of Mahamudra" is a vajra SONG OF REALIZATION by the Vidyadhara, Chogyam Trungpa Rinpoche. The text that Thrangu Rinpoche will teach from was written by Chogyam Trungpa when he was just 19 years old. This song of realization was composed immediately after Thrangu Rinpoche, Khenpo Kartar Rinpoche, and Chogyam Trungpa received Khenpo Gangshar's complete set of terma teachings from Khenpo Gangshar himself. Khenpo Gangshar knew these three would soon have to leave Tibet, and he probably knew that he would not be leaving. So he transmitted the full set of his own terma to the young men.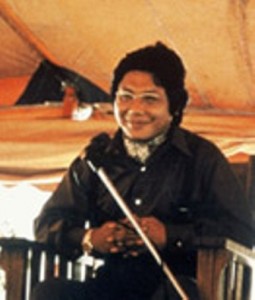 Right after receiving these teachings, Chogyam Trungpa wrote this amazing text, and called it "The View of Mahamudra." It is significant that we will be receiving this teaching from Chogyam Trungpa's old friend and vajra brother, Thrangu Rinpoche, both of whom were disciples of Khenpo Gangshar. It's the view, fresh from Khenpo Gangshar, as realized by the young Trungpa just as they were about to leave their homeland of Tibet.
Broadcasting from the Boulder Shambhala Center
October 9, 6:30pm
October 10, 9am-12noon and 2-5pm
October 11, 9am-12noon
Proceeds go towards the construction of Thrangu Rinpoche's Vajravidya Crestone Retreat Center
Thrangu Rinpoche is building a three-year retreat center in Crestone, Colorado. In the summer of 2008, Thrangu Rinpoche asked that the second phase of building the shrine room be initiated. Rinpoche emphasized the importance of the shrine room by calling it the heart of the center. The building of the shrine room has begun and funds are needed to complete the entire shrine room. Stay tuned for more information on this building project.
Registration fee is $108, please register for the online broadcast by clicking here, and click on the Upcoming programs tab.
Register for the event at the Boulder Shambhala Center by clicking here.
Online registration is not available in the Boulder-Denver-Ft. Collins area until tickets are sold out for the event at the Boulder Shambhala Center. Please register for the local event by clicking here, or email andrewnewkirkrose (AT) yahoo.com for the local waitlist.
May all beings benefit!
Post Tags:
Chogyam Trungpa
,
Thrangu Rinpoche