Thursday
Community Articles, International Programs
Parinirvana Day 2020 Resources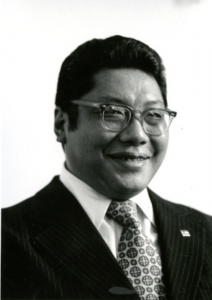 To the Noble Sangha,
We hope that each of you are well and cared for during this groundlessness.
Each year on April 4th, Shambhala marks the life and passing of its founder, the Vidyadhara, the Venerable Chögyam Trungpa Rinpoche, with the commemoration of Parinirvana Day.
As we approach the anniversary of Trungpa Rinpoche's death in these extraordinary times, the impact he has on our lives feels particularly present.
It's traditional to practice The Sadhana of Mahamudra, one of Trungpa Rinpoche's seminal works, on this day. This sadhana describes the dark age of materialism, how we can look directly at the vividness of that experience, and how we can supplicate the wisdom of the lineage to support us. Usually, we would gather in our centres to practice and offer toasts, poetry and sangha kinship.
Since most of us are isolating at home, we can practice the Sadhana of Mahamudra or other practices by Trungpa Rinpoche on our own or online with friends.
Please see the links below to access:
Several live online Sadhana of Mahamudra gatherings, offered by various groups.
Recording of "Mahamudra 1," a 1976 talk offered by the Shambhala Archives.
A link to an exhibit of some of Chögyam Trungpa Rinpoche's objects posted on the Shambhala Archives' Facebook page.
Some local centres have organized online gatherings for the occasion as well, so please check with your local community to see if an event is being offered.
Sending love and connection to the sangha descendants of Chögyam Trungpa Rinpoche, and to all beings at this unprecedented time,
The Shambhala Office of Decorum
Parinirvana Day 2020 Resources"Mahamudra 1" – Talk at Naropa University
Click here to access the video
Offered from the collection of the Shambhala Archives for screening at the April 4 Parinirvana event at your centre, commemorating the life and teachings of the Vidyadhara, the Venerable Chögyam Trungpa Rinpoche. Length: 33 minutes.

Online exhibit from Shambhala Archives:
https://www.facebook.com/ShambhalaArchives

———-

Live Online Gathering: Karmê Chöling
April 3-5, 2020 (full weekend of events)
Hosted on Zoom by Shambhala Online
Click here to register for the weekend events and livestream

Join Acharya Suzann Duquette for a weekend of events at Karme Choling, exploring the relevance of the Sadhana of Mahamudra in our lives.  Online stream hosted by Shambhala Online.

Live Online Gathering: Halifax Feast Practice
April 4, 2020 at 5:30pm ET
Hosted on Zoom by the Halifax Shambhala Center
Click here to register for the online gathering

The Halifax Shambhala Centre will host an online Sadhana of Mahamudra Feast Practice and has availability for 150 additional guests to attend via Zoom. Please register via the link above.

———-

Live Online Gathering: Sadhana of Mahamudra Feast
April 4, 2020 at 1:00pm ET
Hosted on Zoom by Ocean/The Chronicles
Click here to access the online gathering

Join us in celebration of the life and teachings of Vidyadhara the Venerable Chögyam Trungpa Rinpoche. Please join us from wherever you are and have something to eat and drink for the feast.

Live gathering sponsored by:  Boston Buddhadharma, Chogyam Trungpa Institute, Chogyam Trungpa Legacy Project, Karma Changchub Ling (KCCL), Nalanda Translation Committee, Naropa University, New York Buddhadharma, Ri-me Society, Shambhala Archives, The Profound Treasury Retreat, The Chronicles/Ocean, Westchester Buddhist Center and Wisdom Seat
Post Tags:
celebration
,
Chogyam Trungpa
,
founder
,
online
,
Parinirvana
,
Sadhana of Mahamudra
,
terma
,
zoom