Thursday
Community Articles
Transforming Aggression into Gentleness
by Brian McCorkle
Have you ever been at a Shambhala program and experienced seeing official-looking people who look like they are in uniform? It may have been blue blazers with pins, white shirts, khaki or grey slacks, standing off to the side, or perhaps escorting the teacher. Maybe you have seen them driving teachers, or standing outside the door of the Teachers' Suite. Sometimes they wear navy suits. Even more startlingly, at retreat centers like Karme Choling, they might even be wearing khaki military uniforms.
Yikes! Who are these people?
They are called the Dorje Kasung and represent the third pillar of Shambhala society, which is the pillar of Protection (the first two pillars being Government and Practice & Education). Just as the physical body needs an immune system to survive, any healthy society needs protection to survive: police, fire departments, public health services, conflict mediators, and emergency response teams are all essential for civil society. Recognizing the importance of these aspects of healthy societies, the founder of Shambhala, Chogyam Trungpa Rinpoche, created the Dorje Kasung so that we could explore how to provide protection in an enlightened way, free of the aggression typically associated with military forms.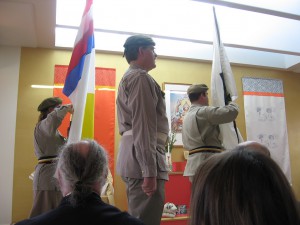 The Tibetan word "Ka" can be translated as "sacred word," and "sung" means protector. "Dorje" (or "vajra" in Sanskrit) means "indestructible." At the outer and most visible level, the Dorje Kasung were established to provide physical protection: protection of the teachers, the students, and physical property. This practice includes many aspects, including driving teachers, attending to physical concerns such as fire safety and air quality/temperature, and allowing teachers enough space so that they can eat and sleep and prepare their talks properly. Another aspect of this outer practice is creating a container free of disruption so that the teachers can freely teach and the students can relax and open up to being touched by the teachings. At an inner level, the protection regards the health and well-being of the community, especially in situations where community members might infringe on the well-being of others. The secret level is protecting the teachings from denigration by teachers or students.
---
Editor's Note: We are currently on hiatus from publishing new articles; in the meantime, please enjoy this classic item reprinted from our back issues.
---
We recently renovated the back office of the Boston Shambhala Center, and the black desk with green-painted walls is our new "KHQ" or "Kasung Headquarters." As the official "seat" of the Dorje Kasung in Boston, we have placed a small shrine over the desk where Kasung may offer incense to the lineage before starting their shift. In KHQ, you will notice some provocative photos of Trungpa Rinpoche and Sakyong Mipham Rinpoche in full military uniforms. As the leaders of the Dorje Kasung, they teach Kasung members how to use military principles in ways that transform aggression into gentleness and compassionate activity. In this way, there is a path quality to being a Kasung, and it takes many years to learn well how to transform aggression into gentleness. This is why the path of being a Dorje Kasung is inseparable from the path of meditation and the development of loving-kindness. On behalf of Kasung everywhere, we apologize for those times when our own speediness tempts us to act from our habitual patterns in ways that cause discomfort for others.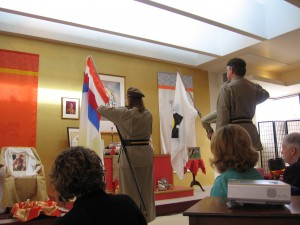 If you are interested in finding out more about what we do, or are interested in joining our ranks, you are welcome to talk to a squad member at your local center. We are always delighted to welcome new Kasung to the squad! When you see us in uniform, however – blue blazers with pins, white shirts, and khaki pants in summer – that means that we are on the job, so that is not the best time to chat with us (except we always welcome complaints).
To learn more about the path of the Dorje Kasung, click here. You can also speak with your local Rusung at your Shambhala Center for more information about how you can get involved.
Post Tags:
Chogyam Trungpa
,
Dorje Kasung