Friday
Featured Stories
Inauguration of Naropa's Fifth President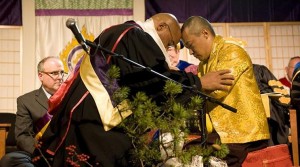 Press Release from Naropa University
Naropa University President Stuart C. Lord was officially ushered into the office he's held since July 1 during an inauguration ceremony on October 31. Approximately 300 people attended the ceremony, held at the Nalanda Events Center. Lord is Naropa's fifth president.
Watch a Slide Show of the Inauguration
In his inaugural address, Lord said, "Since my first visit to campus I have said that Naropa University is too good not to be better." He continued to share his vision for Naropa, which he said builds on the university's strengths, outlining three steps:
Building on the philosophy that Trungpa Rinpoche set for higher education by creating more accountable and compassionate leaders,

Building on the precept that contemplative education is a distinctive and invaluable educational for students by preparing students to meet the world as it is and change it for the better, and,

Enhancing the role that spirituality and service play in the education of the whole person by developing habits of the heart.
He described what he meant by developing habits of the heart in a Dartmouth program he developed called Education and Service Trips, in which he took students to the Gulf Coast in the aftermath of Hurricane Katrina.
"We gave them opportunities to serve people who were in need. We prepared them to serve. They received training on everything from putting up dry wall to politics to economics and poverty. … We challenged them to make their trip meaningful. Upon their return, students reflected on their experience and described it as 'life changing.'"
Lord said serving others would deepen Naropa students' contemplative practices.
"For some it may mean meditating on cushion, going for a hike in the woods, having a deep conversation or pondering at the bank of a river. Naropa students should and must engage socially, in the local, national and international communities in the spirit of service. Students need the opportunity to serve others so that their experiences can be colored by the people they share the world with," he said.
Lord's speech concluded with three ways to build on Naropa's foundation:
Construct a consistent, rigorous curriculum with opportunities for language and science studies,

Construct a cohesive community committed to a unified direction for the university, and,

Build character by producing skillful and compassionate graduates who are prepared to confront the issues facing the world.
The inauguration ceremony was dynamic and diverse with representatives of Native American, Jewish, Muslim, Buddhist and Christian traditions taking part in the proceedings, which included contemplative, traditional and performance arts.
Michael Girodo, chair of Naropa's Inauguration Planning Committee, says the ceremony "reflects our commitment to spiritual and educational pluralism."
Speakers at the inauguration were former Naropa University President Thomas B. Coburn (who is now President Emeritus); The Sakyong, Jamgon Mipham Rinpoche; Colorado Rep. Claire Levy; President Emeritus of DePauw University Dr. Robert Bottoms and others.
Prior to inauguration, Lord reflected on his role at Naropa.
"I'm humbled and honored to have this opportunity to be engaged with the Naropa University community," says Lord. "It's an exciting time for the campus and an exciting time for Boulder, and I'm really privileged and honored to be part of moving this university from distinction to excellence."
Lord came to Naropa from DePauw University (1988–2000) and Dartmouth College (2000–09).
To read more and see slide shows of events associated with the Inauguration, including the Naropa Dialogues and the Day of Service, visit: www.naropa.edu.
Post Tags:
Naropa
,
Stuard Lord