Tuesday
Arts and Poetry, Mandala Projects
Shambhala Sun Auction Open through December 13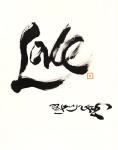 The Shambhala Sun Foundation's 3rd Annual Auction is now underway and runs through December 13. We welcome your support through visits and bids.
Browse the auction here. To register, click here.
You'll find calligraphies by Chogyam Trungpa and Thich Nhat Hanh, signed books by Pema Chodron, retreat packages from Dorje Khyung Dzong, Karme Choling, Shambhala Mountain Center, Casa Werma and elsewhere. Also: one day of consulting for your organization by Meg Wheatley, a tour of Google offices in California, cool new Shambhala Sun shirts, and a host of clothing and jewelry, stunning art, books, DVDs, calendars, gift certificates, and more.
So: Why would these fantastic contributors participate in this Auction, and why might you?

To support the not-for-profit Shambhala Sun Foundation in its work to sustain, uphold, and spur on the dialogues that can lead to a more engaged and mindful life. Contributors and buyers alike help us to raise funds for initiatives outside the scope of our operational budget, allowing us to continue serving the Buddhist and Buddhist-friendly community with the fine content, events, and services for which the Shambhala Sun Foundation has become known.
Enjoy, and thank you for the support.
Molly DeShong
Shambhala Sun Foundation
Post Tags: