Monday
Arts and Poetry, Community Articles, France, Spain
Dancing Life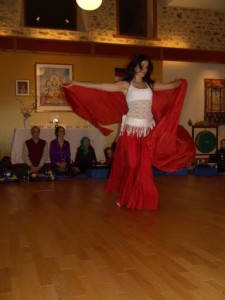 A Playful Encounter of Maitri and Dance
By Alexa Gould-Kavet
This October, the large shrine room floor was caressed, stomped, delicately slithered and tiptoed across by thirty sets of feet. These feet, each day, were swathed in red, green, yellow, blue and white. Our feet come to mind because they tether us to the earth, like breath to the mind.
In what was a truly revolutionary meeting of modern dance and the Maitri experience, Catherine Eveillard of St Yrieix Sous Aixe (France), Myriam Szabo and Fatou Traore of Brussels (Belgium), joyously rejuvenated the Maitri process in a collaborative effort, with a diverse group of individuals from all over Europe. Titled "Danser Sa Vie," this was the annual francophone programme at Dechen Choling.
As a staff member of Dechen Choling, and relatively new to Shambhala myself, I was eager to be a participant of a programme here and was intrigued by Maitri. This was certainly one of the most unconventional retreats to choose, but turned out to be enormously gratifying. I was a bit apprehensive to attempt a programme in French being only somewhat fluent. Fortunately for me, "Danser Sa Vie" was about experience through movement, springing from a foundation of sitting meditation and the Maitri postures. What I missed in the discussion groups due the linguistic challenge would have been interesting to glean, but was not crucial to understanding and appreciating the meeting of Maitri and dance.
As you may know, the five wisdom energies are already beautiful to experience in the way of Maitri practice. Donning a solid color each day, one connects to the experience of the particular color's energy. In traditional Maitri retreats, the experience is offered by means of entering a room illuminated by a color and holding its corresponding pose for a set amount of time. However, this programme was not so much about the poses and being doused in light of the daily color. We took the pose and wore colored glasses for 20 minutes twice a day, but beyond that, it was up to us as a group to find the energy of the color–through our bodies.
"Danser Sa Vie" provided a container with gentle but precise instruction from Fatou and Myriam. The mornings of "Atelier Traore" were generally slow-paced, contemplative movement workshops, including a three-part full body massage intensive that encouraged us to explore the infinite possibility of our bodies' movements. Ending with a brief session of qigong, the mornings were spacious and yet intimate. "Atelier Szabo" had a distinctive folk character, challenging us to dance together in geometric patterns, whirl about with abandon, tell stories and sing. Finding ourselves again, coming out of the intensity and even a trance-like state, we convened in all our sweaty, exhilarated glory for an evening talk from Catherine on that day's wisdom energy.
The dharma shared so simply and without pretense by Catherine gave us a context for our brilliant, whirling experience. She provided the imagery and symbolism of the energies for us to consider. Given this guidance, we discussed our encounter with our mind and heart during the day's dancing and wisdom postures.
For myself, the energy of karma brought the most clarity and connection between the teachings of this buddha family and the dance practice we were given. Myriam had our lovely mass of green sweep over the floor in four directions in a particular step, following a rather mathematical form. If concentrating too hard, one missed a step. But letting go, one naturally knew what to do next–fluidly, easily. When Catherine brought up in the talk that wind was the symbol of karma, I immediately felt that this element described the experience of this dance. It was magnificent to feel that kind of connection with the color through the body, more than through the static pose and color lens.
At its essence, this programme was about waking up and seeing those around us. We may think we are aware of those around us, but when encountering people in this way, seeing which colors brought out a person's most beautiful or wretched sides—well, we see, with our hearts. There was the sense that we—the teachers and participants together—discovered a new frontier in Shambhala teachings. From this pioneering Maitri Dance program, I hope many future gatherings come forth to offer the opportunity of weaving dance and the wisdom energies in a truly miraculous display.
Post Tags:
contemplative arts
,
contemplative dance
,
dance
,
Dechen Choling
,
maitri space awareness