Sunday
Arts and Poetry, Featured Stories
Documenting Action for Change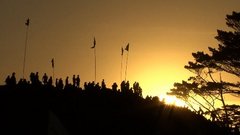 From the column Shambhala at the Movies by Angela Pressburger
Many Shambhalians – in our centers and as individuals – have expressed an interest in using ecology films to inspire dialogue and further exploration of this important and very current topic. Recently, there has been a marked increase in documentaries on this theme, and many of them are very good, combining important content with beautiful images to create films that are equally pleasing to the eye and the mind. This week's film is an example of this new genre of movie, which is just hitting its stride: the place where spiritual ideals and experience meet the field of action.
FIERCE LIGHT: WHEN SPIRIT MEETS ACTION, 2008, Canada, 90 min.

Inspiring! Herein lies the key to humankind's ultimate survival, and what could possible be more important ~ The Seattle Times

Director: Velcrow Ripper
Language: English
Recognitions: Best Documentary and Most Popular Canadian Documentary, Vancouver, 2008
Featuring: Thich Nhat Hanh, Daryl Hannah, Julia Butterfly Hill, John Lewis, Archbishop Desmond Tutu, Alice Walker, Noah Levine, and others.
Documentary filmmaker Velcrow Ripper explores what Paul Hawken (the author of "Blessed Unrest") describes as the largest global movement in history: thousands of individuals and organizations connected by a shared commitment to compassionate, positive action. Martin Luther King called this impetus "Love in Action", Gandhi called it "Soul Force", Alice Walker calls it "A Human Sunrise" and for Ripper it is "Fierce Light." By documenting stories of resistance and transformation around the world, the director seeks to reveal what is possible when human beings, faced with a world in crisis, rise to their absolute best.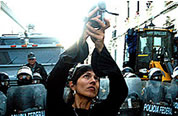 For Ripper, the story begins in Oaxaca, Mexico when his friend and fellow journalist-turned-media-activist, Brad Will, is shot by paramilitaries while documenting a street protest during the 2006 uprising. He says this experience forced him to stop and reconsider the importance of taking part in such risky endeavours. Was rising up to the establishment really worth putting his life at stake? His answer, ultimately, is yes, providing he – or anyone else – is deeply, spiritually – connected to the issue. There's no point tagging along with the protesting crowd simply for the sake of causing a ruckus or getting high on tear gas; instead, activism must come from the heart and the spirit, and the more focus on positivity and revolution – rather than negativity and sheer rebellion – the more effective it will be.
In this film, we join the director as he contemplates his place in the universe, his drive to make the world a better place, and the ways in which the two connect. To do this, he takes us with him on an international and historical journey to various flash points of spiritual activism around the world, including Montgomery, Alabama; Robben Island, South Africa; Andrah, India; Ho Chi Minh City, Vietnam; and South Central Los Angeles. We follow him to Vietnam for ceremonies of reconciliation for Buddhist monks exiled by the Communist government; to India to report on the "post-Gandhi" struggle by that nation's untouchables; to the anti-government protests by teachers in Oaxaca, Mexico, and to Quebec City, where people gather to protest the Free Trade Agreement
Helping to prove his point are a host of academics, philosophers and celebrities, and eloquent icons, including American Civil Rights legend Congressman John Lewis, actor turned activist Daryl Hannah, Nobel prize winner Archbishop Desmond Tutu, Pulitzer Prize Winning Author Alice Walker, Buddhist peace activist monk Thich Nhat Hahn, famed tree sitter Julia Butterfly Hill, and dharma punk, Noah Levine.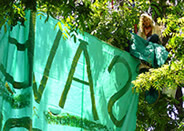 The centrepiece of the film, is Ripper's coverage of the protest against the razing of North America's largest urban garden in South Central Los Angeles – a vacant lot transformed into a vibrant oasis by 350 low-income Latino families a decade earlier. The focus is on the farm's community, who have lived off this land for decades and will be drastically affected by a developer's decision to raze it to make way for an industrial warehouse. The protest is in vain, and the subsequent displacement of hundreds of Latino caretakers makes for a solid case study and offers some well-rounded profiles of the people involved – both locals and "imported" activists – in these types of activities. It also provides a nice trajectory of what a modern-day campaign involves, from meditative vigils to peaceful roadblocks and, occasionally being dragged off in handcuffs.
This is a visually powerful documentary about the impact and the necessity of spiritual action in today's world, fueled by the belief that what we have now can be transformed into someting better. It explores what motivates today's activists and whether their tactics are changing from rebellion that seeks action from an outside source to the more peaceful approach of being change. What needs to be understood if we hope to move forward in this new way with any measure of success? The idea that change will only occur if it comes from a place of compassion may still sound hokey to many but we have only to look at today's results of the work begun by Gandhi and Martin Luther King Jr., to appreciate the quality and commitment of their approach.
As a contemplation, we might consider the path to going forward that Ripper presents on the film's website (www.fiercelight.org) as "The Path of Spiritual Activism" under the "Go Deeper" heading in the menu bar:
Spiritual Activism is the coming together of spirituality, and activism. It is not about any form of dogma, it is simply activism that comes from the heart – not just the head – activism that is compassionate, positive, kind, fierce and transformative. It focusses as much on what we are for, as on what we are against. It is rooted in an understanding of interdependence, and works to end the suffering of all beings, even our opponents. Nothing could be more inspiring and more rewarding than being the change we want to see in the world, within and without.

Below are some suggested guidelines from a group called Humanity Healing. This is not a definitive statement – just one group's suggestions – but a good set, and well worth considering (Velcrow Ripper):

1. The core dynamics behind the Spiritual Keys of Activism are creativity, adaptability, understanding and the peaceful resolution of conflicts.

2. All Action is Based on Compassion

3. Compassion Flows from the Understanding of the Connection Between All Living Beings.

4. Compassion Must Be Applied With Wisdom

5. Apply Synergy and Teamwork to Accomplish Goals

6. Spiritual Activism is the Pursuit of Service for the Good of All, Not for the Advancement or Benefit of Individuals or Selected Communities.

7. Pursue Integrity, Honesty and Dignity in the Conduct of Your Actions

8. Do not Defame Your Detractors or Those Who Doubt You

9. Raising Another Up Raises You Up As Well

10. Learn to Listen to Your Heart and Not Your Mind

11. Search Out Viable and Sustainable Solutions

12. Spiritual Activism is about process.
DVD Purchase:
Canada: www.amazon.ca
USA: http://www.neoflix.com/cart/LOR10/
Rentals:
USA: www.netflix.com
Canada: www.zip.ca
______________________________________________
Angela Pressburger is the former movie columnist for the Shambhala Sun and has been a Program Consultant with the Vancouver International Film Festival since 1997. She organized the first – and only – Shambhala International Film Festival at Kalapa Assembly in 2000, and has been a student of Shambhala Buddhism since 1974.
Angela is part of a movie lineage starting with father, Emeric Pressburger, co-director, writer and producer of such classics as The Red Shoes, Black Narcissus, The Life and Death of Colonel Blimp and A Matter of Life and Death (Stairway to Heaven in the US). Her sons, Andrew and Kevin Macdonald, are also involved in the business. Andrew produced Trainspotting, 28 Days Later and launched Danny Boyle and Ewan McGregor on the road to stardom. Kevin, not to be outdone, managed to scoop an Oscar® for Best Documentary Feature for One Day in September and went on to direct Touching the Void, The Last King of Scotland, and State of Play.
Post Tags:
Compassionate Action
,
Shambhala at the Movies
,
social action