Tuesday
Arts and Poetry
Monkey at the Movies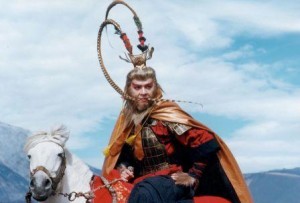 From the column Shambhala at the Movies, by Angela Pressburger
In honour of the holiday season — the time for purchasing Big Box Sets as gifts — I thought I'd offer something I frequently get requests for more information on: Monkey / The Journey to the West. As rare box sets, these may be more suitable for a Center, Deleg, or group of friends to purchase than an individual. But since so many people ask about it, even if you don't want to get any of the DVDs, you may still enjoy the story.
The Journey to the West is one of the Four Great Classical Novels of Chinese literature. It dates from the 1590s (Ming Dynasty) and is generally recognized to be the work of Scholar Wu Cheng'en. In the West, and particularly in the movies, the word "Monkey" usually appears in the title.
Prologue
In heaven, the Buddha is dismayed that "the land of the South knows only greed, hedonism, promiscuity, and sins". He therefore instructs the bodhisattva Kuanyin to search China for a suitable person to bring the Buddhist sutras back to the East from Vulture Peak Mountain in India. On earth, the Chinese Buddhist Monk, Xuanzang (Tang Monk, c. 602-664) undertakes the quest (apparently, he was motivated by the bad quality of the translations available in China at the time.) Later, these two strands were interwoven with older traditional folk tales to become the Monkey story cycle.
---
Editor's Note: We are currently on hiatus from publishing new articles; in the meantime, please enjoy this classic item reprinted from our back issues.
---
The Characters
Xuanzang, (Tang Monk) "Tripitaka", is a rather helpless human who needs divine assistance to accomplish his goals. His prayers to Kuanyin are answered in the form of four companions-of-the-road who are promised enlightenment – or at least forgiveness – by Heaven, if they succeed. Tripitaka is rather handsome so he attracts a lot of flesh-eating demons as the group travels from China to India, which makes for a strong story of obstacles overcome on the road to enlightenment. These encounters along with Monkey's pranks, princesses to save, etc. form the main body of the story.
Su Wukong (Awakened to Emptiness) alias "Monkey", has a body with the strength of meteoric iron, fiery golden eyes, and magical body-hair which he can use to clone himself for numerical advantage in battle. He can do "cloud somersaults" enabling him to travel vast distances in a single leap, and he is deeply enamoured of pranks of all sorts. Monkey overcomes his enemies with a golden-banded staff which can shrink down to the size of a toothpick kept behind his ear. He was expelled from Heaven for fomenting rebellion once too often. His behaviour on earth is kept in check by a gold band placed around his head by Kuanyin, and which Tripitaka can tighten by chanting the Crown Tightening Spell, referred to by his companions as "the headache sutra" — and which sounds a lot like OM MANI PADME HUM.
Zhu Bjie (Eight Precepts Pig), "Pigsy", was once the immortal Marshall of the 100,000 Soldiers of the Milky Way. He was banished to the world of mortals for getting drunk and flirting with the beautiful moon goddess Chang'e. He was supposed to be reborn as a human, but ended up in the womb of a sow due to an error at the Reincarnation Wheel, and so has manifested as a half-man, half-pig, with an insatiable appetite for food and sex.
Sha Wujing (Sand Awakened to Purity), "Sandy", was once the Curtain Raising General, whose Court job was to stand in attendance by the imperial chariot in the Hall of Miraculous Mist. He was exiled to the mortal world in the form of a River Ogre because he accidentally smashed a crystal goblet belonging to the Heavenly Queen Mother during the Peach Banquet.
And finally, of course, there is the magical white horse which no great story can be without. This one was formerly the third son of the Dragon King, and was sentenced to death for setting fire to his father's great pearl. He was saved from execution by Kuanyin and has now received his call for duty as the wonderful steed Tripitaka rides from China to India and back.
Conclusion
Having found and acquired the sutras, the group quickly accomplishes the return journey to Tang Empire China, where each traveller receives an appropriate appointment in the bureaucracy of Heaven. In addition, Tripitaka achieves Enlightenment, Sandy becomes an Arhat, the dragon/horse becomes a Naga, and Pigsy, whose good deeds remain tempered by his greed, is promoted to an Altar Cleanser (i.e. he is to eat the excess offerings at altars…)
_____________________________________________________

The Definitive Guide to Monkey on DVD

Quite a number of films — both good and bad — have been made about Monkey but only a few really follow the traditional story. The titles tend to overlap in translation and very little is available in North America; however, do not despair, they are available in versions you can play from reputable Asian on-line stores, which we link to below.

Here are the best of the Monkey DVDs, divided into 3 categories: Traditional, Contemporary and Animation.
~ ~ ~ ~ ~
Traditional
~ News Flash! I've heard that Chinese TV currently has a brand new traditional version in production, directed by Zhang Jian Ya, with an anticipated release in spring 2010 – I'll let you know when it is available.
~ Saiyuki/Monkey, or Monkey Magic, Japan, 1970s (DVDs 2002/3), Japan TV
This version still gets 8.7-10 stars on imdb.com, where the British continue to find it as much fun as they did when they were children in the 1970s and watched it on the BBC. Although many of the special effects are now quite dated, they are also hilarious and the dialogue maintains its wit. (Do not get confused by all the animated manga Saiyuki DVDs, which have little to do with Monkey.)
In the US, you can get a box set of Part 1 (the first 13 episodes) dubbed into English – a whole trip in itself, somewhat along the lines of a modern pantomime so that both adults and children can enjoy it – by clicking here.
In the U.K. and Australia/New Zealand, you can get all 39 episodes + 13 others of the English-dubbed PALversion created for the BBC:
In the U.K.
In Australia/New Zealand
~ Saiyuki/Monkey Magic/The Adventures of Super Monkey, 2007, Japan, 120 min., 2 discs.
Director: Sawada Kensaku
Japanese with English subtitles. Based on Fuji TV's 2006, 11-episode tv show.
Purchase: You can get All-Region NTSC dvds: Journey To The West (Saiyuuki, Japanese TV Drama 3 DVD), or the 120 minute Saiyuuki (Journey to the West, Monkey Magic) (DVD) by clicking here.
Rental: Not available.
~ Monkey Goes West, China, 1966 (dvd 2003), 112 min., Part 1 of a series of 4
Director: Ho Meng Hua
Mandarin with English subtitles
Considered one of the 100 best Chinese films of all time, all four parts have been beautifully restored. It is clearly made for Chinese audiences who are familiar with the story, but there are great musical numbers and gorgeous sets and costumes – a Shaw Brothers trademark.
Purchase DVD: NTSC Region 3 dvd by clicking here.
All 4 are available as VCDs from www.hkflix.com or www.yesasia.com
Rental: Not available
Part 2: Princess Iron Fan, China, 1966 (dvd 2003), 93 min.
Do not confuse with the 1941 animated Princess Iron Fan (see below)
Purchase Region 3 DVD by clicking here.
Part 3: The Cave of the Silken Web, China, 1967, 82 min.
Purchase US version from either amazon.com or hkflix.com
Rental: netflix.com
Part 4: The Land of Many Perfumes, China, 1968, 82 min.,
Purchase: Region 3, NTSC by clicking here.
~ ~ ~ ~ ~
Contemporary
~ The Lost Empire, US, 2001, 170 min.
Director: Peter MacDonald
A TV extravaganza featuring an American China scholar (Thomas Gibson) whose knowledge of Asian mythology becomes astoundingly useful when he is magically transported into another dimension – the world of the Monkey King. A martial arts film with lots of special effects.
Purchase: www.amazon.com
Rental: www.netflix.com
~ A Chinese Odyssey: Pandora's Box, and Cinderella, 1994 (dvd 2006), 188 min, HD 2-disc set.
Director: Jeffrey Lau Chun Wai
Mandarin with English subtitles
The adventures of "Joker", a scruffy Ancient Chinese gang leader, who is really a reincarnation of the Monkey King. This is Monkey-goes- martial-arts, with great costumes, gorgeous scenery and Stephen Chow, in his first international award-winning role, as a hilarious Monkey King. Restored, remastered and now available in HD-Blu-ray as well as regular dvd. (But do not confuse with Chinese Odyssey starring Tony Leung, which is readily available and has nothing to do with Monkey)
Purchase: www.amazon.com or cheaper All-Region NTSC dvds from www.yesasia.com
PAL version from: www.amazon.co.uk
Rental: www.netflix.com
~ ~ ~ ~ ~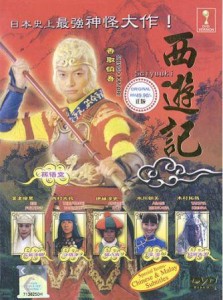 Animated
~ The Monkey King: Uproar in Heaven, 1965, China, 44 min.
Directors: Wan Laiming and Wan Guchan
Mandarin with English subtitles
Completed one year before the outbreak of the Cultural Revolution, this film represents both the culmination and the final curtain call of the golden age of Chinese animation. It was a labour of love for brothers Wan Laiming and Wan Guchan, creators of China's first animated feature, "Princess Iron Fan", in 1941 (see below). The flattened, scroll painting design is one of the film's distinctive features and is expressed with a visual opulence that remains a high watermark of Chinese animated filmmaking. It has been said that this film is representative of Mao wreaking havoc in China, but it could equally be representing Mao as the oppressive Jade Emperor and his advisers, desperately trying to destroy the freedom-loving spirit of the Monkey King…. (Do not confuse with the 2009 release of the same title, an animation based on illustrator Wen Hu Ma's children's books and available from amazon at a stunningly high price for very few minutes.)
Purchase All-region NTSC dvd (Chinese Animation 2, Taiwan Version) from: www.yesasia.com
Rental: Not available
~ Princess Iron Fan, China, 1941 (dvd 2006), 73 min., B/W
Director: Wan Laiming, Wan Guchan
Mandarin with English subtitles
Purchase: www.amazon.com or www.yesasia.com
Rental: www.netflix.com
~ The Golden Monkey Conquers Evil, 1985, China, 86 min.
Directors: Te Wei, Yan Dingxian, and Lin Wenxiao
In 1985, Shanghai Animation Film Studio followed up its 1960s masterpiece "Havoc in Heaven" with this third animated film.
Purchase All-region NTSC (Chinese Animation 4, Taiwan version) or All-region PAL (China version) from www.yesasia.comRental: Not available
Recommended Asian Sources
YesAsia (www.yesasia.com) a Hong Kong company that's very reliable and has free international shipping; sometimes its offerings arrive quicker than from your local amazon.
DVD Asian (www.dvdasian.com), based in the US but I think Korean. They are reliable and offer free US shipping on 3 or more dvds – watch out you don't get shunted to their adult movie site!
HongKong Flix (www.hkflix.com). Another Hong Kong company. Free shipping over US$49, otherwise it's pretty reasonable but slow. Just be sure you are getting an all-region dvd with English subtitles – or that you can play the Region and format offered.
Notes and Tips on Regions and Formats
North America is Region 1 and the Format is NTSC. A Region 0 or "All-region" disc will play anywhere. An official "all-region dvd player" is expensive, but in North America, if you have a cheap karaoke dvd player, you should be able to play a DVD from any region as long as it is in NTSC format. Many professional movie programmers use these cheap machines for this reason. Take another Region dvd with you to the store and ask to play it to make sure the machine you are considering purchasing does what you need it to do. However, be aware that other-Region dvds will not play on your computer.
VCD versions: For things like many of the Monkey products, you can buy a VCD version, if your player supports this format. They are only VHS quality, but much cheaper – about 1/3 the price of a DVD – and play anywhere. The are very popular in Asia and are available on Asian sites alongside DVDs; just make sure there are English subtitles. Click here for more information.
______________________________________________
Angela Pressburger is the former movie columnist for the Shambhala Sun and has been a Program Consultant with the Vancouver International Film Festival since 1997. She organized the first – and only – Shambhala International Film Festival at Kalapa Assembly in 2000, and has been a student of Shambhala Buddhism since 1974.
Angela is part of a movie lineage starting with father, Emeric Pressburger, co-director, writer and producer of such classics as The Red Shoes, Black Narcissus, The Life and Death of Colonel Blimp and A Matter of Life and Death (Stairway to Heaven in the US). Her sons, Andrew and Kevin Macdonald, are also involved in the business. Andrew produced Trainspotting, 28 Days Later and launched Danny Boyle and Ewan McGregor on the road to stardom. Kevin, not to be outdone, managed to scoop an Oscar® for Best Documentary Feature for One Day in September and went on to direct Touching the Void, The Last King of Scotland, and State of Play.
Post Tags:
Shambhala at the Movies