Wednesday
Arts and Poetry, Sakyong and Family
"Tulku" the Movie on DVD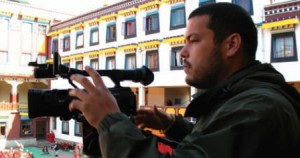 From the column Shambhala at the Movies by Angela Pressburger
Gesar Mukpo's intimate and honest exploration of what it means to grow up as a tulku in the west today is released on DVD just in time for the Year of the Tiger.
TULKU, 2009, Canada, 75 min.
Director: Gesar Mukpo
Photos courtesy of National Film Board of Canada
I was lucky to be at the film's World Premier in Vancouver last May. The film was slated to show at 3:30 on a Monday afternoon – not considered a good slot – and we were really worried that it would not get much of an audience. We put our hopes in getting the city's buddhists to turn out in force, but it didn't happen that way. Instead, the film turned out to be a sleeper-hit with young working people and sold out; the buddhist community filled only a couple of rows. Three weeks later, TULKU played again, in a bigger theater, and all three shows were packed. So clearly this film has something to say to young adult, whatever their station in life. Perhaps this points to the fact that it's not only Tulkus who have a hard time figuring out who they are. Those who have to deal with famous parents, high family expectations, or just trying to establish life-goals based on their inner being rather than on outside propaganda, clearly find this a universal theme.
About the Movie
Gesar Mukpo was three when he became one of the first people born in the West to be recognized as a tulku – the present-day reincarnation of a Buddhist master. However, in many ways, he leads an ordinary life. He's building a career as a filmmaker, he's had trouble in his marriage, he adores his daughter, and he struggles to pay his bills. But, for his entire life, he's been trying to figure out what being a recognized and enthroned tulku really means.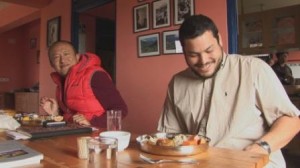 Starting in the mid 1970s, a system that had ensured stable spiritual power and authority in Tibetan society for 800 years was transplanted into a completely different culture; now we get to explore some of the results, both through the lives of some of the tulkus themselves, who are now young adults, and the thoughts of some of the older generation such as Gesar's own teacher, Dzongsar Khyentse, Rinpoche, who pointedly asks if it might not be time to abandon the practice of recognizing tulkus altogether.
The film explores such questions as: What does it mean to carry on this ancient tradition designed for an old world when you're living in a completely new one? How will Gesar and other Western tulkus fulfill their destiny? The filmmaker travels through Canada, the United States, India and Nepal to encounter other young tulkus struggling with these same questions: Ashoka channels his efforts into working for human rights in New York. Dylan, whose parents met at a Jimi Hendrix concert, spends half the year in solitary retreat. Wyatt grew up in California and recently moved to India to pursue Tibetan Buddhist studies at a monastery. Meanwhile Reuben, who was born in Amsterdam and spent three years in an Indian monastery, has become cynical about the tulku system and Tibetan Buddhism in general.
A small cavill is that the film does not present any female tulkus – or lack thereof; nor does it contain an interview with Osel Hita Torres, tulku of Lama Thubten Yeshe and poster boy for the FPMT (Foundation for the Preservation of the Mahayana Tradition) – until he went to university in Spain to study cinematography, handed back his robes, and asked to be known simply as "Oz", just after this film was made. But these are small short-comings. Essentially Mr. Mukpo has made an excellent film that holds your attention and showcases his talent for the mixing of sound and image to create a whole that is something more than the sum of its parts. May there be more films soon, and….Bravo!
DVD Purchase:

In Canada: www.nfb.ca/store

In USA: Not yet released but we're told you can call the NFB on 800-267-7710 or 514-283-9000; if you offer your credit card, they will not refuse a sale.

Rental:

Not currently available for rental, but please encourage your local video store to buy it from the NFB (National Film Board of Canada) so you – and others – can rent it.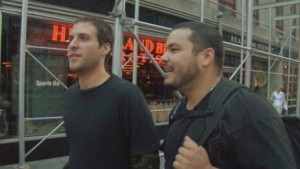 Director's Biography
Gesar Mukpo is a filmmaker who lives in Halifax, Nova Scotia. The son of the great Tibetan Buddhist teacher, Chögyam Trungpa, Rinpoche, and his British wife Diana Pybus, Mukpo was recognized at the age of three, as the reincarnation of his father's own beloved teacher, Jamgön Kongtrül of Sechen.
TULKU was produced as part of the Reel Diversity Competition for emerging filmmakers of colour. Reel Diversity is a National Film Board of Canada initiative in partnership with CBC Newsworld.
______________________________________________
Angela Pressburger is the former movie columnist for the Shambhala Sun and has been a Program Consultant with the Vancouver International Film Festival since 1997. She organized the first – and only – Shambhala International Film Festival at Kalapa Assembly in 2000, and has been a student of buddhism since 1974 and a member of the Shambhala community since its inception.
Angela is part of a movie lineage starting with father, Emeric Pressburger, co-director, writer and producer of such classics as The Red Shoes, Black Narcissus, The Life and Death of Colonel Blimp and A Matter of Life and Death (Stairway to Heaven in the US). Her sons, Andrew and Kevin Macdonald, are also involved in the business. Andrew produced Trainspotting, 28 Days Later and launched Danny Boyle and Ewan McGregor on the road to stardom. Kevin, not to be outdone, managed to scoop an Oscar® for Best Documentary Feature for One Day in September and went on to direct Touching the Void, The Last King of Scotland, and State of Play.
Post Tags:
Gesar Mukpo
,
Shambhala at the Movies