Tuesday
Arts and Poetry, Community Articles
Introducing "Shambhala at the Movies"
A new column by Angela Pressburger
"I think that a film should have a good story, a clear story, and it should have, if possible, something which is probably the most difficult thing – it should have a little bit of magic….Magic being untouchable and very difficult to cast, you can't deal with it at all. You can only try to prepare some nests, hoping that a little bit of magic will slide into them."
The Magic of the Movies
My father, Emeric Pressburger, wrote these words, about fifty years ago, in response to a reporter's question on what it takes to write a good script. In my land of authentic presence, basic goodness and magic – the land of Shambhala – these words continue to ring true, perhaps with even greater depth than their writer originally intended. They are the lodestone I use to orient myself in the face of the huge number of films I see, introduce, and review.
My interest is in finding genuine films from around the world, that express the culture and traditions of the place they come from and provide an interesting and informative point-of-view. The films that will be presented here, on a bi-weekly basis, may be dramas or documentaries, happy or sad, but they will be picked with the intent of stimulating your curiosity and introducing places, ideas, and conditions that are worth exploring further. Hopefully, they will spark connections and expand our knowledge and understanding of the state of being human. All the reviews will be about movies that are available on DVD, and will include sources for sale and rent-by-mail in North America and, where possible, Europe. This focus on home cinema means that they will rarely be the latest release.
An Invitation to Participate
I hope that "guest curators" will step forward to offer a column and that readers write comments on this page with suggestions for themes they would like to see covered.
________________________________________________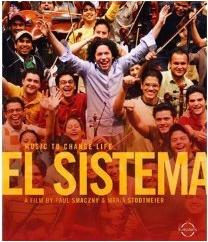 This week's film: El Sistema: Music to Change Life
Details: 2009, Germany, 102 min., documentary
Directors: Paul Smaczny and Maria Stodtmeier
Recognitions: Grand Prix ,Golden Prague International Television Festival, 2009; Special Jury Prize, Rodos Ecofilms Festival, 2009: an extraordinary subject, with far reaching implications, that very few people know about….
In 1975, Venezuelan economist, politician and musician, Jose Antonio Abreu, decided to leave the oil business and follow his dream to improve the quality of life for his country's disadvantaged children – through music. He cajoled ten players from the country's only orchestra to act as coaches, and begged and borrowed rehearsal spaces and instruments. As he says:
"We wanted to give a concert as soon as possible, just to show that it was possible that a poor child with no life hopes could actually perform music. I remember our first concert was on February 12, 1975. I invited the whole diplomatic corps in Caracas and some government ministers. We got a lot of attention from politicians and intellectuals and six months later the president of Mexico came to visit us. This brought more support, and within a year the orchestra was a state foundation."
Now, 34 years later, more than a million youngsters have gone through the National System of Youth & Children's Orchestras of Venezuela, or "El Sistema/the System". This film explores that change stemming from one man's commitment – one of the most elegantly simple and noble vehicles for positive social change in today's world.
The Transformative Power of Art in Society
The philosophy behind "El Sistema" is unique. Here, the role of art in society is seen as a key element to educating and allowing people to integrate and work together successfully as a community. The project harnesses the co-operative nature of classical music to help children understand what it means to work together and create something that is both spiritually and socially uplifting. The discipline, cognitive skills, social skills, and understanding of co-operation and teamwork serves every program graduate well later in life, whether or not they continue as musicians or become doctors, lawyers, business people, teachers, etc. The film presents us with only a few of their stories.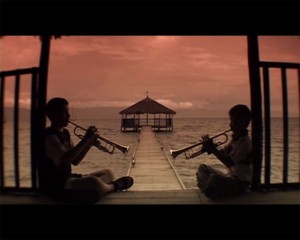 Cultivating the Future
The children start young; as early as two years of age. They are taken off the "mean streets" of Venezuela, taught the basics of music, and provided with instruments and lessons at one of the 90 "núcleos" (System Centers) scattered throughout the country – which in many cases take the place of the nearly non-existent public school system in Venezuela – and given the chance to become part of an ensemble. The youngsters make music six days a week for four hours a day, and the film emphasizes that this time gives them respite from otherwise difficult lives, providing safety and a supportive environment. Today, there are about 240,000 children participating, with an estimated 80-90% coming from the poorest slums of Caracas. Radically new, exciting and different from their often turbulent home lives, "El Sistema" represents hope.
The Sound of a People
The most talented and committed of these young musicians are selected to perform in Venezuela's prestigious Simon Bolivar Youth Orchestra of Venezuela (SBYOV). Under the baton of their super-star conductor, Gustavo Dudamel (who became conductor of the Los Angeles Symphony, in September of this year), they have toured internationally, performing to capacity crowds in the majority of Europe's most famous concert halls. In fact, the orchestra has become such a point of national pride in Venezuela that orchestra members have been raised to the status of cultural ambassadors for their country. For many, SBYOV has come to symbolize Venezuelan identity; now, the rest of the world is taking notice.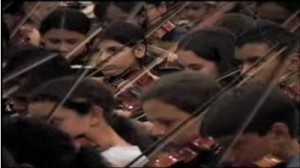 Inspiring an International Movement
Not surprisingly, the political implications of the United States adopting a Venezuelan idea, regardless of its merits, has so far not found much of a foothold. Instead, there have been a number of articles on how supporting "El Sistema" is supporting Hugo Chavez and therefore one should boycott the film and not buy the dvd. However, nascent "El Sistema"-inspired youth music programs are cropping up around Latin America, Europe and the U.K. with lots of support from local communities, prominent classical music figures and a few governments. Perhaps the old adage of not throwing the baby out with bath-water applies here.
This is an absolutely "must-see" film and I hope that this review inspires you to do so.
Press Pause, and Reflect
What value do cultural activities – particularly the arts — offer a society? How can engaging ourselves and our children in the arts contribute to establishing enlightened society?
______________________________________________________
How to Get the Movie
In the US, you can rent the documentary from netflix.com
In North America and Europe, you can purchase a copy from any of the amazon.com websites
Additional Information about El Sistema
Click here for El Sistema's Website
The TED Prize for "wishes big enough to change the world" announced a partnership with the New England Conservatory (NEC), to launch the Abreu Fellows Program, which is committed to bringing El Sistema to the US and the rest of the world. Click here to read their blog.
The Telegraph, in the UK, published an article about what "a dilapidated and crime-ridden council estate in Raploch Scotland, and a dilapidated and crime-ridden barrio in Caracas might have in common." Click here to read it.
______________________________________________
Angela Pressburger is the former movie columnist for the Shambhala Sun and has been a Program Consultant with the Vancouver International Film Festival since 1997. She organized the first – and only – Shambhala International Film Festival at Kalapa Assembly in 2000, and has been a student of Shambhala Buddhism since 1974.
Angela is part of a movie lineage starting with father, Emeric Pressburger, co-director, writer and producer of such classics as The Red Shoes, Black Narcissus, The Life and Death of Colonel Blimp and A Matter of Life and Death (Stairway to Heaven in the US). Her sons, Andrew and Kevin Macdonald, are also involved in the business. Andrew produced Trainspotting, 28 Days Later and launched Danny Boyle and Ewan McGregor on the road to stardom. Kevin, not to be outdone, managed to scoop an Oscar® for Best Documentary Feature for One Day in September and went on to direct Touching the Void, The Last King of Scotland, and State of Play.
Post Tags:
Shambhala Art
,
Shambhala at the Movies