Monday
Arts and Poetry
Social Presencing Theater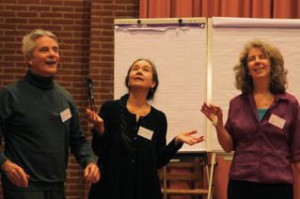 A Shambhala Art Form for Social Change
A Look at the Training Offered by Acharya Arawana Hayashi
article by Maria Patten with Shastri Sandra Ladley
This conversation addresses applications of Shambhala Art in social change work today.
"Arawana's work carried a deep meaning for me and the way I want to embody my spiritual practice and life's work." – Maria Patten
Maria Patten: In May, Sandra and I joined the first meeting of the year long advanced study in Social Presencing Theater (SPT). Ours is the second group to go through the program. It consists of 21 members, coming from India, Australia, Uruguay, Bolivia, Italy, Germany, Mexico, Canada, Hawaii and the mainland US. We are educators, coaches, facilitators, artists, healers, researchers, business people, church leaders, and community organizers. In age we range from 30-something to 70–something with 8 men and 13 women. There are 6 of us from the Shambhala community.
Shastri Sandra Ladley: Advanced Social Presencing Theater is offered under the auspices of the Presencing Institute, which was founded by Otto Scharmer and colleagues, including Acharya Hayashi. This is a global network of people engaged in social change projects using an awareness-based framework called Theory U.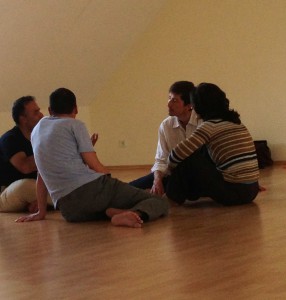 Familiar with Arawana's work at the Shambhala Institute for Authentic Leadership (now ALIA), Otto asked her to lead efforts to create what he called Social Presencing Theater. "Social presencing" is collective awareness that allows the wisdom of the group to arise. The root meaning of the word "theater" is a "place for viewing" or making visible the deeper patterns in the collective. That is how, as a method, SPT allows a community to see its patterns and relationships and to move toward saner and healthier choices. The basic goodness of society becomes evident.
MP: Acharya Hayashi brings the Shambhala principles, specifically around art, creativity and space awareness, into Theory U change work in the form of Social Presencing Theater. Presencing community participants are not necessarily involved in Shambhala programs. It was interesting to us how she modeled a way of bringing her commitment to creating enlightened society to this context. We can bring the view of basic goodness and establishing a sane and caring world to a great number of people. There is a Massive Open Online Course (MOOC) starting September 10th, 2015 (free) that will broadcast these teachings to thousands across the globe.
"There are moments in every person's life when we are free from all the thoughts, assumptions, opinions, hopes and fears that we carry with us. We feel the unconditional goodness of life. We feel we are living in our body, connected to this earth, aware of our sense perceptions and the context in which we live. Everything seems to hang together. This is the starting point for a practitioner of SPT." – Acharya Hayashi
SL:
We began our work together with a mindfulness of body practice called the 20 Minute Dance. By alternating movement and stillness we were invited to rest our attention on the feeling of the body, to cultivate a loyalty to the body without judgment or opinion. We felt the body joining earth and sky. We experienced body mind synchronization. This has become our daily practice.
MP: Through that work we became more sensation and feeling focused, more in the "now", and more truthful about what we were doing in each moment. We began to make friends with stillness and pausing.
SL: From mindfulness of body we expanded our awareness to the whole space and everyone in it. We practiced in duets, small groups, and in the larger group. We learned experientially how we are always communicating nonverbally, whether we are aware of it or not. The more we are conscious of it, the more conscious our actions become. We became a village.
"Any group, team, organization, or gathering is a collective body, or social body. We are always interconnected. We can directly experience this connection when we are continually sensing ourselves as part of this social body – part of a bigger organism that moves and breathes and pauses and reaches out and falls down." – Acharya Hayashi
MP:
Working together, we became sensitive to gestures that connected us to others versus gestures that warded people off. I made my share of each kind of gesture and learned valuable lessons about how I do this unconsciously. The work was not about personal expression but about expanding our awareness to care for the whole.
We applied this attention to a specific area in our work or life where we felt "stuck." We received reflections from others that led to embodied changes in my understanding and choices. The momentum from that experience continues, and a personal situation has shifted.
In The Shambhala Principle the Sakyong speaks of creativity as something we don't have a choice about: "Whether we regard society as an unfortunate burden or a valuable gift and opportunity, we are already participating in creating it."
SL:
In this first of our three Advanced SPT workshops for the year, we created something that was positive, engaged, and conscious. It carried dignity that reflected appreciation for each other and what we might be capable of. Our next phase in this work is to create practice groups at home, so that we can further explore the work. We are also continuing to study, meditate and journal. Ultimately, we will each work towards a community or organizational change project that uses this work.
Look for our second installment report for the Shambhala Times in 2016.

Find out more about Social Presencing Theater and
The work of Acharya Arawana Hayashi.
Learn more by attending Basics in Social Presencing Theater in Boston this November.
Post Tags:
Acharya Arawana Hayashi
,
embodiment
,
Shambhala Art
,
Social Presencing Theater