Wednesday
Arts and Poetry
You Don't 'Make' Art!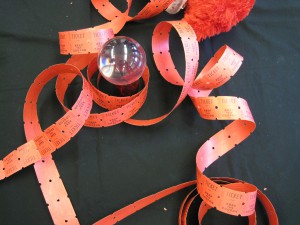 Today we celebrate Shambhala Art Day on the Spring Equinox
Shambhala Art Day has been designated by Sakyong Mipham Rinpoche to occur on the spring equinox. It is a day when the entire Shambhala community and friends are invited to celebrate art forms and disciplines that embody the Dharma Art teachings of the Vidyadhara Chogyam Trungpa Rinpoche. These teachings encourage the creation and manifestation of art that wakes up the viewer as well as its maker to a sense of unconditional sacredness within the phenomenal world.

article by Steven Saitzyk
International Director of Shambhala Art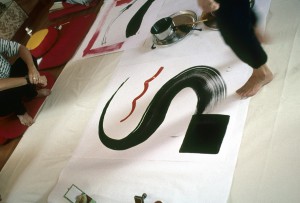 "You don't make art in Shambhala Art!" I have heard many other observations of Shambhala Art before as its director, but this one stopped my mind. I realized that it was true! We don't make art in the Shambhala Art Program. But if we don't make art, what do we do?
Shambhala Art is a view of how creativity and meditation benefit one another. We work with this view by engaging perceptual exercises that may include poetry, ikebana, dance, calligraphy, object arranging, and even room sized installations. However, the results are not art by intent. They might coincidentally manifest as art, but they started out as a means to tune into the creative and viewing processes as a form of meditation-in-action. Removing the goal of making art, or something "good," takes the pressure off so we can focus on the process of our perceptions rather than an end product. Hopes and fears of achievement give way to discovery and play. Cognitive science shows that human beings make discoveries and gain insights primarily through play.
The development of a formal mindfulness and awareness meditation practice is a terrific support for the creative process. It nurtures the confidence to be present in what Chogyam Trungpa Rinpoche called "square one:" A space where we are, at least briefly, present and not ruled by our thoughts and projections. The sense of spaciousness that occurs and our presence in it allow us to perceive the inspiration that naturally arises.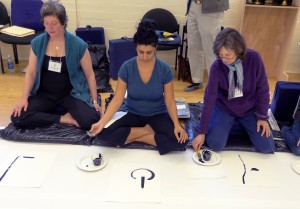 The direct experience that occurs in meditation practice and the contemplative exercises found in Shambhala Art demonstrate how we can repeatedly return to square one as a source of endless inspiration. We call that inspiration "first thought, best thought" because it comes directly out of square one. It is 'first' because it arises out of direct experience as opposed to a thought stream. It is considered "best" because it is shaped by and connected intimately to one's experience, and therefore true to that experience.
Once we have our inspiration, the challenge is how to manifest it in ways that others can experience it. That is why in Shambhala Art we have experiential exercises that include all kinds of square ones. Square one can range from being a simple sense of spaciousness to a square one that includes our whole world as one enormous mandala. We do this by engaging the felt and thought senses of elements that make up our world: Earth, water, fire, wind, and space.
Shambhala Art is concerned with the creative process and the viewing process. Through meditation and meditation-in-action we can "see things as they are" and not just how we think they are. We discover that whatever we make, it communicates something, and to know what that is we have to come back to square one and fearlessly see it as it is, and as others might see it.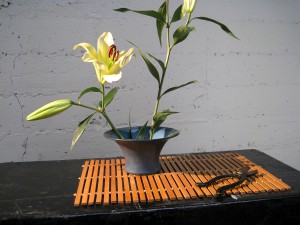 Shambhala Art is a view and a practice that can serve and enrich any creative discipline. In addition, any creative discipline can be used to further understand the teachings found in Shambhala Art. They inform each other and depend on each other. When you combine a view with a practice and a creative discipline something magical happens. People not only discover the source of inspiration, but become inspired people. And, as such they may make art, or pretty much anything, to communicate that inspiration. And so, it is true that in Shambhala Art we do not make art: Inspired people do.
~~
Steven Saitzyk is the international Director of Shambhala Art a nonprofit arts education program designed to integrate meditation into the creative process and one of the founders of the Shambhala Art Program. He is an Adjunct Professor of Humanities and Sciences at Art Center College of Design in Pasadena California. He also teaches at the California Institute for the Arts. He is an exhibiting painter and published author. His soon to be released second book is titled: Place Your Thoughts Here: Meditation for the creative mind. He began his studies of Dharma Art and Iconography with Chogyam Trungpa Rinpoche in 1974 and since has taught internationally. See: www.shambhalaart.org or www.stevensaitzyk.com info. E-mail: [email protected] or [email protected]

Post Tags:
arts
,
Chogyam Trungpa
,
Dharma Art
,
International Shambhala Arts Day Festival
,
Shambhala Art