Monday
Arts and Poetry
Shambhala and the Arts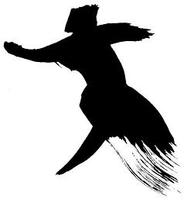 This March, Shambhala Times will be celebrating Shambhala and the Arts in honor of Shambhala Art Day, which is coming up on March 20th.
In the coming month, we will be focusing on the various forms of art, artistic expression, and Shambhala Art teachings. If you are involved in some way with the arts and are a practitioner of meditation, or if you bring your meditation practice into your creative expression, or if you have had experience with the Shambhala Art teachings, we want to hear from you! If you have something you would like to contribute, please send it in: [email protected]
In general, the arts represent a vast subdivision of culture, composed of many creative endeavors and disciplines. So much comes to mind when contemplating the arts and the process of creating, receiving and perceiving: a flash of red slashing wetly through blue on a wide white canvas; a dangled sentence ending with a long silent pause; a stream of sound fluting and trumpeting, doom-booming drums teasing hearts to bloom; a spark of light and movement captured into an image made forever still; a bowstring growing taut before the arrow is released into space – does it even matter if it hits a target?

Within the Shambhala Buddhist teachings and community, we have a rich representation of the arts, both in forms that we practice and in practitioners that bring their meditation practice to bear on the forms they practice. We have many different forms, including: kyudo (zen archery), kado or ikebana (flower arranging), miksang (contemplative photography), dressage (formal horse training), calligraphy, mudra space awareness, maitri space awareness, mudra theatre, writing, storytelling, filmography, music, and more.
What is art exactly? The Oxford English Dictionary has this to say:
"Art is the expression or application of human creative skill and imagination, typically in a visual form such as painting or sculpture, producing works to be appreciated primarily for their beauty or emotional power."

But that's not all art is, is it?
"Genuine art – dharma art – is simply the activity of nonaggression."
~ Chogyam Trungpa Rinpoche

Without seeing things as they are, it is hard to create art. Our perceptions are obscured and our mind is not fresh, so making art becomes a troubled, futile process by which we're trying to create something based on concept. ~ Sakyong Mipham Rinpoche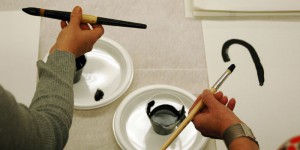 Art, as viewed through the lens of the dharma (the teachings of the Buddha, and the path of waking to the true nature of things as they are, which is also known as the truth) provides a slightly different definition. Art from this perspective can be seen as a process and a product, and has also been developed in the Shambhala community into arts education program. As a process, it brings wakefulness and awareness to the creative and viewing processes through the integration of contemplation and meditation. As a product, it is art that wakes us up. Shambhala Art is also an international non-profit arts education program based on the Dharma Art teachings of the late Chogyam Trungpa Rinpoche, the founder of Shambhala Buddhism, Shambhala International, and Naropa Institute.
Shambhala art is a deep practice of creating from an awakened state of mind. The opportunity within these teachings is to practice mindfulness in such a way that a genuine expression of creativity arises in the moment.
Shambhala art, or dharma art refers to any creative work that springs from an awakened state of mind, characterized by directness, un-self-consciousness, and nonaggression. Shambhala art provides a vehicle to appreciate the nature of things as they are and express it without any struggle or desire to achieve. A work of dharma art brings out the goodness and dignity of the situation it reflects – dignity that comes from the artist's interest in the details of life and sense of appreciation for experience.
"A work of art is created because there is basic sacredness, independent of the artist's particular religious faith or trust. Sacredness from that point of view is the discovery of goodness, which is independent of personal, social, or physical restrictions." Chogyam Trungpa Rinpoche. Pg. 130, in True Perception
~~
To read more about Shambhala Art, click here.
To read more about the process of art, read this article: "Art" is a Process, "Arts" is a Form
Look for weekly arts posts this coming month!
Post Tags:
arts
,
Dharma Art
,
International Shambhala Arts Day Festival
,
Shambhala Art
,
Shambhala Arts