Monday
Arts and Poetry
Awakening Playfully
Celebrating Shambhala and the Arts

Offering a window into the Shambhala Art teachings
article by Ladan Yalzadeh
photos from Shambhala Art International
Awakening. That's the word I would use to describe the Shambhala Art teachings. Here are some other words I would use: bold, surprising, gentle, accessible, primordial, expansive, essential, truthful, playful, fresh, joyful.
We began our Shambhala Art journey with one of our teachers, Marcia Shibata, saying: "We will cover a lot of ground in the next few days and some of what you'll be asked to do will make sense and some may not. But don't worry about it. Just relax. It's okay. You don't have to figure it out now. Trust it. Good?"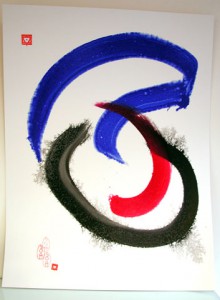 We, twenty some students, nodded politely. "Good," said Marcia and we were off on our journey without knowing the terrain or the destination. Some were more skeptical than others, but we all committed to seeing it through.
Like many of my fellow students, the Shambhala Art teachings turned out to be one of the most precious, useful and freeing set of teachings I have encountered as an artist and a human. For the few days of the program, we were asked to question our perceptions and awaken our senses. We were asked to empty our hearts and minds repeatedly and to offer our whole being with honesty, openness and exuberance to the primordial creative force where life and art both spring, every nano-second.
No matter what anyone's individual creative genre, the Shambhala Art exercises and teachings are universal in allowing us to experience awakening to the truth of the moment – the place where creativity is born. And furthermore, to commit and practice truthfulness all through the creative process from inception to manifestation to observation in an effort to create art that is free of ego and of benefit to the world.
It's been several months since I finished the intensive and Marcia was right, as time goes on, the depth, breadth and wisdom of the teachings continue to reveal themselves. The lessons continue long after we said our goodbyes to our teachers and each other that sunny January day in Los Angeles.
Post Tags:
arts
,
Shambhala Art
,
Shambhala Arts