Saturday
Featured Stories
Three Days into the Relief Efforts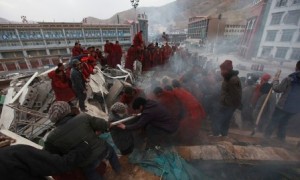 Latest report from Lyndon Comstock of the Konchok Foundation
Khenpo Tsering is working side-by-side in Jyekundo with Trungpa XII Rinpoche, Aten Rinpoche and thirty monks from Surmang Dutsi Til. The scope of their work has been rapidly expanding in the 72 hours since the earthquake as they dig in the collapsed buildings to look for missing people.
There is not enough food available. The government is distributing some food but hundreds of people have come to the Surmang monks asking for help in getting food. The families that he has given emergency funds to have been sending people to towns where food can still be bought and bringing it back.
Khenpo said that there are about three thousand monks now in Jyekundo working to help people, in addition to the Chinese army and the NGOs, but still many, many people need more help.
I told him that there was a special service being held in Boulder on Sunday and that prayers will be said for all of the people who died in the earthquake. He was very glad to hear that and said he was going to tell that to Trungpa XII Rinpoche and Aten Rinpoche and everyone else.
I told him that people had given at least $25,000 to the Konchok Foundations's emergency appeal. He was very happy to hear that. I asked him how he wanted to spend that money. He said that if enough food becomes available to people from the government, what would be the next highest
priority would be clothing. Most people have lost almost all of their clothing and it's still very cold at this time of year in Jyekundo.
I asked Khenpo to please tell Trungpa Rinpoche and Aten Rinpoche, who were sitting in the car with him when I called, that all of the Shambhala community in the West is very concerned for those who have been affected by this earthquake, that we want people there to know of our compassion and
sorrow for those who died, and that we are very moved that our dharma brothers from Surmang are working so hard to help those in need.
Service and Vigil in Boulder
The Boulder Center invites everyone to join its service for the earthquake victims and survivors through a global broadcast offered by Shambhala Online. To join, you will need a computer with a wired, high speed internet connection. The online link will be: http://shambhalainternational.adobeconnect.com/tibet. Participants simply need to click on it and sign in. You will not require a password.
The Boulder event, expected to last one hour, will start at 7:00pm Mountain Time. Please log in 5 or 10 minutes before that hour.
There will also be a public candlelight ceremony for the City of Boulder immediately following the service at the Shambhala Center.
Donations may be made to Konchok Foundation for earthquake relief.

European donations may be made to the Gesar Fund.
Please mention "Earthquake".
ING bank # 4391534
Stichting Gesar Fund
Mollenakker 2, 3994 GC Houten
IBAN: NL79INGB0004391534
BIC: INGBNL2A

Read more news and updates on the earthquake.
Post Tags:
earthquake
,
Konchok Foundation
,
Surmang