Wednesday
Community Articles
Befriending Self and Other in Minneapolis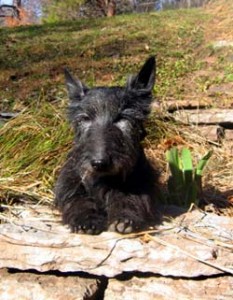 By Lisa Havelin
Our family has a new dog, a Scottish Terrier. Her legs are five inches long and the "feathers" of her belly and her nose are nearly always in contact with the ground. She is an Earth Dog, always touching the earth. Her nourishment and pleasure come directly from that contact with the earth and also from her relationships with her family. She is a constant reminder that the earth is available to support and nourish.
Touching the earth enables us to witness how things are, how they change, how they are born and die. From the loss of human life itself to encountering the impermanence of daily life, touching the earth or connecting authentically with the world is nourishing and wakeful. This is one of the topics being explored by the Community Care and Well-Being Working Group (CC&WB) at the Minneapolis Shambhala Center.
In our meetings we sometimes devote a good period of time to hearing from individual members during a check in. Often priorities of the larger Sangha emerge out of that. Right now those priorities are around creating forms for working with conflict, death and dying, fatigue/burnout and community building. We consciously work with right speech during our meetings, especially using silence as a part of speech. Careful listening has been very helpful. As a group we are currently reading: "Acknowledging Death" by Chogyam Trungpa Rinpoche, "KOS Energy" by Bill Scheffel, and "Personal Disarmament" by Deena Metzger.
Sangha is the most direct way we have of coming into contact with our personal obstacles and there learning how to befriend self and other. Our group practice is to manifest a nurturing experience as much as possible and to hold that ground for the larger community. Sangha members who serve on this working group have a genuine desire to engage in relationships in an authentic and meaningful way, and to cultivate skill in relating to each other within the context of our teachings.
We periodically invite teachers to work specifically with our Sangha as a group. We explore the teachings that support making Sangha the healthy situation that our tradition says that it can be. This is the brilliant gap where Karma changes! We focus on how gentleness can be applied to speech, particularly during conflict. By looking at the ways in which we habitually reject self and other, we can step beyond these patterns and into the creation of enlightened society.
In the recent past, our Sangha has experienced significant conflict, grief, and fatigue, including the long illness and death of our beloved Sangha sister Marilyn McGuire. Marilyn was a member of our Community Care group who bravely and generously included us in her journey through illness and death. This shared intimacy brought us new awareness about the needs of Sangha members, and how best to care for one another. Sangha members who had major roles in caring for Marilyn during her illness, death, and Sukhavati/memorial service have attended CCWB meetings specifically to share their stories and experiences. At those meetings a form is arising with regard to how our Sangha can best work with similar experiences in the future. Those who were with Marilyn as she died say that it was a powerful experience of "touching the earth". If we are brave enough to open to this authentic and sometimes frightening connection with the reality of earth, we can be nourished as individuals and strengthened as a community.
Does your Center have a group or committee that focuses on community development and/or well-being? To share your comments and ideas about this item, click here.
Lisa Havelin
[email protected]
Post Tags:
Community Care Newsletter