Tuesday
International Programs, Northeastern States
Announcing the Applied Mindfulness Conference 2010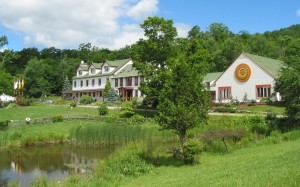 Tail of the Tiger is pleased to announce the details of the Third Annual Applied Mindfulness Conference, July 22 – 25, 2010. Professionals from all mindfulness traditions are invited to join the ongoing discussion about bringing mindfulness into the wider world. This year's conference is happening at Karme Choling Shambhala Meditation Center, and will focus on the theme Communicating the Power of Mindfulness.
This year, we have another strong faculty joining us, including Robert Birkenes, Susan Piver, and Susan Skjei. Robert will discuss how mindfulness has assisted him to bridge cultural differences and resolve conflict between tribal leaders and military personnel in Baghdad. Susan Piver will present exercises and discussions that reveal how the journey through our emotions gives rise to a natural voice of candor, openness, and confidence. Susan Skjei's two-part presentation will guide participants into a realization of how the power of mindful communication can build flourishing communities. Topics that these business workshops will address include engaging values, reducing stress, developing strategies for leadership, working with emotional energies, and running small businesses.
Panels will bring the entire conference together to discuss how we can bring contemplative disciplines into our activities. Luncheon groups with the speakers and workshop presenters, as well as social events, will help everyone become better acquainted.
Once again following the thread of "practitioners learning from practitioners," this year's conference is structured to encourage interaction by calling upon participants to address real-world questions. The conference culminates in two activities: "case clinics" in which participants gather in small groups to discuss an issue they're dealing with; and presentations by people with a project they'd like to organize a group around for post-conference work.
The Conference begins after dinner on Thursday and ends at lunch on Sunday.
_________________________
Tail of the Tiger is an educational nonprofit organization offering mindfulness-based trainings for persons in business, organizations, the professions, and the arts, housed at Karme Choling, Barnet, VT.
Post Tags:
Applied Mindfulness Conference
,
business
,
Tail of the Tiger