Sunday
Community Articles
Meditation for Professionals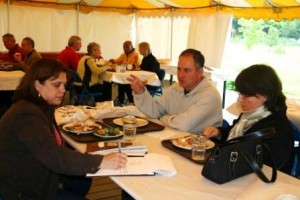 by Jennifer Holder
Not everyone attracted to meditation in the early days was a hippie. "When Chogyam Trungpa suggested people buy three-piece suits, I already had a closet full," Patton Hyman recalled. His path had been a bit different. As a partner in an Atlanta law firm, he found a natural confluence between his job and meditation. "It never seemed like a conflict to me. Meditation shows us how to wake up and be present, and that can happen anywhere, even when working to negotiate messy legal disputes and complex transactions." This sense of continuity is the source of his inspiration as the director of Tail of the Tiger, an educational non-profit that creates and hosts meditation programs for a variety of professional audiences.
Meditative Engagement with Work and Money
Not everyone feels a natural relationship between their spiritual path and their livelihood. When entering a spiritual path, it's easy (and common) to arrive with ideas of what it should, or should not, be about. Books can give the impression that it is all about simplicity and renouncing attachment, even to the extent of renouncing the world. Different schools of Buddhism have various positions on this, with many types of practices that tend to be less engaged in the world than we are in Shambhala. Patton observes that while other paths are more about settling and quieting, as a vajrayana path Shambhala Buddhism is also more open to whatever arises in our experience. Our practices encourage a larger sense of connection to the world.
People can be surprised by what they find in Shambhala. Patton notes: "I've been on staff at Karmê Chöling for almost five, and it's not uncommon for people to arrive thinking it's a supposed to be like a monastery: they walk into the dining room and are astonished to find that it is a noisy place. And then there are others who are relieved to discover that meditators lead full lives in the world as parents, businesspeople, artists, students, and professionals."
Another preconception that's easy to have is that making money is inconsistent with a dharmic path. Many associate money with attachment, greed, and aggression, thinking that money is responsible for these tortuous and destructive emotions. This leads to a complicated relationship with earning a living and developing a sense of right livelihood. But as Patton points out, "Money is just another kind of energy, economic incentives are just another kind of karma, and the way we relate to it is what makes all the difference. Are we relating to that energy in an awake way or with fixation? It's a great subject for contemplation because opening up to our world involves looking at the many, many ways we relate to it and uncovering our preconceptions — especially the unacknowledged ones."
Following the Path of Engagement through "Meditation, Competence, Compassion, and Creativity"
Patton recalls Sakyong Mipham's observation that while we were all brought up in meditation through Buddhism, there nothing particularly Buddhist about meditation. "It's a matter of learning to be a human being, learning to use the equipment we were born with. Thirty years ago, when I and many others began meditating, it was considered an exotic and even a strange thing to do. But today, everybody's heard of meditation. It has become a modern buzzword, though sometimes people aren't quite sure what it is or how they can connect with it."
A few years ago Patton, a group of Karme Choling staff, and neighboring sangha started looking into that level of cultural curiosity. They brainstormed ways to introduce people to meditation practice and let them see that it's not an exotic, monastic thing. Rather, they wanted to demonstrate that it is something people can engage with in their lives. One clear avenue was to join meditation with the arts and other professional disciplines.
The first program they did was for musicians, led by Madeleine Bruser. "As a meditation instructor for the musicians' retreat," Patton reports, "it was fascinating to see how easily people made the connection between making music and meditating. What I came to recognize after we had presented a number of Tail of the Tiger programs is that when people who already had a strong sense of discipline, whether through music, law, twelve-step, whatever, there seemed to be a natural synergy with mindfulness meditation, it just made sense to them."
Karme Choling began doing meditation programs for professionals before they were brought together under Tail of the Tiger. "Bill Brauer was the Executive Director at Karmê Chöling when we began thinking of these programs as a distinct program stream, and he mentioned that Sakyong Mipham had mentioned to him that he liked the Tail of the Tiger name. Bill and I liked it, too, and decided to begin using the name—which was the original name for Karmê Chöling." They decided to incorporate Tail of the Tiger as an educational non-profit to avoid some legal and psychological obstacles to presenting mindfulness-awareness training more widely."
Professional Gateways to Practice
Most of the participants at Tail of the Tiger are new to meditation. While members of the Shambhala sangha do participate, the programs are mostly gateways for the curious. Patton points out that, as any meditator knows, it's impossible to guess what meditation is about until you've done it — it's slightly mysterious that way. Tail of the Tiger is creating more opportunities for people to get that first glimpse and first taste.
"Some people's first taste includes a realization that there is a distinction between their thoughts and everything else. It's a powerful insight that their thoughts offer only particular perspective, or interpretation, of what's going on. Rather than being the comfortable nest we mistake it for," Patton points out, "conceptual mind isn't reliable — it's all over the place. Instead, we encourage people to relax in a simple presence or basic goodness, which never goes away. The goal is to help people practice that kind of relaxation and presence, whether they're approaching a judge or about to step out onto the stage."
Often, the challenges people face in their working life are particular to their profession. Musicians encounter stage fright – it's a practical, vivid, and essential part of their livelihood. But if they don't have a way of working with that fear, they may freeze up or get too speedy. One trial lawyer realized that before he started doing mindfulness meditation, he had no idea how much was going on in the courtroom that he wasn't aware of. Even transactional lawyers who do a lot of negotiation can use mindfulness to pick up on all kinds of clues and cues. By listening to what the other side says and how they say it, they find they can see what's going on with people and discover solutions that might not previously have been apparent.
Experiencing Basic Goodness at Work
"Although we often present Tail of the Tiger programs in terms of pragmatic applications," he says, "what almost always happens is when you teach people meditation, they begin to see that there is a lot more going on than just figuring out new ways to be a better lawyer. They realize that there's a settled quality to experience, a peacefulness, a presence that they can connect with that isn't just a work issue. It's a human issue." Patton describes the connection vividly:
You're completely engaged. There's no holding back or strategizing – you are engaged, you're living your life, and connecting with it. When Chogyam Trungpa talks about being the best janitor, it's not a competitive thing in which you say, "I can leave fewer grains of dust behind than you," but you do your janitor job very fully. Chogyam Trungpa was always talking about waking up 'on the spot.' In whatever you're doing, you can be awake. In one of the Gesar epics, there's a line that says something like, "Whatever you encounter in your life is worthy of being your path." Anything can wake you up, if you relate to it in that way. Whatever you do, whether you're a janitor, lawyer, hedge fund manager, building contractor, corporate executive or nonprofit fundraiser, you can always connect with simple presence, basic goodness.
Tail of the Tiger participants frequently come back to Karme Choling, or to their local Shambhala center, for dathuns, Shambhala Training, or simplicity retreats. Some return to the same Tail of the Tiger program repeatedly. People do connect, with varying patterns and structures to their lives that allow for different styles of participation. Some attend programs for a week, a month, or a weekend. Some want to engage in a more extensive, deeper spiritual path, and others are happy to meditate for a few minutes a day.
More information on the programs Tail of the Tiger is offering can be found at their website: www.tailofthetiger.org. If you are inspired to create, host, or teach a program, Patton would love to hear from you at [email protected]
Post Tags:
business
,
professional training
,
Tail of the Tiger