Wednesday
Community Articles
Genuine Success in Business
COLUMN: In Everyday Life
Precision BioLogic, a medical products company based in Halifax, was selected as one of the 10 Best Places to Work in Canada in 2010. Jennifer Holder reports on how generosity and kindness are at the root of this company's approach, and on Michael Scott – the CEO whose vision and leadership has empowered employees to be partners in achieving genuine success.
As one expression of human decency and dignity, Chogyam Trungpa Rinpoche taught that generosity is the heart of business. He described money as enriching and nourishing – like a mother's milk – and need have nothing to do with grabbing, competing, and desperately trying to ward off feelings of poverty. Money, he taught, is life-giving, wholesome, and makes good things possible when we approach its accumulation and use with a view of generosity.
Michael Scott met Chogyam Trungpa Rinpoche when they were both living in England. Inspired by the "quality of being" embodied in Trungpa Rinpoches's activities, Michael made business his path of engagement. Seeing the possibility of being spacious, kind, and generous, Michael also experienced, within various jobs he held, the competitive, undermining approach that generates an atmosphere of aggression, speed, and fear. The difference was clear.
When he moved to Nova Scotia from Boulder in 1987, Michael teamed up with long-time friend, Andy Karr, and together put some money into a few local businesses with a view to nurturing them along. When they found Precision BioLogic (then Precision Biologicals) in 1990, it had seven employees and needed help finding its place. While Michael knew little about the specialized niche in blood diagnostic products that the young company served, he knew something creative had to be done to set the company on a successful path.
Becoming Truly Helpful

Inspired by the concept of "customer listening" espoused by management guru Tom Peters in the book
Thriving on Chaos
, Michael set out to learn – from Precision's customers in hospital laboratories – what aspects of the company's products weren't working well for them. He and his colleagues asked, listened, and received the feedback the company needed to radically adapt its products and its service model to better serve customers – in ways that had been overlooked by much larger companies. But more importantly, Michael and his team were able to create a porous situation in which the customer is viewed not as a source of revenue, but as a partner in a greater vision of service. As Precision BioLogic refined its products to meet the needs of the people who used them, their customers' ability to provide confidence in certain blood testing results for physicians and their patients increased. Precision BioLogic imbues the products that resulted from this process with qualities of being accessible, reliable and responsive, accompanied by the support that best fit the needs of users within the niche the company serves.
The sales team's role evolved from convincing and cajoling and striking deals to listening to the customer's pain and helping them to solve their problems. By involving them in product development and having them help refine prototypes, customers became a kind of extension of the company – making them engaged clients before new products were even finished. No pushy sales approach was needed and the competitive edge was simple: treat your customers as partners. The giants in the industry just weren't working this way.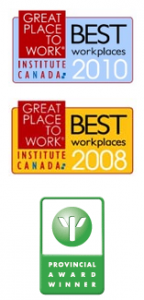 A Different Vision of Employees
So how did a vision of genuine "customer listening" become an organizational practice? Michael learned from Chogyam Trungpa and through his work experience that a traditional command-and-control environment produces compliance rather than engagement, fear rather than creative energy. He saw that it was fundamentally impossible to order the staff to "go out there and care." So he began to view employees as the company's first customer, to be treated with respect and a sense of invitation.
"When you support employees and engage them in a career path of learning, development, and growth, they naturally warm up and look for ways to help the company. Then they practice the same warmth when they interact with clients."
Michael is quick to emphasize that the key to a successful sale is complete genuineness. People sense the difference between playing with concepts and a genuinely felt motivation. Despite the fads and all the talk about service-orientation, despite the popularity of the "address their pain" sales approach, few companies can actually pull this off. And no one seems to know why. Perhaps the reason is obvious: they're mostly just playing with concepts – it's not a genuinely felt motivation in the first place. As Michael reports, "Clients will say to us, 'I don't know what it is about you guys – you're just a little different.' They're drawn to us because they like the way we treat them."
With what Michael describes as an "engaged culture," employees care about what they're doing because they know that, by doing it, they are helping someone – and they take pride in that. But that's because the company helps them too. Michael knows that when the company engenders warmth and trust – from within and from without – it is meeting a basic need.
It's actually quite simple and yet on a daily basis, all over the world, working people beat their heads against their desks in frustration because it is so hard to actualize.
"When you create an environment in which people can grow, can be themselves, they will overcome great challenges and do great things. It doesn't matter whether the relationships are positive or not so positive, whether things are going well or not so well. People are willing to work through anything when there is a basic ground of openness and generosity."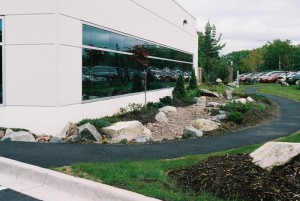 Space to Be of Benefit
An important aspect of a healthy workplace is that attention to the physical environment in which activities take place can have profound effects on the experience of those within it. The quality of the space, the physical container, creates the framework for what can happen within it. With this in mind, Michael has directly worked to arrange a workplace that is uplifted.
The building Precision BioLogic built seven years ago is warm and inviting. It has a single storey with skylights that offer natural interior light, a large open space in the center, an inviting café with a patio, and artwork that invoke a sense of elegance. As Michael says, "It doesn't matter what state of mind people enter the building with, or what's going on at home or in their personal lives. When they arrive at work the environment helps to uplift and energize them." This emphasis on the physical surroundings in a workplace, paying attention to the smallest detail, creates the all-important container for a sane workplace.
Reputation Reaps Results
All of these conditions have come together to produce a healthy situation. With a team-oriented approach that engages leadership and involves employees, at all levels, in decision-making – as well as a profit-sharing program for everyone – customers reap the benefits. And that translates into the most powerful, coveted, and elusive form of marketing out there: word of mouth.

As the experience of Precision BioLogic shows, there is nothing as simple, genuine, or powerful as healthy relationships between providers and their customers. When customers trust a company and feel connected to it, not only do they know where to turn to fill a need – they also know where to send others in similar situations.
Through steady nurturing, the company has become a trusted partner for large institutions in the conservative healthcare field. Over the past 20 years, sales have increased 15-fold, the company has been consistently profitable, a staff of seven has grown to 56, and Precision BioLogic's 30+ products are now used in virtually every major hospital in the US and Canada, as well as in Europe and elsewhere.
A Proper Pace for Growth
Ironically, one of the contributors to Precision BioLogic's success has been the slower pace of life and growth in Nova Scotia. Rather than striving for rapid and, in the end, unsustainable growth, the stability created by a slower pace of life and an emphasis on true sources of richness – such as family, friendships, good food, and time for things like art and volunteering – gave Michael the perfect environment for developing a business in a different way. "In Nova Scotia it is not easy to raise money or leap from venture to venture. The pace of life is slower, people naturally prefer a good work/life balance, and it is impossible to get people to cram intensely, work long hours, or work in intensely stressful situations."
The Challenge
Precision BioLogic has had a long run of successful growth. Changes in the healthcare environment, together with providing leadership for the growing staff, create new challenges and new opportunities. To assure ongoing success, the company will need to respond to changing needs. Perhaps the biggest challenge will be to take the company's culture forward with the larger numbers of individuals now involved – to continue finding ways to develop the open path that people have welcomed.
~~
Do you have an interesting story about how your practice has influenced your working life? We want to hear it! Contact us with your story at: [email protected]
Post Tags:
business
,
In Everyday Life
,
interview
,
members