Friday
Community Articles
Creating Good Work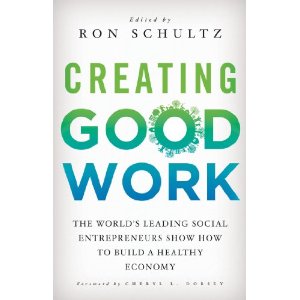 Introducing a NEW COLUMN:
In Everyday Life
In which we visit with Shambhala practitioners from all walks of life to hear stories about their life, livelihood and how their meditation practice permeates their everyday experience.
To begin with, we spent some time this week interviewing Ron Schultz, sangha member from Los Angeles who has just had a new book published called Creating Good Work – The World's Leading Social Entrepreneurs Show How to Build a Healthy Economy (Palgrave Macmillan). It is his 23rd book and this one has contributions from over 20 of the foremost social innovators working today. We asked him more about it…

It turns out that the Creating Good Work book was inspired by the whole notion of creating enlightened society. Ron expressed that what he found most interesting was that the people who read advance copies of the book picked up on that right away. "Creating enlightened society is ultimately the driving force of the book," he said, "but it's also another means of reaching out into the community to help create enlightened society through creating good work and social innovation."
Cheryl L. Dorsey, the president of Echoing Green, notes in her forward that the book arrives at a critical time in the relatively short history of the social entrepreneurial movement. The field is at something of a turning point. As Jeffrey Hollender points out in a review of the book, "Social entrepreneurs are committed to a goal that neither our government nor big business has been willing to take on — the building of an enlightened society. It's the job of these special people who want to leave the world a better place for those who have yet to be born. The book provides practical, hard-won advice for how prospective and even in-the-trenches social entrepreneurs can do just that."
"Building a healthy economy is not about dreaming it, it's about building it," Ron further explained. "This is really an action-based approach to making a healthy economy happen and it's engaging people at a level that they seem to resonate with, just the way we experience the arising of basic goodness." Ironically, the contract for Creating Good Work arrived while Ron was at Vajrayana Seminary at Karme Choling two years ago. "Auspicious timing!" But let's step farther back in time.
For the last dozen years, Ron has been working with social entrepreneurs. His career before that was as a business consultant, in which he worked with entrepreneurs on both the cultural and operational aspects of business. About 12 years ago, he was in London where he was introduced (at a pub) to a woman who was starting the London office of Ashoka: Innovators for the Public, one of the founding organizations in the field of Social Entrepreneurship. Ashoka's chairman, Bill Drayton, is still the guiding light for the organization and is the one who coined the term "social entrepreneur."
"The moment I heard about social entrepreneurship in that pub," Ron said, "all the bells and whistles started going off in my head. I realized this was where I needed to be, to apply the business acumen I had developed, and to help social entrepreneurs to become better at running the enterprises they were operating." Ron eventually worked for Ashoka for two years and after that went to work for Volunteers of America in Los Angeles (VOALA), CA. It was there that he started a social entrepreneurial incubator. For the next two years, he learned and worked to formulate the whole process of Social Entrepreneurship in LA. He described it as an amazing opportunity.
Muhammad Yunus and the Grameen Bank (winner of the 2006 Nobel Peace Prize), had asked VOALA to start a Grameen microfinance project in LA, which Ron eventually inherited. It was here he learned that microfinance could provide immediate support for new social entrepreneurs. In lay terms, Ron explains, "You have to educate entrepreneurs. You have to provide them with access to funding and capital and that's the basis for the work I've been doing for the last 10 years. In doing that I've been traveling to conferences and engaging with folks all over the world. I have had the opportunity to meet extraordinary entrepreneurs."
Ron had already written some other "industry bibles" – among his 22 other books. He realized that today's society needed an "industry bible" for social entrepreneurship. He approached Palgrave Macmillan and they jumped on it. The response from the community was amazing and, Ron says, "The work that was done by the contributors was incredibly inspiring. The differentiation of Creating Good Work is that it is not a hero story book – it's a book about how you get it done." It is about the theory, application and practice of how one can drive social entrepreneurialism and how you turn those ideas into something, and ultimately how you keep it going. "Other books on the subject venerate social entrepreneurialism," Ron explains, "but we're saying: let's see this as the work we should be doing, and let's do it."
The core message of this book is building a healthy economy. There are three aspects to this: nurturing resilience, creating work that is meaningful and purposeful, and creating enough wealth. The first step of nurturing resilience is all about change – the willingness to change, allowing others to change, and making sure change doesn't burst the boundaries you have established for running your operation. Creating good work is about working with groups and organizations to create work that shifts our economies, and at the same time developing work that is meaningful and purposeful.
"It turns out that meaningful work is work that benefits others," Ron described. "No surprise there to meditators! When you ask people what is satisfying in their work, they respond that it's most satisfying when they are benefiting others. When people are only involved in taking from the system and not giving back, they eventually feel dissatisfied with what they've done. We want to shift that thinking so we can build a healthier economy. And that all comes out of practice."
Creating enough wealth comes as a natural outpouring of the first two steps, and this topic is further explored in the book.
"In our entrepreneurial training," Ron went on to say, "we've started incorporating meditation instruction so that all entrepreneurs have the opportunity to sit. It's a key aspect of leadership because leadership is a reflexive process, not a reactive one." So, it comes full circle.
Coming soon will be a number of events bringing in a mixture of Shambhala and local community members. The events are designed to be hosted by a Shambhala Center with, Ron explained, "the aim to bring in organizations within the community that are doing good work to talk about how we create a healthy economy in our communities locally."

The first event will be hosted by the Northern California Shambhala Centers on February 7th. For more information, please visit: www.sf.shambhala.org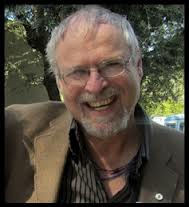 ~~
Ron Schultz is the editor of Creating Good Work, is the founder and President of Entrepreneurs4Change. He has written or co-written along with having published 22 previous books including: Coherence in the Midst of Complexity, Adjacent Opportunities – Sparking Emergent Social Action, and Open Boundaries: Creating Business Innovation through Complexity (with Howard Sherman).
Post Tags:
book release
,
Creating Good Work
,
In Everyday Life
,
interview