Friday
Community Articles
The "Open Secret"
COLUMN: In Everyday Life
The Basic Goodness of John Rockwell
by Will Brown
Shambhala Times Column Editor
As I begin my quest to interview Shambhalians about Everyday Life, auspiciousness has enabled me to meet with one of our senior teachers. I first encountered Ashe Acharya John Rockwell at a dharma talk in 2011 and was immediately pierced by his seriousness and humor. I felt like I was meeting the Muhammad Ali of Shambhala as he carried both a heavyweight embodiment and a light, playful mind. I was struck by his balance of masculine / feminine, lineage and nowness, as he joined deep experience with continuous curiosity to provide us with a delightful dharmic freshness. Over the course of 45 minutes in recent conversation, he was both gentle and tough, open and precise.

John William Rockwell, Jr., though not raised in a religious household, seems to have heard the call to the path early in life. In his senior year at a Georgia high school he says, "we read a book by Huston Smith called The Religions of Man… of course I was in the throes of adolescence then… And I thought, that's very powerful that somebody talks about the truth of suffering and confusion."
But it was in nature, in his early twenties, where the Acharya directly met the dharma. On a rafting trip on the Chattooga, a wild mountain river in Northern Georgia, Rockwell went over a falls and was caught, as he says, "in a suckhole, a kind of horizontal whirlpool that holds you down." In that near-death experience he felt his mind give up, his heart explode, and later wasn't sure who had actually held on to life. It was then that he began to spiritually seek with, "more practical interest."
Soon thereafter it was a passage on the process of dying (in a book on the sage Naropa) which first turned him towards the Tibetan Buddhist path. And so he was led to our lineage by that and the famous "clearest description of confusion," from Cutting Through Spiritual Materialism by Chogyam Trungpa Rinpoche. John "got on the mailing list" and enrolled in a program at Karme Choling in 1975.
It was during this dathun – interestingly wedged between 2 weeks of Hinayana and 2 weeks of Mahayana teachings – where Rockwell received his first introduction to the nature of mind. "I spent most of the dathun spaced out with all sorts of emotional turmoil coming up. Then I had an experience in the third week – it was like one minute – where my mind just kind of collapsed and opened up and I could just be in the room. Then I spent the entire last week trying to get back in the room, my whole stuff started up again."
This 1975 program was also his introduction to what would become his only career. It was, he says, "never by design… I had no particular intention of what I wanted to be." He soon moved to Boulder to be near the Vidyadhara, to work and study at Naropa, and has since devoted his life to the buddhadharma and the Shambhala mandala through his practice and teaching, time on the faculty at Naropa and service on the Nalanda Translation Committee.
It was also not by his design that the Ashe Acharya developed his obvious leadership abilities. In the early 1990's, after more than a decade at Naropa, Rockwell, along with his then wife Irini and their daughter Karuna, was seeking a move back to Vermont and Karme Choling. Although his aspiration was to again be Head of Practice, both the sangha and the Sakyong had other intentions and he was made Co-Director.
This abrupt thrust into Governance, as co-director at Karme Choling, challenged the Acharya's view of himself, and his practice, initiating a deepening of his connection to the Shambhala dharma. He shared that he was not too happy in the beginning, "because it was extremely difficult… I really struggled with what it means to be a leader. I thought I should be very proactive and know what I'm doing, and call the troops to order, and lead the charge." Reading the Shambhala teachings, he discovered that, "the best thing was to take my seat and do nothing, and see what comes up and begin to learn from the people around me. It's much more about the team; and the environment will teach you what you need to know and what's happening." It was at that point that he found he could respond and be in tune rather than having to "crank something up."
Though his teaching schedule typically dictates or supplants his own personal practice, he prefers a formless rather than liturgical practice, and has a daily Qigong practice. Empowered in the lineage of Eva Wong, the Acharya finds this "body and energetic" practice to be a profound spiritual path. However make no mistake, he says, "my main practice now is Werma Sadhana, and has been for a long, long time."
One current development of the Acharya's practice is a deepening recognition of Nature and Food as indispensable elements of our sacred world. After years of rather constant travel, his schedule had him feeling out of synch with how seasons work. He says, "I just didn't feel very grounded in the earth… that although I love to be in the woods, I didn't really know anything about the woods. I realized that most of us are tourists in the forest." In response to this, Acharya Rockwell began to train himself in wilderness tracking (Kamana Natural Training) as a way of establishing a practice, developing discipline and mindfulness in deep connection with the plant and animal beings.
Wilderness practice has, he says, "led me to thinking about how connecting to nature and earth can be socially transformative as I felt it was transforming me and my practice. I was sitting outside more and more, and it's very different." If you sit outside into the evening and night, John says, "fear comes up… and that keeps you awake and aware in a very different way than sitting in a shrine room." It is like going back to a very ancient tradition of the buddhadharma where people were wanderers in the forest and jungle.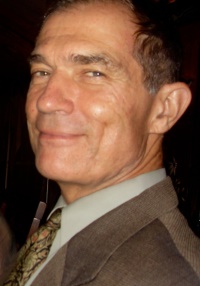 Additionally, his wilderness practice began to contribute to an appreciation of food and it's seasons and sources. The Acharya began networking with the Transition Town movement, and practitioners of permaculture. As a further integration of practice and daily life, Ashe Acharya Rockwell is exploring this interweaving of gardening, working with land properly, and, as he puts it, "wilderness awareness that brings our practice into it and creating community and society in a different way, more like how things used to be."
Our interview provided me with a touching insight into the basic goodness of John Rockwell. He is a man of great heart and humor, with much love for his teacher, his wife Rhiannon Wells, family, and sangha as well as a profound appreciation for our lineage and our natural heritage. Speaking with him revealed the open secret of one of our Shambhala treasures.
~~
Want to delve more deeply into the everyday life of one of your Shambhala friends? Contact Will Brown with your story lead or interview, and we'll publish your story.
Post Tags:
Acharya John Rockwell
,
In Everyday Life
,
interview