Wednesday
Community Articles
Pleasure in Precision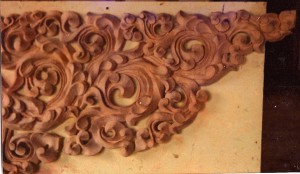 COLUMN: In Everyday Life
In a recent skype interview, the Shambhala Times enjoyed the occasion to interview Mr. John Darby, a long-time Shambhala student, and woodworker since the early 1970s. John lives with his wife, Shastri Andrea Darby and family in Western Massachusetts. We asked him about his history, his work and his artistry.
As an early student of the Vidyadhara, Chogyam Trungpa Rinpoche, John has many stories. In particular, he shared with us the story of his fledgling career, which began almost simultaneously in both woodworking and the Shambhala community.

"I started my woodworking and woodcarving career in the mid-70s," he explained. John lived in Northampton, MA. In 1977, although not professionally trained, he had some carving and woodworking experience. "My meditation instructor at the time, [John Gorman] encouraged me go up to Karme Choling. They were in a tight spot, this being the period of time when the main shrine room was being ornamented, and they had a deadline." He answered the call saying that he could come up for two weeks to help out. "When I arrived, it was this crazy scene," he shared. There was a large group of people who were working 12 hours a day, often until midnight. They were not meditating. They were working, trying to get the shrine room finished before Trungpa Rinpoche came out of retreat. "I learned a lot," John shares, "because there was a lot of pressure, yet people still had a sense of humor. I was stretched to work with things beyond my experience, both psychologically and craft wise."
John worked for a month and a half on the shrine room carvings. Then the Vajra Regent, Osel Tendzin came to Karme Choling and offered a seminar. After the seminar it was back to work as Rinpoche was coming out of retreat. John had only been a practitioner for a year at that point so, meeting the Regent and then Chogyam Trugnpa Rinpoche was "quite the experience." As a gift to the workers, Karme Choling offered everyone a free dathun.
So much for just working for two weeks. "In all, it took 3 or 4 months to complete the work and sit the dathun," John said. And when he went back to his world, it all felt very strange.
After John got back home, he called Richard John who was the director of the shrine room project, to see if he could come back on staff. At that time the directors of KCL were Gaylon Ferguson and Jan Watson. Finally, he got the word and went back to KCL where he was on staff for the next 4 years.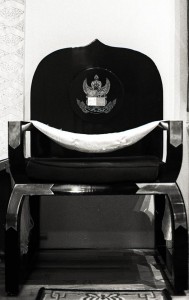 "We created a shop in the old barn and the next project was carving work for the shrine room in Boulder." This project was also managed by Richard John, and carver Herbert Wikenhauser did the main piece. "Surprise, surprise, it was another project with a wild deadline. Trungpa Rinpoche was coming to visit the Dorje Dzong shrine room and its upgrade had to be completed. "We shipped it out just in time. When Rinpoche walked into the shrine room, they were just pulling away the ladders."
"Next, I built the Director's chair," John shared. "Richard got me started on it then went back to Boulder. It was the first chair I had ever built." You know the chair, the black lacquered chair that sat at the front of the shrine room, which the Vidyadhara used to sit on to teach from. It was the second one, with some modifications from the first, which resided in Boulder.
"How do I build a chair?" John thought. "It was kind of a nutty chair, and it wasn't until a year later that I realized the shape at the top was a lotus petal, a lotus seat." Trungpa Rinpoche had designed it.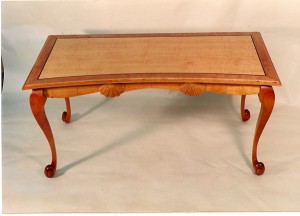 John did more carving work for KCL and various other environmental upgrades. After he left KCL, John went to Halifax, Nova Scotia and managed the ornamentation of the Tower Road Shrine room along with David Cook and Michael Reshetnick. Unlike the KCL main shrine carving, which was a group effort, John did the entire carving by himself back in Massachusetts and sent the carvings back up to Halifax. It took about three months to carve.
John's last project built at KCL was the box in which the body of Chogyam Trungpa was placed in preparation for his cremation. The body was packed in rock salt which was changed by the Kusung every three days for a month. They figured out that the box, the body and the rock salt would weigh almost 700 pounds. This box was placed on top of a very large shrine in the middle of the main shrine room, so an elaborate system of beams was devised to slide the box out to change the salt. He also carved some elaborate cherry poles which were used to carry the box, like a palanquin up to the cremation site. The poles went into the funeral pyre.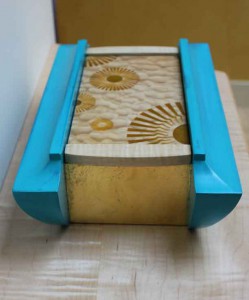 In all, John's main career became custom "art" furniture and millwork. Over the years he has offered design and woodworking for Shambhala centers. More recently, he designed the renovation of the Pioneer Valley Shambhala Center along with David Veleta and a huge assortment of helpers, workers and artisans in the sangha there. His favorite part was creating the Mahakala shrine and a donation box. "That's my dharma – it's about building objects."
For the past eleven years, John worked for a millwork company as a project manager. "It's a big company and we worked for the "one percent" John says. "These were million-dollar projects." Not too long ago, John was laid off and this turned out to be a good thing. He now spends half of his time as an artisan making things, and the other half he still does project management. A little while back, he managed the millwork supply for renovations of a restaurant in Cambridge.
In terms of making things, John loves to make beautiful objects. He shared a little more about that. "I asked the Regent once about a kind of guilt I felt about making beautiful things. You know how when you make something, people say it's beautiful? I would always feel slightly guilty to receive that kind of praise." John said it made him feel that he was too egocentric, that praise built up the ego. "What's that about, I asked. Where's the pleasure?" The pleasure is not so much in the self-satisfaction of building something beautiful, the Regent explained. "The pleasure is in the precision of the work."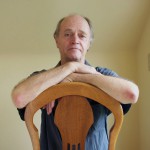 ~~
John Darby is a designer and maker of fine objects at his home studio. He is also a project manager. To view his "dharma trinkets" and other projects, visit his website: www.darbyartisan.com
Post Tags:
arts
,
Chogyam Trungpa
,
In Everyday Life
,
interview
,
Karme Choling
,
woodwork