Tuesday
Sakyong and Family
Mukpo Wedding Bells: Chandali Weds Eric Wilson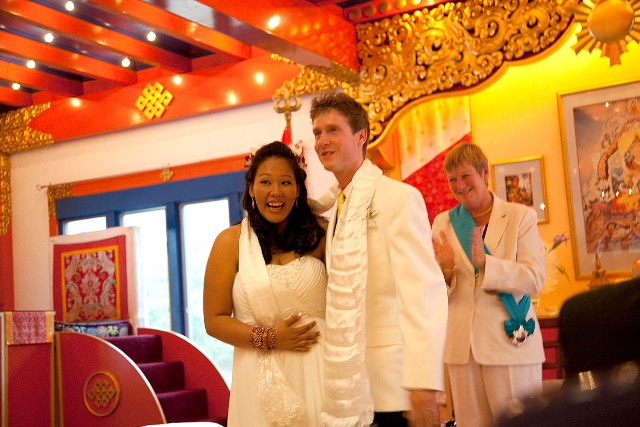 On June 26, 2010, on a full-moon night in Karme Choling, Chandali Mukpo and Eric Wilson were joined together as husband and wife. The wedding celebration began on Friday evening, with a lovely rehearsal dinner, attended by fifty people. (The food was amazing, thanks to Janos Porps.) This was followed by a lively, raucous evening of karaoke in the pavilion.
The following day, at 5:00PM, Lady Diana Mukpo performed the wedding ceremony in the Karme Choling shrine room. The bride was radiant, the groom was handsome and tender-hearted, and there was not a dry eye in the house. The couple exchanged vows that they wrote themselves, rings were exchanged, and the ceremony was then sealed when Lady Diana executed the stroke of Ashe in front of the couple. Readings were done by Jeanine Greenleaf (poem by the Sakyong), David Mukpo (poem by the Druk Sakyong), and Ashoka Mukpo (original poem).
After receiving the traditional kata, a kiss was exchanged, the crowd roared, further tears were shed, and the couple then proceeded out of the shrine room into the rest of their cheerful life together.
Post Tags:
Mukpo Family
,
summer blooms
,
Wedding Announcements