Thursday
Featured Stories
IN MEMORIAM: Kyoko Kita Sensei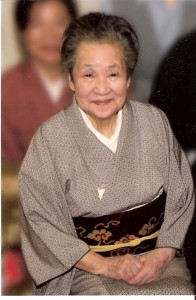 Kalapa Ikebana Boulder respectfully acknowledges the end of the 49 days following the sudden death of our cherished Ikebana teacher, Kyoko Kita, Sensei, on September 10th, 2010 from a heart attack.
To all the people who had the great treasure of entering the path of flowers (Kado) with her or who witnessed her great artistry and character, this has been a deeply poignant time. In 1983, as Sensei began to teach the Boulder sangha, the Kalapa Ikebana newsletter stated "we hope this will be the beginning of a long and continuous relationship with Kita Sensei." Until almost this very moment, 27 years later, this has been so. Kita Sensei was 84 years old and completely involved in her life until her last breath.
The following poem was composed by her longtime Ikebana students in Boulder. Miyabi means elegance; it is the notion of courtly splendour and the fleetingness of beauty.
MIYABI
We have truly lost a cultural treasure
All of us are grateful for Kita Sensei's vast creativity in skillfully teaching
the hundreds of Kalapa Ikebana students over almost 3 decades at BSC.
Elegant, indomitable, stubborn woman
With your straight back
& half-moon smile
My old body
a drop of dew grown
heavy at the leaf tip (Kiba – 1868 death poem)
Clouds of flowers
fall not knowing
East or West (Yaohika – 1777 death poem)
First teacher
never forgotten
always present
True master
Seeing through the eyes of each student
Loving, disciplined,
Awake.
Long soft black tunic,
charcoal threaded vest.
At her heart,
a silver moon
Stopping, "hmmmm . . .," tilting head,
One hand in front – "what do you think?"
(shears poised)
"Do you need this . . . ?"
Angle of intent
made clear through master's touch,
"mmmmmmmm . . . . . . . ."
Holding breath, beating heart,
Eyes look, wait, searching
There. Sensei turns, smiling .. . . . . .
"Kirei —-"
You taught infinite contentment with your wisdom
heart as the source
Prajna of tulip red, spring green, golden
petals fall
We all grow old.
Students – inspired, proud, stubborn, laughing
tense, shy, timid, yearning
Self conscious, tender, daring
bold — She said "be gentle with the new people."
At Heron Lodge – (adapted poem for Sensei from Wang -Chih Huan, 8th century)
Mountains cover the white sun
& Oceans drain the golden river
But you widen our view
three hundred miles
By turning a single leaf
(from the 16th century tea-master, Senno Rikkyu)
Flowers of hill or dale
Place them in a simple vase . . .
. . . But when you're arranging them
You must slip your heart in, too
Elegant, indomitable stubborn woman with your straight back, and half-moon smile.
You conquer beings and branches,
Rarely flinching, laughing in the face of fright,
you pluck the flower of life, thorns and all.
For 27 years, you helped us discern, prune or embellish?
Allowing us to be "our way", Kado way, Kalapa ikebana path of flowers way.
Remembering your own teacher, you opened your heart to us, saying —
"You people understand," . . . nodding .
Giving us half your name "HO", who you empowered and trained to teach,
we remain, students & teachers at once,
& bow to bring upliftedness, smiles and tears
through flowers and branches.
Please always shine in the bright blue sun,
budding branches, summer grasses, fresh snow & autumn leaves
in the gentle mist of nowness.
Please continue to guide our true flower hearts
within the cosmic mirror. KIKI Sooooo Soooooooo
Collective poem, verses and lines contributed by Donna West, Karen Roper, Peter Pomeroy, Eileen Kay, Carol Halpern, Jane Carpenter, Alexandra Shenpen woven together by Alexandra Shenpen.

________________________________________
KYOKO KITA (1926-2010)
Kyoko Kita was born in Tokyo, Japan on March 24, 1926 to a physician father, Takashi Okamoto and mother, Hisa Kumaki. She was the eldest of five surviving children, Asako Saeki, Koji Okamoto, Keiu Okamoto and Noriko Hayashi, all of whom reside in Japan. Kita Sensei's early schooling was the private Sacred Hearts Academy. During her early years, she received years of formal training in ikebana, tea ceremony and other finer arts. Any hopes, however, of continuing her education was interrupted by World War II.
During the occupational years, Kyoko met and married a Hawaiian-born American, Hachiro Kita. Hatch and she lived in Japan for many post-war years. In 1975, they moved to Colorado, making Wheat Ridge their home, mainly to be close to her relative, May and Ken Sawada, and very good friends, the Hosokawas.
With encouragement from friends, she began teaching classes in ikebana, tea ceremony and Japanese cooking. In 1986, she founded the Colorado Branch of Sogetsu Ikebana. With her patience, determination and vision, this group flourished. Today, there are over one hundred members in the Denver metropolitan area, Boulder, Colorado Springs, Fort Collins and other Front Range communities. The purpose of this group is to increase the interest and awareness of the art of ikebana. She and members of this group are often called upon to demonstrate and exhibit their arrangements at public functions. As a result, people in Denver and Boulder have gained a greater appreciation of this art form.
Since the study of ikebana is an on-going educational process, Kita Sensei has often gone to Japan to continue her studies. Her efforts have earned her the status of Riji, the highest rank in the Sogetsu School. Among her many recognitions, she recently received a prestigious award from the Sogetsu headquarters in Japan for her outstanding accomplishments as an overseas teacher. Whenever she attends conventions in this country, she is well respected among her peers. Today, her name is synonymous with ikebana in Colorado.
Kita Sensei's interest in Japanese art and culture extends beyond ikebana. She has also taught classes in tea ceremony, and she and her students were often called upon to demonstrate this art. Kita Sensei has also been very supportive of many organizations such as the Japanese American Society, the Denver Art Museum, Koto Colorado and Denver Taiko to name a few.
Mr. Hatch Kita preceded Kita Sensei in death in 1998. They had no children.
We have been most fortunate to have had a person of Kita Sensei's stature in our community, and we salute her for her many contributions in Kalapa Ikebana. With a full heart, we bid her farewell and thank her for all that she has given of herself.
Post Tags:
Kalapa Ikebana
,
Kyoko Kita Sensei
,
obituary