Tuesday
Mandala Projects
Key Developments in Our Mandala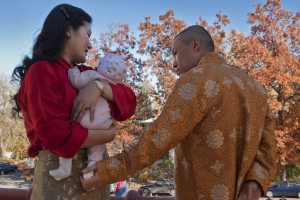 The Kalapa Council has offered an overview of what's been happening across our mandala since their update last June. This far-ranging report highlights the Shambhala Lineage, Mukpo Family, Practice and Education, Governance, the Dorje Kasung, Shambhala Europe, Shambhala Media, Shambhala Online and our networked community, Major Practice Centres, Gampo Abbey, and other retreat centres, Community Development, the Our Future campaign, and offers a forum for comments and feedback.
We are delighted to be able to send you this fresh update on key developments in our mandala. Many people said how much they appreciated our very long global update in June. We are trying an experiment with this latest one. We have posted it online.

You can read it online, view the photos, and follow the many links to other websites and films — or download it from the web. To view or download this update, please click here.

With every good wish for 2011,
President Reoch on behalf of the Kalapa Council
Continue reading to view the topics covered by the Kalapa Council's update more in depth.
The Shambhala Lineage
The Sakyong and Sakyong Wangmo
The year of retreat: the final phase
The Letter of the Morning Sun
The Sakyong Wangmo
Preparing for an expanding family
The Mukpo Family
Practice and Education
Rainbow over Kalapa Valley
The Great Vajradhara thangka now installed in the Great Stupa of Dharmakaya
Support for our Kagyü and Nyingma Practices
Appointment of Shambhala Shastris
International Program Schedule 2011
Governance
Kalapa Council ­- looking ahead
June 2010 update link
Three-fold financial strategy
The President's interview
Executive Director appointed, Shambhala Executive established
Kalapa Governance Gatherings
The Mandala Council ­- a new initiative
The Kalapa Capital Centre -­ progress reports
The Dorje Kasung
Shambhala Europe
Shambhala Media, Shambhala Online and our networked community
New Shambhala Network to go live
Skilful Means and Wisdom
Other links
Shambhala Online
Major Practice Centres, Gampo Abbey and other retreat centres
Karmê Chöling
Dorje Denma Ling
Dechen Chöling
Shambhala Mountain Center
Gampo Abbey
Links to other centres for retreat and deep practice
Community Development
Community newsletter
Community Care Council
Our Future campaign
Over to you -­ the live link for your comments and questions
Post Tags:
Kalapa Council
,
Richard Reoch