Monday
Atlantic Canada, Featured Stories, International Programs
A Three-year Retreat for Our Mandala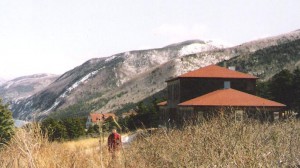 This is the first article in a series on Sopa Choling and the three-year retreat experience.
On July 15, 2010, Acharya Larry Mermelstein presided at the gate-opening ceremony celebrating the completion of a full retreat cycle at Sopa Choling, the three-year retreat center located at Gampo Abbey, Nova Scotia. What follows is his address to the graduating retreatants, which includes the early history of the retreat, tales of Chogyam Trungpa Rinpoche, Thrangu Rinpoche and their youthful encounters with the legendary Khenpo Gangshar Wangpo. Click here for the second article in this series or click here to read the entire series.
I am honored to be here with all of you and to catch even a glimpse of life at Sopa Choling. I want to thank you, the retreatants, because in my line of work, it's so nice when somebody uses our translations. And you retreatants have used a lot of them, a lot more than most of us. You have just thanked me—really the whole Nalanda Translation Committee—for providing you with the texts for your practice. I think I speak for all my colleagues when I say that we're in the same boat — appreciating that these texts are in English. Maybe we would find practicing in Tibetan a little easier than you, but I don't think any of us could practice properly that way. We really do need to practice in our native language—Spanish, French, German, Dutch, Swahili—any language. Although English has become a kind of lingua franca and there has been a lot of dharma development of English, I hope that many other languages will also develop that way. It is very important.
I want to speak today about how the creation of the three-year retreat program began in our sangha prior to KhenchenThrangu Rinpoche himself establishing it fully in 1990. You all know how immensely kind Thrangu Rinpoche has been and how central he has been in making the retreat a reality. So with full homage to his contribution, I'd like to tell you about what happened before he became involved.
Sometime around the early 1980s, a few students of the Vidyadhara Chogyam Trungpa Rinpoche became interested in pursuing a three-year retreat program. I would say they didn't really know much about it, beyond the mystique of the three-year retreat, which suggested it was a great thing to do. It wasn't easy to talk with the Vidyadhara directly, and they made their desire known to him circuitously, via his secretaries, kusung or other attendants. I became involved because, as director of the Translation Committee, I had relatively frequent access to him and I wanted to know what he thought about it. We had a discussion that was very moving and significant for me. It was just the two of us, when I asked him if he was actually interested in establishing this kind of program. And he said, "The only obstacle is the translation work." There was no sense that he would authorize a retreat that practiced in Tibetan, because nothing we did utilized Tibetan. I really pressed him on this point—Was that really the only issue? He said that it was and that while it's a lot to translate, we should make a plan for doing that and eventually this would be fine to have in our sangha.
In general, there is the shedra, where you study intensively, and the drupkhang or drupdra, where you practice intensively. In Tibet, they were distinct institutions. The shedra is a lengthy program (perhaps nine to thirteen years) of very concentrated intellectual training. Ideally, after that you go to the drupdra, the practice center, and do three-year retreat, where you apply what you studied to your practice.
Once, while I was attending the Vidyadhara at his residence at Rocky Mountain Dharma Center during the 1986 Seminary, his last Seminary, he sat up in his chair and as if he were addressing a thousand people, he proclaimed: "The Seminary is my most important achievement." My mind immediately flashed to the Tibetan model of shedra and drupdra. I asked whether he was talking about how the Seminary combines some amount of shedra and drupdra, along with the work of daily life. He replied, "Exactly. In Tibet we never put them all together. They were always separate." They were very intense—a long program of study and a three-year program of retreat. But they were quite separate. He explained that this had been a big problem for centuries and that it is important to put them together. The Seminary integrates practice, study and the work of everyday life.
"If you went through that kind of experience," I asked him, "how did you put it all together?"—because obviously, he had. And he said: "My khenpo put it together for me. I lived with my khenpo and he put it all together for me." He was referring to Khenpo Gangshar Wangpo, his personal khenpo, who, while not his root guru, was a very important teacher for him. There are lots of stories about Khenpo Gangshar that we can tell some other time, but one glimpse of him that comes from Thrangu Rinpoche would be nice to share with you, because Sopa Choling is Thrangu Rinpoche's place, in a sense.
Not long after the Vidyadhara died, Carolyn Gimian and I interviewed Thrangu Rinpoche, who was visiting Halifax, probably having just been here at Gampo Abbey. This would have been around 1989 or 1990. We asked him about his friendship and knowledge of Trungpa Rinpoche from long ago. Thrangu Rinpoche told us that he and Trungpa Rinpoche were ordained together by the Karmapa, but didn't really spend much time together otherwise. They knew each other better after leaving Tibet. But, he told us, they did spend some time together with Khenpo Gangshar.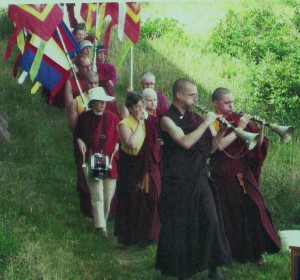 At this point Carolyn and I did not know that Thrangu Rinpoche had ever met the legendary Khenpo Gangshar. We had to ask what that was like. Thrangu Rinpoche told us that he only studied with Khenpo Gangshar for a few weeks, but it was very important to him. He studied mainly with the older khenpo at Shechen Monastery, Khenpo Lodro Rapsal, the senior khenpo, who I believe was actually one of Khenpo Gangshar's teachers. But, Thrangu Rinpoche said that he had spent two or three weeks with Khenpo Gangshar and Trungpa Rinpoche, and that it was very, very profound.
At this interview Thrangu Rinpoche was seated on a beautiful sofa. Carolyn and I were sitting in front of him on the floor, now at the edge of our cushions. "What did Khenpo Gangshar teach you," we asked. Thrangu Rinpoche sat back and closed his eyes for at least a whole minute. Then he leaned over toward us and with that incredible huge smile of his, said: "It was about meditation." That was it. But his smile and his comment were transmissional.
As you probably know, the Vidyadhara himself was not a three-year-retreat bible belter. I can't imagine he ever did one. When could it have happened? He left Tibet when he was nineteen. He did many retreats, but none of that length. He did tell a wonderful story about a retreat that he did in a drupdra, a practice place like Sopa Choling.
The retreat involved the practice of chandali, or tummo in Tibetan, which is often done in a group retreat. At the end, as a test of their practice, everyone went outside and wet sheets were put on their backs as they circumambulated the retreat center. The fellow in front of the Vidyadhara had a very hard time with chandali practice; he could not dry the sheet. It was a very cold time of year and his sheet started to get icy. He collapsed, and someone came to bring him inside and revive him—it wasn't meant to be a do-or-die situation. And Rinpoche said, "For me, it was totally simple and effortless—no problem—and I thought to myself for the first time, maybe there is something to this tulku thing!"
After the Vidyadhara told me that translation was the only issue, it became straightforward and simple. I asked him how he wanted me to proceed, and he suggested that I start by talking to people who run three-year retreats or who have attended them. So I did. And I've brought my notes with me to tell you about some of my research.
The first person I consulted was Lama Ganga. He was from Thrangu Monastery, so he was a long-time associate of Thrangu Rinpoche, and a really wonderful man. He had been sent to Los Angeles to be the representative Karma Kagyu lama there. At some point he came to Boulder to receive the lung, or reading transmission, on the Sadhana of Mahamudra. He had heard that the Vidyadhara had written a sadhana that he thought had some special relevance to the West and that it might help him work with the people in L.A. I happened to be at the Court when the Vidyadhara gave him the lung and I asked Lama Ganga if he were involved with three-year retreat practice. It turned out that not only had he done the retreat himself, but he was actually the druppön, the retreat master, for two retreats—the four-year program at Samye Ling in Scotland and a retreat somewhere in California. He told me in great detail about everything they practiced. I took four pages of notes and began to think that this project was not going to be easily accomplished.
Next, I was fortunate to reconnect with an old friend named Chokyi Nyima, Richard Barron, who is a phenomenal translator. He was among the very first Westerners to do a three-year retreat. It was in France, under Kalu Rinpoche's supervision, and completed in 1980, I think. I asked Chokyi on behalf of Trungpa Rinpoche if he would advise him about starting such a program. He wrote six or seven pages of notes and then we had a wonderful meeting in Boston. I'll read you some of Chokyi's notes.
By the way, the word for "three-year retreat" in Tibetan, which he happened to write at the top of his notes, is lo sum chok sum. Lo means "year," sum is "three," chok means "direction," then "three" again. So, "three years, three directions." "Direction" is a kind of code for the waxing or waning of the moon. The moon goes first in one direction, then in the other, then back again. That's what a three-year retreat is—three years and about three fortnights.
Chokyi began with some ideological questions: What is the purpose of this retreat? To train lamas? Or primarily an intensive practice environment for advanced students? This is a big question. In Tibet, hopefully it was both, but it was at least to train lamas. There was a great need there for people skilled in the many ritual details, music, tormas, and so forth. Chokyi realized this was not a likely need in our sangha, but wanted this to be clear from the start.
Pre-retreat training program: Mudras and chant technique, musical instruments, familiarization with rituals? Will empowerments be given before or during the retreat? Qualifying retreats: One year, then two years, then a three-year retreat? Or will a long retreat be broken up into segments? Chokyi was visionary, I think, about all of this. The program: What kind of a mix should it be? Kagyu mahamudra? Nyingma ati? How much of what? Chokyi knew that the Vidyadhara was very much a master of both.
Quality vs. quantity: More time spent on fewer practices? Definitely this is what he advocated: It seems more useful to have fewer practices with more time to spend on each. So, shall we say one, or at the most two, of each category? Chokyi probably did at least twice the number of practices on his retreat than you all did here.
Tibetan language: Will any knowledge of written or spoken Tibetan be essential? Perhaps only visualization of seed syllables? Will all texts, liturgies and commentaries be in English? Will the druppon be Western or Tibetan? In permanent residence or a regular visitor? These are all very important questions.
Level of comfort: Unheated boxes vs. beds and heating? Will there be electricity, water, et cetera? Will it be co-ed or segregated? Will people take temporary precepts for the duration or for a certain period? If segregated, physically separate facilities are preferable for busy little minds.
Here are some notes that might interest you retreatants especially. On the ngondro, which you did not do, but they did, Chokyi wrote: We were given four months to do the complete four-hundred-thousand practices. More time seems advisable. Under yidam sadhanas: Vajrayogini—we had only three-and-a-half months. The ideal is six months or more. Six yogas of Naropa—we had only two months. Much more time seems advisable, six to eight months at least. On mahamudra: We were given a month, an unheard of luxury in Tibetan retreats, I think. This is basically a time to study material and let your mahavipashyana run its course.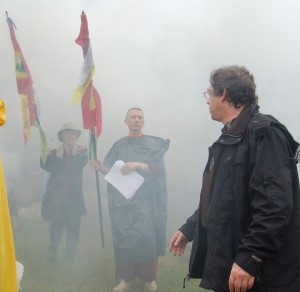 Simply put, virtually everything Chokyi suggested corresponds to what Thrangu Rinpoche later designed independently. They both seemed to be very much on the same wave length. Chokyi continued with an outline of a sample program and suggestions for books to study before and during retreat. He fashioned a very clear and helpful program. I was barely able to tell the Vidyadhara much of it. By that time, his health was declining, and he was unable to engage in fashioning a three-year retreat. But the Vidyadhara started the process, and it was very clear that he supported it. And so it moved on in the way it did, under the direction of Thrangu Rinpoche a couple of years later.
I also met with Lama Jigme, Shamar Rinpoche's brother, who told me about the retreat at Dhagpo Kagyu Ling in France, near Dilgo Khyentse Rinpoche's center in the Dordogne. Their retreat master was Lama Gendun, an esteemed, very accomplished retreat master, who for many years guided hundreds of retreatants in France and Germany, including a few from our sangha. Interestingly, Lama Gendun arranged the practices in a very different order than other retreats I've heard about.
I spoke with Lama Norlha briefly at Kagyu Thubten Choling in Wappingers Falls, New York. We drove Khenpo Tsultrim Gyamtso Rinpoche there after his annual program at Karme Choling so that he could teach Lama Norlha's retreatants. Khenpo Rinpoche used to say that when people are on retreat, their brains turn to mush and so it is necessary to get them to study. He taught those retreatants, usually for a month.
By this time, in the early 1990s, we had already established Sopa Choling, but out of curiosity, I asked Lama Norlha about his approach while we ate lunch upon our arrival. He had a very interesting overview: During the first three-year retreat, the retreatant learns the rituals and gets the hang of how things work. That provides a good grounding. Then comes a second three-year retreat, which, he said, is half price. The second retreat allows the retreatant to deepen in the practices. The third three-year retreat is "on the house," and that is what makes a person into what we call a lama. So a lama is someone who has done three three-year retreats. I presumed Lama Norlha must have done this himself. Khenpo Rinpoche got quite a kick out of all this. He sang songs and laughed a lot while we talked.
All this is to say that the retreat program can vary considerably. And I think that the issues Chokyi Nyima raised are really the most fundamental issues to clarify first. For us it's very clear that Trungpa Rinpoche's approach and Thrangu Rinpoche's approach were completely in sync and very naturally in harmony on the important issues. This is not a program to churn out lamas for some unknown type of employment in our Western world. It is a place for senior students to deepen their understanding and to practice what they have studied for a number of years before entering retreat. And the quality-versus-quantity issue could not be more important. Very wisely, Thrangu Rinpoche chose to keep the number of practices few compared to what it could be, so that retreatants can spend a good amount of time on each one.
So, I think you've done something very similar to what the Vidyadhara himself would have created. It is so very appropriate and in line with what the world of the Shambhala community altogether practices.
I have something to read you from the Loppon. He wished he could have been here today but was busy with work. He asked me to share this with you:
Unfortunately, I'm not able to come for the gate opening ceremony, but I'm sending my greetings with Larry. I congratulate every one of you for your efforts and accomplishment in completing the retreat. Whether you feel you have developed deep understanding or a little understanding, as Thrangu Rinpoche has said, by virtue of doing this retreat, you now know how to carry your practice further in the rest of your lives. And now the homework, which comes after every retreat, is integrating your understanding, experience and world view into the general flow of life in this twenty-first century. If you were in Tibet, you could just move out of this retreat into some other retreat or into a monastic or teaching environment. In our current historical situation, we don't necessarily have a ready-made dharma container, aside of course from the Shambhala international sangha or whatever our sangha affiliation may be. However, as time goes forward, I'm sure that you will be very helpful to our dharma companions and to the world at large. If Larry and I can assist you, or if you can be of help to us and our dharma sisters and brothers in propagating the dharma and the Kagyu lineage transmissions further, please let's be in touch and work together.

With heartfelt best wishes,

Lodro Dorje
So, on behalf of both of us, thank you very much.
_____________________________
Beginning in 1971, Larry Mermelstein became a close student of the Venerable Chogyam Trungpa Rinpoche, and he is empowered as a senior teacher, or acharya, by Sakyong Mipham Rinpoche. He has been the executive director of the Nalanda Translation Committee for over thirty years and is a long-time consulting editor to Shambhala Publications.
_____________________________
Be sure to read the second article in this series on Sopa Choling and the three-year retreat experience.
SOPA CHOLING ANNOUNCES A NEW THREE-YEAR RETREAT CYCLE
Empowerments scheduled for August 2011 for group and solitary retreatants

Inquiries and applications are now being invited for Group G, the next three-year retreat cycle at Sopa Choling, which is expected to begin in Fall 2012. Ven. Thrangu Rinpoche will visit Gampo Abbey in August 2011 and bestow the empowerments associated with the retreat practices. The empowerments are required for those who plan to attend all or part of the Sopa Choling retreat and, for the first time this year, they are also open to those who have an interest in doing these practices on their own. The prerequisite for these programs is prior receipt of the Vajrayogini abhisheka.

Sopa Choling is the retreat facility of Gampo Abbey, situated in a remote location of great natural beauty at Pleasant Bay, Nova Scotia. For information about the empowerments of August 2011 and the retreat beginning in 2012, contact Retreat Master Nancy Huszagh at [email protected]. See also Sopa Choling's website.
Post Tags:
Container of Profound Potency
,
Magic of Three-year Retreat
,
Sopa Choling
,
three-year retreat