Wednesday
Atlantic Canada, Featured Stories, International Programs
Following a Path of Practice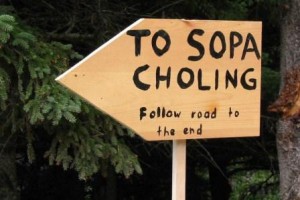 This is the second article in a series on Sopa Choling and the three-year retreat experience.
As Lelia Calder discovered, on the path of practice a three-year retreat may be the next step, however surprising or daunting it may seem. She shares how she arrived at the retreat, abided during her time there, and describes what it is like to return. Continue to the third article or click here to read the entire series.
Around 1994, I had written a letter to Pema Chodron that began a connection to her as a teacher, and to the Abbey as a practice place that called me back again and again. At a fateful Yarne at Gampo Abbey in 2004, Ani Pema suggested that I find more time to practice. To myself, I thought: Maybe someday. My life-at-home was full of the usual activities of work and survival. How could I carve out more time to meditate? I even made Ani Pema a copy of my schedule to prove that it was quite impossible. She seemed to accept my resistance, but you know how it is when a teacher tells you to do something: somehow, it is going to happen.
Quite suddenly there was an irresistible momentum taking place in my life. Seamlessly, with a flavor of the inevitable, I found myself applying for the three-year retreat at Gampo Abbey. I knew that Ani Pema herself had been one of the early retreatants there. Indeed, her vision helped the retreat into existence. She raised funds for the construction of its home, Sopa Choling, a simple but beautiful building overlooking the Gulf of St. Lawrence, a perfect setting for the work of retreat.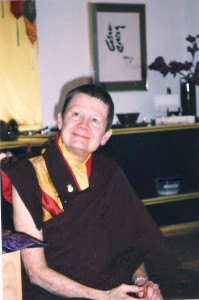 At the time I knew little about what this retreat actually entailed. If I had stopped to consider, I would perhaps have said I expected lots of sitting and sadhana practice. There was certainly that, but there was so much more. We were prepared for the various practices by Thrangu Rinpoche, who gave us days of empowerments before the retreat began. And then there were the training periods in which we were instructed in each practice in depth. Since I love learning, this was one of my favorite parts. Indeed, if left to myself, I could happily read and study forever, but this was retreat so, alas, I was forced to practice!
Of course, this is the real meat of the whole thing. Retreatants practice, I have calculated, a total of about 10,000 hours in three years. Where else would I ever do that? Because of this intensity, depths can be explored that would not otherwise be available and, even more importantly, those depths effect a change in one's life subsequent to retreat.
The hours spent practicing in solitude in one's room and the skillful means encoded in the retreat practices were part of the transformative process. Another part, equally powerful, was living in community. Besides a daily group practice, we organized feasts and occasional group practice intensives in the form of fire offerings and druppas. And there were the inevitable housekeeping tasks to be shared daily. Retreatants interacted constantly. Even during times of silence, we exchanged written notes and, when alone, conversations often continued, willy-nilly, in the privacy of one's mind.
Ani Pema has said that Dzigar Kongtrul Rinpoche saw more development in his solo retreatants after he instigated a daily group work period. Growth and change are more likely to occur where one's personality is challenged, as long as there is an intention to practice with this challenge and treat it as path. We need each other for that.
The connections that are formed in retreat are different than family and more intense than most friendships. There are no secrets. My dharma sisters knew me perhaps better than I knew myself. They certainly saw what I would have chosen to hide. Because of that, I began to see myself differently, with more clarity and honesty. Gradually habits of self doubt came to be seen as "just thoughts." Gentleness towards myself became the basis for extending kindness to others.
The compassion practices of the mahayana had been my entry into the buddhist path. I knew their value, but in retreat they took on new urgency; they became an absolute necessity. Thrangu Rinpoche stressed to us the need for regular, daily lojong practice and this turned out to be one of the most important learning experiences. I posted slogans all over my room and we had them on doors, in the dining area and bathrooms, pinned on our shirts–everywhere. Practice became constant. No exit and no breaks.
Under such circumstances, a deepening of one's connection with one's teacher takes place. I found myself writing short, spontaneous poems and discovered later that it is traditional to share one's understanding with a teacher in this way.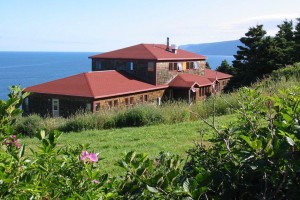 Dilgo Khyentse Rinpoche has said that guru yoga is the most direct path. The retreat begins with many months of these devotional practices to lay a foundation for all that follows. This might have presented some difficulty for me since, although I had received empowerments from many different teachers, I had never felt the kind of connection with a specific teacher that the term root guru implies. Our druppon, or retreat leader, encouraged me to value and appreciate all my teachers, each one a unique gift in my life, and I came to feel the power of those relationships particularly strongly. As we explored the many levels of our sadhanas, outer, inner and secret, I began to relate to the guru in the same way: externally at first, and increasingly as a living inner reality.
When I left retreat, a little early for health reasons, Ani Pema presented me with a new challenge: how to have retreat be the basis of my life from now on. Accomplishing this will probably always be a work in process for me, but there have been some immediate changes. I rearranged my home to create a permanent shrine room big enough to invite friends to join me. I have a daily practice schedule and frequent regular meditation with others. The vast repertoire of retreat practices has whetted my appetite and given me the luxury of choosing the ones that work best for me. I can always revisit these choices. Internally, there is also more space; emotions do not last long and can sometimes even be observed when they arise. I am more comfortable with unresolved issues and unanswerable questions.
Samsara is not only endless but endlessly seductive. A month at least of unbroken practice every year encourages retreat mind. A day or a weekend of intensive practice each month keeps the thread of practice alive. I like the word "thread;" something now provides continuity, connecting meditation and post meditation, waking and sleeping.
It is always a challenge to contain what Ani Pema calls "proliferation" in daily life. But I have learned that it is possible. And I can say that, without the three-year retreat, I would never have known what it means to make a path of practice the basis of my life.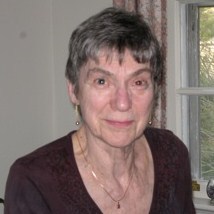 __________________________
When not in retreat, Lelia Calder teaches voice and the Alexander Technique, does Energy Flow and Balancing work and gives meditation instruction in Swarthmore, Pennsylvania. Click to visit her website.
Read the third article in this series on Sopa Choling and the three-year retreat experience.
SOPA CHOLING ANNOUNCES A NEW THREE-YEAR RETREAT CYCLE
Empowerments scheduled for August 2011 for group and solitary retreatants

Inquiries and applications are now being invited for Group G, the next three-year retreat cycle at Sopa Choling, which is expected to begin in Fall 2012. Ven. Thrangu Rinpoche will visit Gampo Abbey in August 2011 and bestow the empowerments associated with the retreat practices. The empowerments are required for those who plan to attend all or part of the Sopa Choling retreat and, for the first time this year, they are also open to those who have an interest in doing these practices on their own. The prerequisite for these programs is prior receipt of the Vajrayogini abhisheka.

Sopa Choling is the retreat facility of Gampo Abbey, situated in a remote location of great natural beauty at Pleasant Bay, Nova Scotia. For information about the empowerments of August 2011 and the retreat beginning in 2012, contact Retreat Master Nancy Huszagh at [email protected]. See also Sopa Choling's website.
Post Tags:
Container of Profound Potency
,
Magic of Three-year Retreat
,
retreat
,
Sopa Choling
,
three-year retreat