Wednesday
International Programs, World, other
Ambassador of Dharma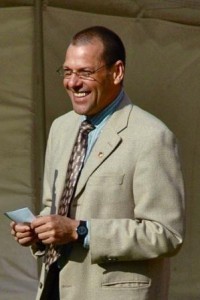 As Jennifer Woodhull describes, in September of 2009, the small sangha of Shambhala South Africa waved goodbye to their dharma brother, Johann Verster, as he traveled to Karme Choling for an extended stay. While it was hard to do without him, everyone in South Africa is benefiting from his training at the Mukpo Institute.
A long-time "lone rhino" in the Zen tradition, Johann had only recently met the vision of the Great Eastern Sun. He had already read vastly in the Buddhist literature, from the sutras to countless contemporary teachers and commentators. But his aspiration to further the Vidyadhara's and Sakyong's buddha activity in our far-flung edge of the mandala prompted him to sell his house, close his flourishing psychotherapy practice, and launch himself into the unknown.
Johann wound up spending a year at Karmê Chöling, immersing himself completely in the Mukpo Institute curriculum. He went through the entire Shambhala Training program; sat two dathuns; attended both Sutrayana and Vajrayana Seminaries; completed Shambhala Guide training; and studied and practiced virtually nonstop. His emails to us conveyed a rich, challenging, demanding, rewarding passage.
Before his year at Mukpo Institute, Johann was a pillar of our sangha. Following his training at Karmê Chöling, his value to our sangha has multiplied exponentially. It's not so much that his newly acquired knowledge makes Johann a better teacher and instructor, although that is certainly the case; it's more that his heart has been saturated with the essence of the teachings. He is vastly more grounded in the view of vajrayana and in the vision of the Great Eastern Sun.
And that makes Johann a better teacher, instructor, friend, therapist—and exquisitely well equipped to establish the new Office of Practice and Education we so badly need. I'm deeply grateful that the Mukpo Institute exists, and encourage every Shambhala center worldwide—particularly the geographically remotes ones like ours—to send at least one member for training in that container. It will uplift your entire sangha in ways too subtle and too profound to articulate.
Post Tags:
Mukpo Institute
,
South Africa