Friday
Featured Stories, Scene and Heard
Shastri Peter Conradi Elected to Royal Society of Literature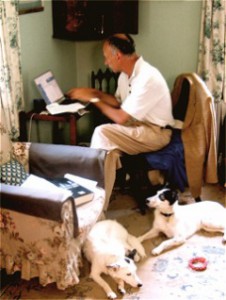 By Acharya David Schneider
Peter Conradi has given family and friends—both inside Shambala and outside—an opportunity to practice sympathetic joy. Word arrived of his election as a Fellow of Britain's prestigious Royal Society of Literature. This means that in referring to him, you could call him Professor Conradi, or Shastri Conradi, or you could go all out and refer to him as Shastri Professor Conradi FRSL, since his new Fellowship confers the privilege of using these letters after his name.
The Royal Society of Literature was founded in 1820 by King George IV, in order to "reward literary merit and excite literary talent." There are at present about 500 Fellows including Antonia Fraser, Athol Fugard, Doris Lessing, V. S. Naipaul, Seamus Heaney, Margaret Drabble, Vikram Seth Zadie Smith, Rohinton Mistry, Iain Banks and Tom Stoppard. Past Fellows include Samuel Taylor Coleridge, William Butler Yeats, Rudyard Kipling, Thomas Hardy, George Bernard Shaw, Arthur Koestler and so on. At the ceremony of enrollment, a newly created Fellow inscribes his or her name on the official roll (which dates from 1820) using either Byron's pen or Dickens' quill. Peter plans to use the Dickens.
From a list of 70 nominees about 15 fellows are elected each year. These include novelists, short-story writers, poets, playwrights, biographers, historians, travel writers, literary critics and scriptwriters. All write in English and most are British, but authors outside of England are also represented. Conradi's election to the Society on the first year of his nomination is entirely unusual, but it acknowledges a long devotion to English literature and European history, passions that Peter has uniquely woven into his Shambhala Buddhist practice and teaching.
For those who don't know him – a few biographical notes:
Peter was born 8 May 1945, the day WW2 ended—VE Day (Victory in Europe). He counts himself lucky not to have been named "Victor." There followed an English school education, parts of which riled Conradi, and against which he finally rebelled; specifically the part that required young boys and men to assume humiliating postures, expose their buttocks and be beaten for real or imagined offenses by willful school masters.
At age 17 he hitch-hiked from London to Israel, and worked on a kibbutz. After a year in medical school in England, he returned to Israel and kibbutz life, volunteering to help after the Six-Day war of 1967. During his time in Israel, Conradi learned some modern Hebrew – one of the many languages in which he can eloquently express himself.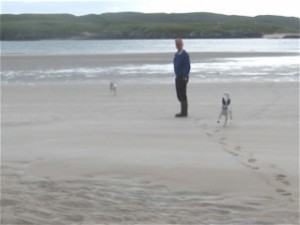 1977 initiated a series of important changes for him: Conradi met his life-long partner, (now-)Shastri Jim O'Neill, and then a year later, Peter began two years as an Exchange Professor at the University of Colorado in Boulder. He found that he loved being in the United States, and possibly more crucially, in Boulder he went for his first meditation instruction. At this point, it was nothing solemn, "I tried meditation in the same new-age spirit in which, like many visitors, I attempted cross-country skiing. I fell down less often meditating than skiing, but persisted with neither."
Back in London in 1980, Peter commenced a serious academic career, teaching at Kingston University, and writing his PhD thesis on novelist Iris Murdoch, under the supervision of AS Byatt. Conradi also wrote a series of highly regarded monographs: one on John Fowles, another on Iris Murdoch (now in its fourth printing) another on Dostoevsky, and yet another on Angus Wilson. This astonishing output, together with obvious teaching skills led him to promotion by 1993 to Head of Department, and Professor. He undertook book reviewing for the major English papers and magazines, including the Times Literary Supplement, the Independent, and the New Statesman.
Shortly after his career began though, Peter experienced a series of "panic attacks" deriving from vague but powerfully haunting feelings of emptiness. Provoked to examine his religious capacity not only by these, but by pointed questioning from mentor and friend Iris Murdoch, Conradi pulled down his unread copy of Cutting Through Spiritual Materialism and went through it in a "single, tearful sitting." Here at last were precise descriptions of the psychological unease he'd so vividly experienced – as well as practical instruction for working with it. Thus he began meditating in earnest, profiting from the nearby location of a group of Trungpa Rinpoche's students in South London. They had a small space for regular practice, and he joined in, becoming in effect an early member of the London Shambhala Centre. (Conradi relates this conversion in much greater detail in his memoir Going Buddhist, published by the wonderfully-named Short Books.)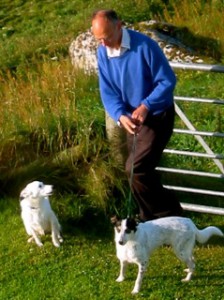 Physically adventurous—as well as spiritually, psychologically and literarily so—Conradi taught in the early '90s for two years in Krakow as the British Council Professor at Jagiellonian University. There he arranged Central Europe's first levels of Shambhala Training, importing (now-)Acharya David Hope, and Tomek Pietrzykowski, the famed "Vajra Polack." Conradi continues to this day to concern himself with Shambhala's development in Poland, the Czech Republic, and other countries of Central and Eastern Europe.
Through the 1980s and 90s Peter and Jim maintained a lively friendship with Iris Murdoch and her husband, writer John Bayley. In her half-century of writing, Dame Murdoch produced 26 novels, six books of philosophy, and numerous volumes of plays and poems. When in the mid-90s her mind moved from finely-drawn distinction, logic, plot, and invention to a state free of these things, Peter and Jim jumped in to help Bayley care for her, eventually making a kind of hospice team. Dame Murdoch lived with Peter and Jim for a total of eight months in their country place in Radnorshire, Wales and went in their company for several trips to Spain and France.
When the time came to find Iris's biographer, Peter was the obvious choice, and John Bayley gave him unfettered access to her archive and correspondence. In practical terms, this meant box after box of papers arriving at their home. Although dead in 1999, Iris continued to live with Peter and Jim for the next several years, taking over rooms—this one for the documents and books of the 1940s, that one for the 50s, until Peter and Jim were nearly obliged to move out.
Given Murdoch's prominence and power in 20th cent. English letters, the writing of her biography was inescapably a very big, closely-watched deal. During the four-plus years of its composition, Peter's formal sitting practice necessarily abided at a maintenance level, though his spiritual engagement with Iris, and with himself, reached new levels of profundity. Perhaps only because he had practiced and struggled so sincerely on his own path was Conradi able to grasp and convey the central moral, ethical, social and spiritual themes in Murdoch's work.
In the event, at a little more than 700 pages, Iris Murdoch, A Life was widely judged a triumph. A dozen or more British writers listed it as the Book of the Year, and the august American critic John Updike said in the New Yorker in 2001, "There would be no need to complain of literary biographies…if they were all as good as Peter J Conradi's Iris Murdoch: A Life."
Riding this general acclaim Conradi chose next to publish his highly personal account of meeting Buddhism mentioned above, Going Buddhist: Panic and Emptiness, the Buddha and me. Beyond providing a moving read, the book brought serious discussion of buddhism—more exactly, buddhist practice— to new circles of reading, thinking British people. By any standards, it was a classic act of "turning the flower outwards." Since then, Conradi has continued to work with astonishing energy, coming out in 2009 with At the Bright Hem of God: Radnoshire Pastoral — a lyrical, deeply-learned, homage to the area in Wales where he spends weeks at a time writing, practicing and walking dogs—and editing in 2010 Writer at War: Iris Murdoch, 1938-46.
He is at present finishing a biography of the British war hero Frank Thompson for Bloomsbury.
All this would be impressive in itself if Conradi were doing nothing else. He has however maintained a quite heavy practice and teaching schedule during this time. There are teachers in Shambhala Europe who become known for teaching certain programs; there is at least one self-styled Level One specialist. If Conradi were to have such a specialty, it would be dathun. He sat his first one at Shambhala Europe's then-land centre in Ireland – Dao Shonnu. He staffed another one there a bit later. Then he staffed a couple more in the Czech Republic. Then he led or co-led four more dathuns in Dechen Chöling, and has led 4 half-dathuns (16-days actually, but who's counting?) in Poland.
A writer's work is often lonely, and a practitioner's path is the same. But it is difficult to think of Peter Conradi as alone, since he has lived for more than a third-century with (Shastri) Jim O'Neill. Whether they are a likely couple or an odd one is hard to say, but they are certainly one of the strongest and an inspiration to all who try living with another person. In London as well as in the Wales, they have created completely gracious living spaces, which they've readily made available to traveling teachers and friends. Before he had in-laws living there, Sakyong Mipham's regular London residence was Peter's and Jim's house. He spent a week with them in Radnorshire as well, taking in a Shakespeare tour. In the other direction, Peter accompanied Mipham Ripoche on his 2004 visit to Golok and Surmang districts of Tibet, and Jim also served the Sakyong as a kusung in India.
Post Tags:
Iris Murdoch
,
literature
,
Royal Society of Literature
,
Shastri Peter Conradi