Sunday
Featured Stories
With Love from Iraq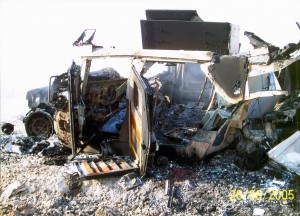 By Richard Reoch
"If I let this place and the hate that is all around me fill me with aggression and anger, I will only become like the men who wait in the darkness in the hope of inflicting death upon another human being," wrote Sergeant Paul Kendel from a US military base in Iraq.
His memoir of the war, Walking the Tiger's Path, has just been published. It is a vivid account of his journey from the razor wire of the war to his meetings with Sakyong Mipham Rinpoche, Pema Chodron and the very different world of Shambhala.
"How do you convince a group of people that just had their good friends blown to pieces that the answer is love and compassion?" he first asked in a series of letters he wrote to Margot Newman, a Shambhalian who helped found the Ratna Peace Initiative's Veterans Peace of Mind Project. It was through her that Sergeant Kendel came into contact with Shambhala and was encouraged to write his memoir, published by Tendril Press.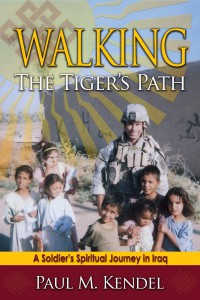 "Amid the chaos and horror of war, this soldier has discovered a profound truth: if we want suffering to lessen, the first step is learning that keeping the cycle of aggression going doesn't help," says Acharya Ani Pema Chodron in her testament to his experience.
On his return from Iraq, Sergeant Kendel attended a program led by Sakyong Mipham Rinpoche at Shambhala Mountain Center. The description of their poignant meeting is one of the most moving passages in the book.
Sergeant Kendel was wearing a bracelet with the names of the first four of his comrades who been killed in Iraq. During a morning meditation session at the Sakyong's program, he decided he would offer his bracelet to him. "It would honor them", he writes, "but it was equally important to let them go, not from my heart or my memory, but I had to move on."
"He didn't look up," writes Kendel describing the moment he gave his bracelet to the Sakyong. "He sat there, staring at the names on the bracelet. Without raising his head he said, 'I will pray for your dead friends.' I would later learn that the Sakyong would place the bracelet with the names of Fuller, Kinlow, Brunson, and Thomas on his personal shrine at his home in Boulder. I thanked him. As I left the room with the Sakyong holding the bracelet, I knew I'd found my teacher — and a new family — the Shambhala sangha, a place filled with kind and compassionate people."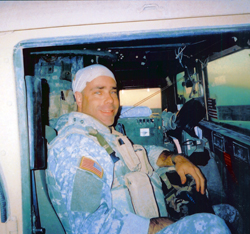 in 2006, Sergeant Kendel attended Practicing Peace in Times of War, a summer program led by Acharya Ani Pema Chodron at Shambhala Mountain Center. He writes:
"According to a number of program participants and others who'd followed my emails, my actions in Iraq and attempts at compassion toward the Iraqis made me a true 'Shambhala Warrior.' But a 'warrior' in traditional terms implies someone who engages in violence. Chogyam Trungpa Rinpoche said, 'The warriors of Shambhala do not create war. The word warrior, by itself, may mean a creator of war or a warmonger, but the warriors of Shambhala are the opposite, of course. The Shambhala warrior does not create war at all, but is somebody who creates peace. The warriors of Shambhala are those who are interested in subjugating their own desires for war and for aggression. We talked about sadness. That quality is precisely the heart of warriorship. The warrior is completely in tune with people and with their various levels of emotionality. We are the opposite of warmongers.' But what does it mean to be a Shambhala warrior on the battlefields of Iraq or Afghanistan, where violence is an everyday affair? Could I possibly be both a Shambhala warrior, as some people claimed, and a warrior in actual combat?"
That same evening, he visited the Great Stupa of Dharmakaya at Shambhala Mountain Center. As he looked up at the moon, he thought of a place thousands of miles away, "a place called Iraq that was filled with people who hated me and wished me dead. During a routine convoy mission out in the desolate expanses of al-Anbar province, I'd sat in the gunner's hatch of a humvee, looking up at the clouds moving back and forth across the moon, casting an eerie glow over the landscape. I'd suddenly felt a sense of peace; for a brief moment, contentment and happiness replaced the threat of death. As Pema had suggested in her talks, I'd taken a moment to 'look at the sky,' connecting with my natural openness, seeing the bigger perspective and appreciating my surroundings, realizing just how good life really was. I thought about the cradle of civilization, a land full of beauty and possibility, I had no clue it would take me on a journey that would lead me here on a warm evening high up in the Colorado Rockies, standing next to this superb monument of awakened mind. A true spiritual journey never ends, but experiences come of greater understanding and awareness. Looking up at the night sky, the feeling was unmistakable — a state of natural openness — a state of peace within myself."
To order Walking the Tiger's Path, visit Sergeant Kendel's website: www.walkingthetigerspath.com
Post Tags:
book review
,
Sergeant Paul Kendel
,
Walkign the Tiger's Path