Monday
Featured Stories
When a Run is More than Just Running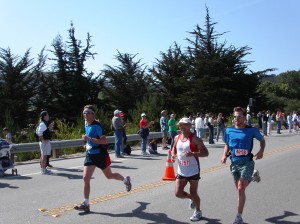 Running with the Mind of Meditation book review
by Mike Sandrock, columnist for the Daily Camera, author of "Running with the Legends"
When New York Times reporter Barry Bearak called last week, seeking information about Micah True, the Boulder ultrarunner who passed away while on a run in New Mexico's Gila Wilderness, I told him I considered "Born to Run" — the book that made True famous — one of the most important books of the first decade of the 21st century.
That is because author Chris McDougall showed how our bodies evolved to run in a certain way, and how running light, free and easy was how we were "born to run."

Now, with the publication of Sakyong Mipham's "Running with the Mind of Meditation," we have a book that has the potential to become one of the most important books of the second decade of this new millennium.
"Running with the Mind of Meditation" is an adventure story of a different type than the swashbuckling "Born to Run." The Boulder-based spiritual leader and marathoner explores the relationship between meditation and running, and what he has discovered in four decades of meditation and 10 years of running. It distills the essence of the Sakyong's adventures in meditation and running. It can be seen as a manual for living that is like that trusted friend you can go to for sound advice.
The book is smooth and easy to read, full of basic information, yet interesting enough that longtime runners and meditators will find much that is valuable in it. Woven through the book are the Sakyong's anecdotes about his journey into running, starting with early runs with local marathoners Misty Cech and Jon Pratt, through his first marathon in Toronto where a huge blister nearly derailed his debut.
The Sakyong, 49, has finished nine marathons, with a personal best of 3 hours, 5 minutes. He has a subtle sense of humor that comes through in his stories. It is easy to see that he is a top teacher, as the book has the gentle touch of a someone who knows he something valuable to explain and who wants us to succeed with this new knowledge.
The Sakyong is a tutor, taking us step by step through the six major stages that divide the book, starting with what the mind of meditation is, and continuing through animals and mythical creatures that represent stages in our development in running and meditation. He starts with the basics of both running and meditation, and, skillfully, almost without us realizing it, shows us a way to incorporate the best of both into our lives, until we reach the point near the end of the book where we can ask those key questions:
"Who am I? What is my purpose? What do I want out of life?"


The two activities are not equivalent. Midway through the book, the Sakyong gives us the key difference: running, he writes, "works with the periphery or the superficial level of thoughts, concerns and worries. Meditation not only deals with the periphery, it goes all the ways down to the core."
It is that getting in touch with our core that is a key benefit of meditation.
What is the best formula for a meditating? "I always tell people that a successful meditation practice is one that you can sustain," he writes. "It is not necessary how long you can meditate, or how still you can be, if you just give it up the next day.
"First, you must come to the conclusion that the activity is important."
Just like running. So go ahead; fold up your Friday Magazine, go sit or get out the door and, as the Sakyong writes, "Just do it — with gentleness."
Post Tags:
book review
,
Running Meditation
,
Sakyong Mipham