Tuesday
Featured Stories, Sakyong and Family
Sakyong's Book Launch and Earth Day Walk/Run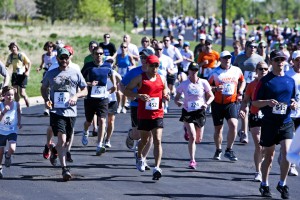 The Sakyong's latest book, Running with the Mind of Meditation, was successfully launched in Boulder Colorado as part of the Earth Day celebrations.
photos courtesy of Breton Hoagland BHH Studios
Nearly 800 people participated in the 10th Annual Earth Day 5K walk/run, nearly three times over the usual number, which organizers attributed to the focus on the theme of the Sakyong's new book. At 9:00 a.m. Shambhala trainers led about 100 participants in the approach outlined by the Sakyong. At 10:00 a.m. the Sakyong took the bullhorn to preface the beginning of the race remarking, "Earth Day is a wonderful opportunity to think not only about how this run can help our own life, but about how we can help the world."

And then the race was on. Both the Sakyong and the Sakyong Wangmo ran the course, along with a large contingency of Shambhalians of all ages.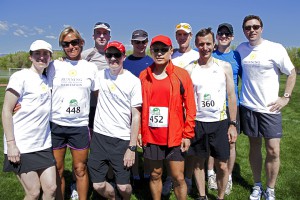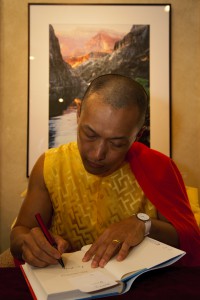 For three hours in the afternoon, the Sakyong greeted a nonstop line of well-wishers, signing about 350 copies of the book at the Rembrandt Art Gallery in downtown Boulder. This event was followed by a private party at the nearby Bitter Bar for those who have supported the Sakyong in his running efforts.
The Sakyong says, "Through my continued training, I have used a wide range of meditative techniques — from the simple stabilization of focusing the mind, to visualization, to contemplative meditation, to the use of mantras. All these depend on developing some basic aspects of mindfulness, which we could equate with strength training, and awareness, which we could equate with flexibility, endurance, and stamina."
In the meantime, stories and reviews about the book are appearing in the public media, both the Guardian UK: www.guardian.co.uk/lifeandstyle and the Boulder Colorado Daily Camera: www.dailycamera.com/recreation-columnists. Stay tuned for more coming on the Shambhala Times!
Post Tags:
Boulder
,
Earth Day
,
Running Meditation
,
Sakyong Mipham