Wednesday
Featured Stories, Sakyong and Family
Sakyong Sponsors Tea Offering at Wayen Monastery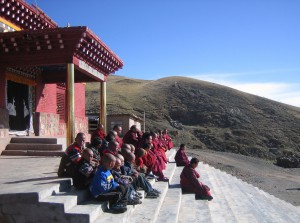 At the end of May, Sakyong Mipham Rinpoche sponsored a tea offering for the monks at Wayen Monastery in Golok in order to express his ongoing connection and concern for their welfare. The Sakyong visited Wayen on his first trip to Tibet in 2001 and felt a special connection to the place.
The tea offering, presented on May 25 by a Konchok Foundation board member, involved two aspects: the tea offering itself, called mangcha (mang ja) in Tibetan, and a donation or lakgye (lag 'gyed) to each of the monks. For the tea offering, there was an assortment of items for the each of 50 monks, including the ten retreatants at the drupdra or retreat center (sgrub grwa) on the top of the hill. Another 20-30 monks were at Traling Gompa receiving teaching from Khenpo Padlo and could not attend.
Each monk received a bag full of ten different treats: noodles, fruit, bread, a fruit drink, biscuits, yogurt, etc. while they sipped tea in the main lhakhang. In addition to the bag of treats, the Sakyong sponsored the presentation of 100 RMB (equivalent to $15 or so) to each of the monks present. The khenpos and other teachers there received 200-300 RMB.
View photos of this special occasion. Click on any photo to view as a slideshow:

Post Tags:
Golok
,
Konchok Foundation
,
Sakyong Mipham
,
Wayen Monastery