Wednesday
Northeastern States, Regional Announcements, Regions
Creating a Mindful Society conference in NYC, Sept 30 – Oct 1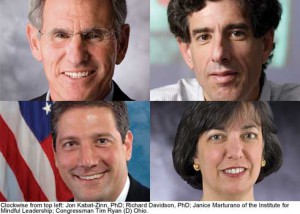 Join Shambhala Sun staff for this landmark gathering of the mindfulness community…
September 30 – October 1, 2011 in New York City (at the New York Society for Ethical Culture)
Mindfulness is a simple yet profound practice that changes lives. If you're committed to mindful living, or just want to learn more about the transformative power of mindfulness, join us for this landmark gathering of the mindfulness community. Together, we will explore the proven, practical ways that mindfulness can benefit our lives and transform our society, from health, work, and family to education, leadership, and policy. This groundbreaking conference will feature keynote presentations by four outstanding leaders in the mindfulness field—Jon Kabat-Zinn, Richard J. Davidson, Janice Marturano, and U.S. Congressman Tim Ryan—plus a rich program of dialogue, practice, and breakout sessions.
Hosted by three leading organizations in the mindfulness field:
Mindful: Living with Awareness and Compassion [Mindful.org], the Center for Mindfulness, and the Omega Institute.
For details and to register:
http://www.eomega.org/omega/mindful-society/?content=AD&source=PMag.SHSUN.land
Post Tags: