Friday
Community Articles
A New Journey Begins
Sarah Lipton is stepping in as the new Content Manager of Shambhala Times. She recently finished a four year tenure as the Center Coordinator at the Boston Shambhala Center where she developed and managed the Wake up Boston! blog.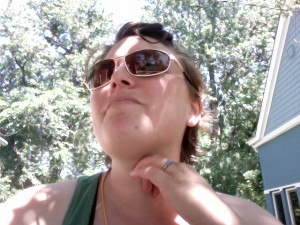 Good morning, Shambhala! I am writing to you from the fragrant pine forests of Shambhala Mountain Center where the sun is just rising and the birds are singing their summer tunes. As I begin my new journey as the Content Manager for Shambhala Times, I wanted to reach out and let you know that we need YOU to send in your stories! Imagine what it would be like to read about your sangha doings and goings on, dharmic happenings and Great Eastern moments from all over our wide Shambhala world. Like summer's green burgeoning, Shambhala is growing and expanding with the profound vision of Sakyong Mipham Rinpoche, and the Shambhala Times is like a farmer's market – here to document and share all the fruits of our society.
Now, so you know who is behind the scenes, here's a little about me. I have been a Shambhalian for a little over a decade. Before that, I was raised in the woods and meadows of rural Maine. As soon as I could, I ventured out into the wider world, leaving behind my tuba career and Maine community, keeping with me a passion for spirituality and writing. I traveled solo for a year through Europe by bicycle, foot and train, and then moved to California where, like others before me, I was pulled by dreams of gold. It was around this time that I began a regular meditation practice, and shortly thereafter heard about Naropa University. The same day I was accepted to Naropa, my dreams of gold were fulfilled – I met my true love, a beautiful funny man with red hair named Scott Robbins. Scott is currently ensconced at Karmê Chöling as the Associate Director of Development. Say hello to him when you visit KCL!
Pursuing an Interdisciplinary Studies degree entitled Embodied Systems at Naropa brought many riches: a strong commitment to meditation, a semester in Nepal where I learned to speak Nepali and studied with a local shaman, a profound connection with Sakyong Mipham Rinpoche, and a deep understanding of how to be awake in the world and embodied in my experience. Upon graduating, we moved to Vermont for Scott to go to graduate school, and I was therefore close to my mom when she died in 2004. The following year, we moved to Nepal where I taught meditation to local women, spent a lot of time chatting in Nepali and worked on writing projects. At the end of our year in Nepal, we decided to move to Boston. I immediately dove into the Shambhala community there and a year later landed the Center Coordinator position which I held for four years, and just completed in May. During my tenure at the Boston Shambhala Center, I started and managed the Wake up Boston! blog as well as managing communications, outreach, volunteers and facilities, and supporting the Center's programs. I also helped develop a Shambhala Arts curriculum and was able to progress steadily along the Shambhala Buddhist path. I attended Rigden Abhisheka two weeks ago and friends say I am still glowing.
After staffing a number of programs with the Sakyong this summer, I am planning to embark upon a long bicycle tour, starting in August, so I'll leave hints about where the Times posts are coming from. As I travel, I very much want to collect your stories. The richness of our mandala is vast, so please, take a moment to pause in your day and contemplate how you might contribute to the Shambhala Times, and then send your contributions on in – photos, videos, audio clips, written articles, poetry, stories, interviews, dharma teachings and more! I look forward to engaging in this journey with you, and look forward to hearing from you soon.

For more information on how to send in a contribution or how to post yourself, visit our Contact Us page.

Post Tags: