Friday
Featured Stories
Butter Roasted Chicken and Dessert: Recipes from the Kalapa Court Kitchen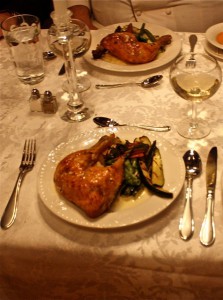 Column: Dispatches from the Kalapa Court Kitchen
This is the final collection of recipes from the Kalapa Court Kitchen for you to enjoy and prepare during the Shambhala Lineage Festival. The entrees are from the collection of Machen Janos Porps and Kevin Hoagland, long-time Machen to the Sakyong and Sakyong Wangmo, and the dessert is from Machen Dorothee Rosen. Cook and enjoy!
Butter Roasted Chicken
Chicken leg quarters with bone in & skin on. One quarter per person should suffice. Rinse off with cold water, pat dry, cut off excess fat and discard, liberally rub with salt and pepper on both sides.
Brush with melted butter. Put 1-3 sticks of butter (depending on how many chicken quarters you are roasting) in a small sauce pot on a low simmer. A silicon brush is preferable as it will not shed any brush hair on the chicken during the basting process.
Place in the oven at 450F for about 30 – 45 min until the skin turns golden brown, basting about every 10 minutes with melted butter. After skin is golden brown, drop to 325F. Continue to baste and rotate (in the oven) every 20 minutes until chicken is done. It is done when the internal temperature is 150F, and/or when the meat easily releases from the bone.

Beurre Blanc Sauce
makes about 1 1/2 cups
Butter is essentially a smooth mixture of fat and water. The secret to making beurre blanc is to preserve its makeup by allowing each addition of butter to melt smoothly into the sauce, as you whisk it, before adding the next piece of butter. Also, never let the sauce come to a boil once the butter is added; that will cause it to separate. Some restaurant cooks add a little heavy cream to the wine reduction before whisking in the butter, to ensure a smooth and stable sauce. This recipe is based on one in Mastering the Art of French Cooking by Julia Child, Louisette Bertholle, and Simone Beck (Knopf, 1977).
3 sticks cold unsalted butter (24 tbsp.) cut into chunks

1⁄4 cup dry white wine
1⁄4 cup white wine vinegar
1 tbsp. minced shallots
1⁄4 tsp. kosher salt

Pinch of white pepper

1⁄2 tsp. fresh lemon juice
1. Have butter ready. Bring wine and vinegar to a boil in a saucepan; add shallots, salt, and pepper. Lower heat to a simmer; cook until most of the liquid has evaporated. There should be about 1 1⁄2 tbsp. liquid left. If reduced too far, add 1 tbsp. water to re-moisten.
2. Remove pan from heat; whisk 2 pieces of butter into the reduction. Set pan over low heat and continue whisking butter into sauce a chunk at a time, allowing each piece to melt into sauce before adding more.
3. Remove sauce from heat; whisk in lemon juice. Taste and adjust seasoning, then strain through a fine sieve into a bowl. Serve with fish, poultry, or vegetables.
And finally, DESSERT!
Machen Dorothee Rosen provided this dessert recipe. She says this: "I learned to cook because I love to eat, and I am fussy, and my audience was fussy. I use food to magnetize and it let's me express my love, and make people happy. I have been cooking for His Majesty occasionally for about fifteen years, and for over five years in the Kalapa Court. I live in Halifax, and love it. I looked for this recipe because I wanted to make something special. I know that Her Majesty likes sweet sweets. I chose this recipe because it is made with honey, and because it doesn't contain any grain."
Frozen Nougatine with Honey Mousse
A recipe for the brave kitchen warrior
(6-8 servings)
This recipe is rather involved, and somewhat finicky. It needs moulds; think about this ahead of time. It also takes time to freeze! It is best to make it a day ahead, at least. Give yourself lots of time.
Nougatine:
1/3 cup
icing sugar
1 Tbsp
water
2oz/50g
slivered almonds
½ cup
whipping cream
1/3 cup
granulated sugar
1 Tbsp
water
3
egg whites
Honey Mousse:
1/3 cup honey
1 leaf (1/4 pkg) gelatin, soaked in cold water and squeezed dry
3 egg yolks
2/3 cup whipping cream
Preparation:
To make the nougatine:
Make a caramel with the icing sugar and water. (Google this, as it's tricky. Most important thing: take your time, and DO NOT STIR once the sugar has melted!) Spread the slivered almonds on parchment paper, and pour the caramel over it. Let this cool. Once it is cool, pulse it in a food processor until fine. The caramel chunks will take your guests' teeth out if you leave them too big.
Meanwhile, set small round moulds (ca. 1.5" in diameter) on a waxpaper-lined board or tray, small enough to fit in your freezer later. Line the molds with wax paper to prevent the nougatine from sticking when frozen. You can use round cookie cutters for this, or cut off some small tin cans or yogurt containers. Or make molds out of cardboard and masking tape. Be creative! If all else fails, you could also prepare this in ramekins, but it'd be a shame …
Make an Italian Meringue:
Whip
the ½ cup cream to soft peaks.
Combine
1/3 cup granulated sugar with the 1 tablespoon of water and heat to 121˚C (250˚F), read with a candy thermometer (you can guesstimate here; it just needs to be very hot, but not burning).
Whip
the egg whites to soft peaks, then slowly stir in the hot syrup (pour in a thin steam while continuing to mix) to make an Italian meringue. Continue to whip until the meringue has cooled down.
Fold
the pulsed almond caramel into the Italian meringue; then fold the whipped cream into this nougatine and mix gently until blended.
Fill
your prepared molds to a little more than half full with the mixture. Freeze until solid.
To make the honey mousse:
Bring the honey to a boil and add the softened gelatin. Stir until dissolved. Remove from heat.
Beat the eggyolks with a mixer, pouring in the warm honey slowly and steadily, until the mixture has cooled down.
Whip the 2/3 cup of cream to soft peaks, and fold into the honey-egg mixture to finish your mousse.
Pour this into the moulds over the frozen nougatine, and place back into the freezer.
Serve on plates, with the moulds removed, and edible flowers as decorations.
I dedicate this recipe to the outrageously amazing cook and lady warrior Beverly Webster, almost on the anniversary of her passing into the bardo.
Post Tags:
community
,
cooking
,
Family
,
Kalapa Court
,
Shambhala Lineage Festival