Tuesday
Mandala Projects, Scene and Heard
Spark of Dignity: Governance Gathering with the Sakyong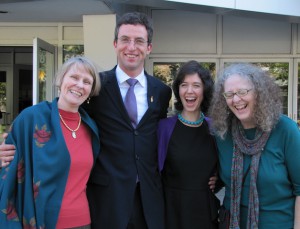 This past weekend, bathed in 70(F)-degree weather, brilliant sunshine, luscious winds and the vivid display of autumnal splendor, over 400 leaders of Shambhala gathered together to receive teachings from Sakyong Mipham Rinpoche on the path of leadership. Filling the McGinnis Room at Dalhousie University in Halifax, Nova Scotia, there were 123 Shambhala centers represented from around the world. Just before his year-long retreat, the Sakyong had said that he was planning to teach on governance when he returned from retreat. He asked President Reoch and the Kalapa Council to hold Kalapa Governance Gatherings over the year of retreat, to prepare us and to lay the ground for his teachings. As of this past weekend's gathering with the Sakyong, about 800 leaders from around the mandala have attended Kalapa Governance Gatherings in preparation to receive these teachings. In culmination, it was our true pleasure to be able to convene with our Sakyong, coming together as the leadership of Shambhala.
It was a weekend of soaking in deep teachings, absorbing the spark of dignity ignited by the profound insights of the Sakyong and the teachings on the path of leadership that he provided. We are going to manifest his 2020 vision of creating a culture of kindness, and we will be able to do this because of our deep connection to practice and to each other. This spark will radiate out to the larger communities we live and work in because the magnitude of our cheerfulness allows no other option.

For a deeper perspective on this potent weekend of teachings, connect with your local center leadership, and see how you too can be involved.
All photos courtesy of Terry Rudderham. Thank you, Terry!
Post Tags:
Enlightened Society
,
Kalapa Governance Gathering
,
Sakyong Mipham