Sunday
Scene and Heard
Our Voices Matter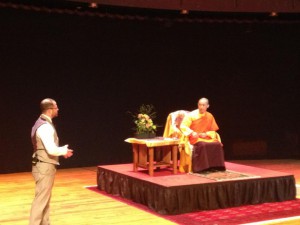 Imagining Peace Conference
with Sakyong Mipham Rinpoche
Malcolm X College, Chicago
by Gretchen Neve, Shambhala Times Reporter
Saturday's Youth Congress on Peace at Malcolm X City College opened with videos of youth expressing their visions for peace followed by live poetry performances. Kalapa Acharya Adam Lobel welcomed us and acted as host and teacher throughout the day. The day was designed to strengthen to our hearts and minds as well as deepen understanding of social, economic, and political issues that need attention to replace violence with peace. The tone was set by a young person who said, "If we want our city back, it is up to us to take it back."

The auditorium had filled up by the time Sakyong Mipham Rinpoche led us through a short guided meditation focused on "Original Peace". He asked us to contemplate the question, "How can inner peace have an impact on society?" throughout the day. He offered that mind training in meditation helps us prepare for split second decisions on how we handle emotions by addressing anxiety and fear which in turn creates new possibilities for action and reaction on-the-spot. In addition, holding a vision for peace creates a strong intention — which is an essential element of actually creating peace.
After listening to a panel discussion entitled "The World: Global Influences/Local Impact" we divided into conversation circles and reflected together on the intersection of global influences and the personal experience of peace or lack thereof.
During lunch youth offered performances of slam poetry, personal essays, and music. One young woman came up on stage, took a look at the crowd, covered her eyes, stood behind the microphone for a few seconds, then quickly walked off stage as if it was all a bit too much. After a couple more student performances, she got back up on stage with a friend standing behind her, looked at us, took a deep breath, and delivered her poem then walked off with a big smile.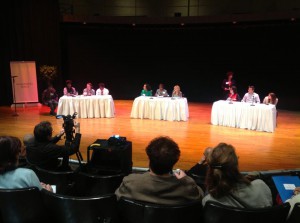 We reconvened in the afternoon for a second panel discussion, "Community Impact: Local Solutions for Global Issues" that featured representatives from various organizations as well as youth leaders — all actively contributors to peace-making in Chicago communities. Information about what is happening was balanced with consideration of actions we can take to strengthen peace. Violence impacts everyone — directly or indirectly. I was reminded by the words of a student during the introductions who said, "Please… do not stay quiet! Your voice matters." A youth panelist also urged us to action. "What will we do together?" In response to that question, the second circle conversation focused on how to create the social conditions for peace.
The last segment of the afternoon began with a couple of improv exercises let by the Goodman Theatre Workshop in the style of The Theater of the Oppressed — a theatrical form that engages the audience as "spect-actors" to explore, show, analyze, and transform the reality in which they are living. As we engaged with each other to change scenes of violence into images of peace, justice, hope, and safety, we were reminded that violence in our environment impacts everyone at a visceral level.
To wrap up the day, the Sakyong took us through a second guided meditation. He encouraged us to continue on our journey for peace — whether it is a new journey for us or something that we have been on for some time already.
By way of concrete next steps, Chicago's public radio station, WBEZ, will be hosting three follow up community conversations in May focused on visioning peace. Results of electronic voting conducted during the day will be compiled into a platform of recommendations for peace and presented to both Mayor Rahm Emmanuel and Cook County Board President Toni Preckwinkle.
As the crowd mingled during the reception, it was clear that new relationships and connections were taking root. One conversation group plans to stay in touch after the conference. During a lunch conversation, one Shambhala participant said she felt that the day was an extension of what Shambhala has been all along—an incubator for social action. She noted that Chogyam Trungpa Rinpoche's teachings came at a time of social upheaval in the West. His book, Meditation in Action, provided teachings about meditation as the foundation for compassion, awareness, and creativity in all aspects of life. The Sakyong's current teachings on Enlightened Society strengthen that foundation.
Looking around the reception hall, it is clear that something good is happening.
Post Tags:
Chicago
,
Imagining Peace
,
peace
,
Sakyong Mipham
,
youth
,
youth violence