Sunday
Featured Stories
Peace Practices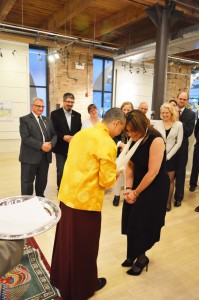 Imagining Peace Conference
Malcolm X College, Chicago
by Debra Hiers, Shambhala Times Reporter
How incredibly fortunate we are to have come together this weekend to engage in an honest conversation about the relationship between peace and violence, and to explore the role we each play in realizing a society that is basically good. Instead of talking about original sin, we're talking about "original peace," and what the Sakyong refers to as a "primordial state of non-aggression."

Sunday's program was designated as a day of Peace Practices. Acharya Lobel explained that it would be an opportunity for us, "To help settle what came up for us yesterday… and to explore how we can work with peace in an interconnected way." Essentially, he said, "we want to go back to the heart of our own practice to see what arises."
We were led in meditation practices throughout the day by Sakyong Mipham Rinpoche, and Acharya Fleet Maull. During these practice sessions we were asked to reflect on what we learned and experienced yesterday while being in community with those whose lives have been affected by violence, and those who were working as agents of change in some of the toughest neighborhoods in Chicago.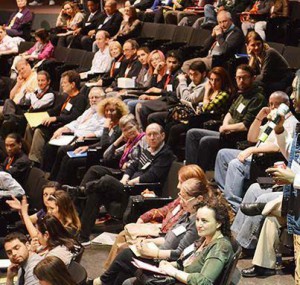 Acharya Maull introduced the topic of neuroplasticity, explaining that we now know that it is possible to, as he put it, "Retrain our brains to be in a place where we can hold fear without slipping into reactivity." Scientists have discovered that we have this ability to change long-held patterns of reactivity and to "map our resilience in relating to fear." We can do this by engaging the practice of sitting meditation, developing compassion and kindness for others, and by tasting what it feels like to linger in the gap between intense emotion and peaceful existence. "We have to be the change we want to see in the world."
It is also clear that there is a very real difference between engaging these practices in this very safe space, and to understand that for far too many, this peaceful, safe environment is a rare experience. "What do we do with that? How do we work with that tension?" asked Acharya Maull.
At another point Acharya Maull offered that, pragmatically, "We don't have to think about it in spiritual terms, but just as practical ways to deal with this unsafety."
Acharya Lobel added that, "Underneath everything we experience is that deep longing for peace. The ground of basic goodness exists… and it means that it exists 100 percent. It ultimately doesn't matter what the conditions are."
In Rinpoche's concluding remarks to us, he expressed his deep gratitude for all of the effort to bring this program to fruition. He said that it had been an amazing experience for him personally, and he feels challenged by what we've gotten ourselves into. We are now "living in the challenge."
He reminded us that meditation came about as an antidote for suffering. "It is important to not see this as a weak antidote. The point is that… there is an inherent strength in what we are doing."
The Sakyong talked a lot about contextualizing our experience. "We have a meditative base with basic goodness as a platform." From this common ground of basic goodness, "the warrior arises into one's own goodness and well-being."
Rinpoche stated that, "We are at a really interesting crossroads. One person touching into strength inspires others. The overall effect is we have the energy to keep moving forward. We're going to experience highs and lows, but it's not about spacing out or taking a break. Shambhala will become stronger the more we engage in social manifestation."
The Sakyong continued, "There are a lot of unseen forces contributing to the violence around us. …If you think about it, the posture of meditation itself is dignifying. We sit there as a human being and gain self-respect." And from that place of self-respect, "our mind can take its proper seat. We create space in our thought patterns and create different possibilities for ourselves."
Through this awareness, we can, "Create a healthy pattern of communication with self and others," that builds relationships and reduces animosity. "Within our relationships are the seeds of peace."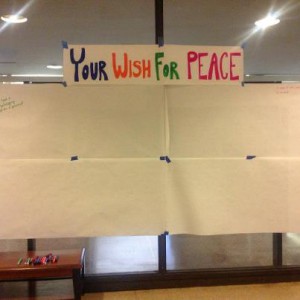 In his concluding remarks President Reoch reflected on a question that came up in one of the discussion groups yesterday. "So how do we know that all this is not just talk?" He recalled an experience he had when he was invited several years ago to go to Armenia to give a talk on human rights, and at the conclusion of his talk, the professor who had invited him, kind of shook his head and said, "You are such a dreamer." He said that what he took away from that experience was that, "it's really a question of what dream you choose," instead of a particular action you take. By example, it took a dream for women to get the right to vote, for segregation to end, for gays to have the right to marry, and more.
"So, the most important thing for us to do," President Reoch said, "is to get clear about what is our dream." Then he suggested that the next time someone asks you how it's going, you respond by saying something like 'Really good, I'm Imagining Peace.'

~~
Debra Hiers is a freelance writer, poet, and musician living in Atlanta, GA. She has been a member of Shambhala since 1997.
Post Tags:
Chicago
,
Imagining Peace
,
peace
,
Sakyong Mipham
,
youth violence