Sunday
Featured Stories
Personal Path, Social Transformation
Creating Enlightened Society
www.creatingsociety.com

by Cody McGough, Director, San Francisco Shambhala Center
"Enlightened Society is all about nurturing the human spirit – waking up to the goodness, kindness and strength that we already have."
– Sakyong Mipham Rinpoche
As human beings, how do we create a more compassionate, sustainable and wise world? How can we both care for ourselves and address the larger social questions of our time How does mindfulness and spiritual practice relate with social action?
These questions and many more will guide an entire weekend of inquiry and celebration titled "Creating Enlightened Society" on May 10, 11 and 12th at the Bay Area's beautiful Craneway Pavilion in Richmond, CA. Hosted by Sakyong Mipham Rinpoche, Reverend Angel Kyodo Williams, California Episcopal Bishop Marc Andrus and other spiritual and businessleaders, participants will engage in an open exploration of how to both deepen our personal experience and help create great social transformation. One of three major public events with the Sakyong this year, Creating Enlightened Society will coincide with the release of the Sakyong's new book The Shambhala Principle, and complement the upcoming Imagining Peace and Awake in the World events in Chicago and London this spring and fall.
Seeds and Fruit
In March of 2012, Sakyong Mipham Rinpoche paid a long-awaited visit to the Bay Area, giving a large public talk at the historic Grace Cathedral in San Francisco and leading a Shambhala Rigden Weekend in the East Bay. The visit was undeniably auspicious. Shambhala leaders and volunteers from Alaska to Los Angeles rose to the occasion, creating a full public teaching mandala for over a thousand people, a pop-up Kalapa Court, and a beautiful intensive weekend retreat for over three hundred and fifty Shambhala students. An unplanned delightful connection emerged between the California Episcopal Bishop Marc Andrus and the Sakyong, dating back to Trungpa Rinpoche's historic meeting in India with the great Christian luminary Thomas Merton. The Sakyong himself gave a stirring public talk, introduced hundreds of students to the new Shambhala meditation, and proclaimed a clear and universal call for Shambhala to raise its gaze and begin hosting a larger public conversation about social transformation, planting the seed for a future festival dedicated to enlightened society.
Now, in the spring of 2013 that seed is beginning to come to fruition with the upcoming "Creating Enlightened Society" Event. Hosted at the historic Craneway Pavilion in Richmond, CA – a former tank factory and modern event center located directly on the water and overlooking the entire Bay Area – the event's location alone will provide a unique opportunity for connecting with "drala," the natural energy of the phenomenal world. It will be easy to do with the vast windowed walls, high ceilings, natural light, sea air, views of the Bay and tremendous open space.
It is here that the Sakyong will be leading a mandala of leaders in an open exploration of good human society: how we can nurture the human spirit and create a more compassionate, wise and sustainable world. In addition to the Sakyong, there will be wisdom leaders from various sectors and perspectives, including the Reverent Angel Kyodo Williams from the Zen Tradition and Center for Social Transformation, the Episcopal Bishop of California Marc Andrus, Google's High-Tech Mahayanist Chad Meng Teng, Jyoti from the 13 indigenous grandmothers, Acharya Susan Skjei from the Authentic Leadership Institute and Kalapa Acharya Adam Lobel from our own Shambhala Tradition.
Personal Path, Social Transformation
The essential theme of the event is the inseparability of spirituality and social transformation: the need to both nurture the human spirit and address the greater social issues of our time. Often in the face of our world's problems our approach is to either emphasise large external political and systemic factors and solutions – forgetting our responsibility to nurture our own hearts – or rather to turn inward with individual spiritual and psychological paths, forgetting the greater social context of our lives. Creating Enlightened Society will explore the interconnection and inseparability between these two approaches: emphasising both taking responsibility for oneself, and taking responsibility for the world.
In the words of Acharya Adam Lobel, a key speaker and facilitator at the event:

"We see social transformation as a fractal process in which the same patterns show up at all levels (like repeating patterns in nature: root systems, coral reefs, ferns, snowflakes etc.) and in which changes in one level affect all the others. Whether we are working with our own minds in a personal practice, with our families and personal relationships, with our communities and organizations, or with the meta-structures of society, the results of our activities propagate across the system. Bringing compassion and awareness into families and workplaces is also practicing social transformation."
In this way spiritual practice, everyday social engagement and systemic change are seen as inseparable, just as our minds, activities and everyday lives are inseparable from the greater fabric of society. By serving the world, we can nurture ourselves, and by nurturing the goodness in ourselves, we can serve the world.
Exploring and Celebrating Together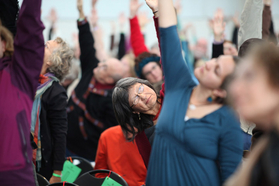 The event will begin with an opening ceremony invoking wisdom and longing with Jyoti – Spiritual Director for the Center for Sacred Studies and Traveling Ambassador to the Thirteen Indigenous Grandmothers. This will be followed by an evening of group inquiry and exploration led by Kalapa Acharya Adam Lobel and Acharya Susan Skjei, director of Naropa University's Authentic Leadership program.
Saturday and Sunday will include personal contemplation and meditation, as well as open space group inquiry led by Acharya Skjei and graphic harvester Marguerite Drescher. On both days there will be talks and interviews with Google's Chade Meng Tan, Bishop Marc Andrus and Reverend Angel Kyodo Williams on social transformation and world peace, as well as multiple addresses by the Sakyong.
On Saturday night the Sakyong will give a public talk entitled "Is Enlightened Society Possible?". This will be followed by an evening of celebration and music including a performance by The Friction Quartet featuring an original piece by Shambhala composer Alex Van Gils, a performance by Turtle Island Cellist Mark Summer, and an after party hosted by the Ziji Collective, a Shambhala inspired community of young meditators in Northern California.
Above all the event will value atmosphere and participation, providing both an environment and culture that nurtures the natural goodness of the human spirit. By including music, tasty Bay Area food trucks, participatory art and the beauty of the Craneway Pavilion and the San Francisco Bay itself, we will be inviting in the natural inspiration and participation of those attending the festival.
By framing a larger conversation about personal development and social transformation, the event seeks to further inspire, motivate and ignite everyone's natural longing for healthy and meaningful human relationships and to create a more sane, compassionate and sustainable human society. Please join us as Shambhala explores new territory, stepping out of the shrine room and into a broader, universal discussion of enlightened society with the greater Bay Area community.
~~
www.creatingsociety.com
Post Tags:
Creating Enlightened Society
,
Enlightened Society
,
festival
,
Imagining Peace
,
Kalapa Acharya Adam Lobel
,
peace
,
Sakyong Mipham