Monday
Featured Stories, Great Lakes
Imagining Peace
by Claudine Minini
Chicago Shambhala Times Reporter
We all dream of peace in our lives and in our world.
The Sakyong, Jamgon Mipham Rinpoche will be traveling to Chicago in April to join the Honorable Rahm Emmanuel, Mayor of Chicago and the Honorable Toni Preckwinkle, Cook County Board President, for the Imagining Peace Conference, featuring a Youth Congress on Peace, as we bring together the Shambhala community and people from all walks of life – from old to young and in-between – to be inspired and to envision peace for our streets, schools, neighborhoods, communities, cities and regions.

For those of you who are curious about the history of the "Imagining Peace" conference and its organic evolution with the Chicago Shambhala Center, it was discussed on March 17 at the community meeting led by Shastri Marita McLaughlin, visit director David Schreier, and "Imagining Peace" program coordinator for Saturday and Sunday Janet Hasz at the Chicago center.
At the beginning of the meeting, the Proclamation of Goodness was read and Shastri McLaughlin shared this as a vision and mission statement of Shambhala. She asked us to feel this innate experience of being good, the vision and action of our path, what we are about, the fundamental goodness of all of us, society and the phenomenal world.
"We discover this in our home and in our center or what we can call our laboratory on how we work with this practice," said Shastri McLaughlin. "We ask questions, and we translate and implement outside the center. We ask: How can I engage what I learn in society?"
There was a series of events that brought "Imagining Peace" outside the center to people who wish to transform society who are not necessarily meditators, perhaps they pray and negotiate other peace practices. But it is the search for the common good that brings us together.
"It is an experiment that the Sakyong is asking us to introduce him and the teachings to the world," Shastri McLaughlin said. "Are we willing to come out with our experience to the rest of the world?"
"Our practice and how it can manifest is why I practice," she said. "If we don't, we stay insulated."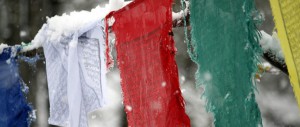 David Schreier asked the question: "What is it about Shambhala that brings you here?"
The Sakyong last visited Chicago in 2005. It was a teaching visit, but much has changed since then. Shambhala is looking to Chicago as a leader. Other cities are thinking about going beyond their centers and engaging their communities.
It all began with the forest fires near Shambhala Mountain Center last year, when programs were brought to Boulder, giving Ira Abrams and center director Tom Adducci the opportunity to ask President Richard Reoch how Chicago could be a part of the Sakyong's "Creating Enlightened Society" tour.
Adducci, McLaughlin, Hasz, Alice Dan, Blessie Selvig and Vince Whitlock discussed the need to reach a broader community. Several ideas, including discussion groups about the Sakyong's book "Running with the Mind of Meditation," a 5-K run, the Acharya's holding a variety of talks, and a large public talk on "Being Brave," were all discussed. It was then decided that it was too much at one time, and our partnerships needed to be consolidated and the Treatise on Enlightened Society and the Sakyong's new book, "The Shambhala Principle," needed to be added.
In late fall, regional leaders met at the Windhorse Retreat Center and spoke with President Reoch, who asked the question: What makes sense to your region? Ideas like sustainability, health care, education and violence were brought to the forefront. A consultant named Laurie Glenn, from Think Inc., whom the Chicago Shambhala Center contracted, refined the violence idea specifically to youth violence in the Chicago area.
The Shambhala Center of Chicago and the University of Chicago plan to host upward of 1,000 people at Rockefeller Chapel on April 26 as part of the Sakyong's "Creating Enlightened Society" tour. A youth Congress on peace and peace practices will be held on April 27-28 at Malcolm X College. The youth Congress on peace will hold 533 people. There will be more than 100 youth who are working to change their and other youths' current circumstances.

We need 300 Shambhalians to attend the conference and engage the community on the topic of youth violence. There are currently 12 planning organizations involved, including Ceasefire, Alternative School Network, Community Media Workshop, honorary co-chair Mayor Rahm Emanuel, and media sponsor WBEZ, among others.
We need you to make this work.
Visit: www.imaginingpeace.com
Read Acharya Adam Lobel's letter to the community about this important event.
~~
For more information about Chicago's new Center space, read this article here, or this one by clicking here.
Post Tags:
Chicago
,
Imagining Peace
,
youth violence