Sunday
Scene and Heard
Fun Raising at the Kalapa Court
by Tune Faulkner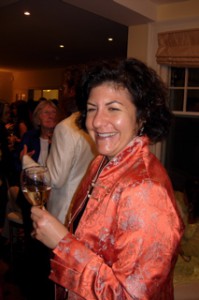 It was a warm, balmy evening when many of us gathered at the Kalapa Court in Halifax for a fun raising event in early October at the Dignity: Governing Enlightened Society gathering. No, that's not a typo, that's my experience of what these events were….they're fun, and they're lungta raisers. I'm talking about the events where we gather at our local centers, land centers, the court, or someone's house. Fun raisers are animated and interactive. I remember the tall team of directors (Ms. Duquette and Mr. Traill) at Karme Choling many years ago dressed in rich shimmering gold colors, singing and joking. Then there was the event at Karme Choling at which the late Arthur Borden dressed in a goat outfit: Karme Choling was in need of a new mower. Mr. Greenleaf started off a fun raiser once by asking everyone to take out their wallets. Money and laughter merged together and fell into the basket to be collected for our future benefit.

This particular balmy evening at the Halifax court was magical. The court is situated on a knoll overlooking the bay, and the moonlight that night was dancing on the water as we sipped our sparkling amrita on the deck and in the spaciousness of the house. The intent of the fun raiser was to help support the new addition to the court, a place where the Sakyong and Sakyong Wangmo can host the sangha and their extended family. There were tasty treats, toasts, and a tree made of small chocolate éclairs that needed to be twisted before being set free to plunge into ones mouth. The Sakyong spoke of the importance of household decorum, a place to host, contemplate, and nurture oneself and others.
I took some photos at the court on that warm gentle evening, where the atmosphere was bubbly, the smiles gregarious, laughter saturated the walls and the Sakyong's radiance was majestic and unobstructed as he generously spoke with small groups of us. It was a bountiful "fun raiser."
Click on any photo to view a slideshow.
—
Tune Faulkner lives in the Northeast Kingdom of Vermont with her husband Greg McNally. They live 25 miles north of Karme Choling on 65 acres of land. Currently Tune does the landscaping at Karme Choling, which she loves doing and hopes to continue doing as long as her body parts hold up. She realizes that it has been incredibly auspicious that she moved to northern Vermont in 1979 from California and Alaska not knowing anything about Karme Choling. She first started taking Shambhala Training programs at Karme Choling in 1993.
Post Tags:
Kalapa Court