Monday
Scene and Heard
Chang Sheng: "Unending Victory"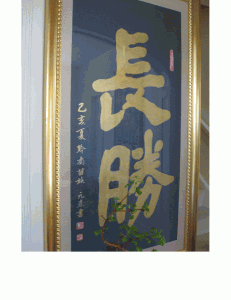 Regarding the gold-on-blue Chinese calligraphy
in the entrance hall of the Kalapa Court, Halifax:
Meaning and Origin of the calligraphy
article compiled by Acharya Bill McKeever
This calligraphy, Chang Sheng, "Unending Victory," was executed by one of China's foremost calligraphers, Dr. Cen of Beijing, specifically for Sakyong Mipham Rinpoche. This occurred on May 14, 1995 in Beijing, the very day that the Sakyong, Jamgon Mipham Rinpoche was being enthroned in Halifax, Nova Scotia. The characters, executed in a formal style in gold ink on blue paper, are a translation into Chinese by Dr. Cen for the Tibetan word "Mipham", which means "unconquerable." The two characters of this calligraphy, Chang Sheng read as "Unending Victory".

This calligraphy was done at the request of Shambhala sangha members Acharya William McKeever and Lee Weingrad, founder of the Surmang Foundation and Amara Clinics in rural China, who were in Beijing that day, visiting Dr. Cen, who was Lee's calligraphy teacher.

Further facts on the origin and meaning of this calligraphy:
From Acharya William McKeever
On the Sakyong's Enthronement Day in Halifax, I was on the other side of the globe, in Beijing, staffing a conference for the New York based Asia Society for whom I worked at the time. The conference featured then Chinese Premier Zhu Rongji. On that day, Lee Weingrad, our sangha member who had been in China for many years and founded the Surmang Foundation and Amara Health Clinics bringing health care to Tibetan populations in rural China, took me to visit his calligraphy teacher, Dr. Cen. Although Dr. Cen is one of China's foremost calligraphers, he lived in a small, modest flat in an undistinguished concrete apartment building. His calligraphies sold for many thousands of dollars. He rarely gave them away. But on this day, he asked if I would like a calligraphy as a gift. When he asked what I would like it to say, I asked for the Chinese translation of the Tibetan word, "Mipham", or "unconquerable". After consulting a few dictionaries, Dr. Cen came up with these two characters, Chang, which means "unending", and Sheng, which means "victory". Hence – "Unending Victory".
He initially executed a striking calligraphy in black ink on white paper. When he inquired who it was for, we told him about Sakyong Mipham Rinpoche, and that today was his Enthronement Day in Canada. At this point, Dr. Cen got very serious, saying that the first calligraphy would not do for such an important figure. (That first one he gave to me). For the Sakyong, Dr. Cen selected dark blue calligraphy paper and gold ink (real gold), explaining that this was appropriate for religious leaders and high government officials. He then executed the calligraphy you see here, explaining that the meaning was the same as the first one, but he used a different, far more formal style. Together, these changes made for a far more formal calligraphy that Dr. Cen felt was appropriate for Sakyong Mipham Rinpoche – Unending Victory.
from Evan Cervelli
Here's an example of how Chinese translation can be so challenging, and how the meaning of a Chinese character can be so multilayered. Chang ("unending "), the first character in the calligraphy, can also be pronounced zhang. The translation of zhang can be "leader", 'chief ", or as a verb, "to grow". So maybe the translation is more along the lines of "Leader who grows unending victory."
from Lee Weingrad
Founder, the Surmang Foundation and Amara, Chinese Rural Health Alliance:
I can tell you a few things about this calligraphy. One is that the use of gold ink on blue paper is done only for either high religious or government people. It's not something that you would see commonly hanging in someone else's house. Another is yes, that's real gold in the ink.
Another is the font, so to speak – it's one that was developed by Dr. Cen himself. I used to call it his "sawing wood technique" a remark he found really funny. In calligraphy you can account for the stroke quality by whether or not the tip of the brush either leads or follows, that is to say whether the brush head is pushed into the paper or whether the brush head follows the handle in the execution of the stroke. The kind that we seem to like the most in the West is what is called in Chinese "Cai Shu" or grass or running hand, because it is very expressive, often indecipherable unless you know what the writer was saying. In some sense of the word it is the most feminine, the most graceful. We mistakenly think that it is the most expressive of the calligrapher's feeling and because we in the West put a premium on self-expression, and because we think calligraphy should be a sign of spontaneity, we hold this form high.
However, this particular form is not just some kind of Jackson Pollack-esque technique or beyond technique either. It is something that is born of many many years of discipline and in many ways is the ultimate expression of discipline. It has about as much debt to spontaneity as it does to the years and years of practice, in the same way that Khenpo Gangshar's crazy wisdom is born of his over-the-top discipline.
Dr. Cen had no favorites when it came to 'fonts.' He could write in about 12, which is something that amazed Kobun Chino, Roshi when they met in Taos in 1995. One of the fonts he could write in was the bone shell script, and I have one of those adorning my living room wall. It says, "da shou yin" or mahamudra.
Dr. Cen preferred the font that is in this calligraphy. I only know about the top character, which is the classical form of chang or long, as in chang cheng, or great wall. It means long but something more like "unending." The script itself was executed by pushing the tip of the brush forward ahead of the handle, in a kind of sawing motion. Dr. Cen said this font has great power in it.
And it does.
Post Tags:
calligraphy
,
Kalapa Court